Do face masks work against the coronavirus?
The coronavirus is believed to be spread through respiratory droplets that are generated by coughing and sneezing. This means it can easily be passed from one person to another through close contact, or through breathing the virus while it is airborne.
As a result, covering your face with a mask or covering will help to prevent you breathing in these respiratory droplets and catching the virus yourself.
Face coverings, including face masks, can help to stop the spread of the coronavirus between people who may be suffering from the virus but not exhibiting any symptoms. For this reason, it is very important to wear face coverings when on public transport, which is now also required by law, as well as wearing them in shops, supermarkets, banks, indoor transport stations, post offices and anywhere else you may come into close contact with other people
To protect yourself and others from the coronavirus, your face covering must cover your nose and mouth.
Other protective measures beyond face masks
Aside from wearing a mask to cover your face, it is equally important that you practice social distancing, staying at least two metres apart from other people when outside. Inside your home, avoid close contact as much as possible with anyone who is sick.
Do not touch your eyes, nose and mouth if your hands have not been washed. Try not to cover your mouth with your hands if you need to cough or sneeze; use a tissue or even your sleeve if necessary.
You should wash your hands for 20 seconds regularly, or use hand sanitiser, particularly if:
You have been in a public place
You have coughed, sneezed or blown your nose (put tissues in the bin and wash your hands immediately after using the tissue)
You have changed a nappy
You are about to eat or prepare food
You are caring for someone who is sick
You have been to the toilet
You have handled your mask
To minimise your risk of catching the coronavirus, you are advised to stay at home as much as possible, only going out for necessities such as food, medicine and exercise. This will significantly limit the number of people you will come into contact with on a daily basis.
Maintaining your general health is also important as having a strong immune system will help you to fight the virus. If you are isolating, you should do your best to keep fit and healthy. To do this, you should:
Get exercise each day
Try to give up smoking as this can make you more prone to infections like the coronavirus
Eat a healthy balanced diet
If you are indoors for most of the day, consider taking 10 mcg of vitamin D each day. This will help to keep your bones and muscles healthy.
How to use a face mask
To properly protect yourself and others from infection, masks should cover your nose and mouth. This will help to catch the germs you will release if you need to cough or sneeze, and also help to prevent you from breathing in anything that may be harmful or infectious.
To use a face mask properly, you should wash or sanitise your hands before touching it. If using masks with ties, take the bottom ties, one in each hand, and tie a bow around your neck.
If you have a mask with elastic ear loops, you should put the elastic behind each ear to secure the mask
Wash your hands when you get home after touching the mask. Reusable face masks should be washed regularly and in the case of surgical face masks, they should be disposed of after use.
Which is better, FFP2 or FFP3 masks?
FFP3 face coverings offer the highest level of protection, with protection against materials in concentrations up to 20x APF (assigned protection factor). The NHS guidelines that currently exist stipulate FFP3 masks for the virus and bacterial infection control when contagion is spread through sneezing and coughing.
In contrast, FFP2 masks offer just 10x APF. However, these face coverings can still help to protect you from catching a virus.
Where to buy face masks for the coronavirus in the UK
You can order face coverings from Medicine Direct. Our UK pharmacy is stocked with masks that will help to prevent the spread of infection and also aid in protecting you against catching it.
Search our range of masks on this page and select the ones that are most suitable for you to use.
Ordering from Medicine Direct means you will benefit from a swift and simple transaction process. All of our products and medication are despatched quickly from our registered UK pharmacy, and if you order before 2pm we can also offer you next day delivery on your face covering.
You can also purchase masks online and from your local supermarket and shops.
Doctor Notes
Medicine Direct have an experienced clinical team of doctors, pharmacists and dispensers, all of whom are based in the UK. All are fully trained and qualified to provide appropriate and considered care across all areas of treatment we have available at our online pharmacy.
This means that no matter which member of our team is assigned to your case, you can rest assured that you are in the hands of a highly skilled medical professional, who possesses the compassion and clinical expertise to properly advise you on the best course of treatment.
We are fully regulated
All of our doctors and pharmacists are fully registered with both the General Medical Council (GMC), MHRA and the General Pharmaceutical Council (GPhC). Each member of our team has also worked in various clinic settings in the past, such as community pharmacies and NHS hospitals.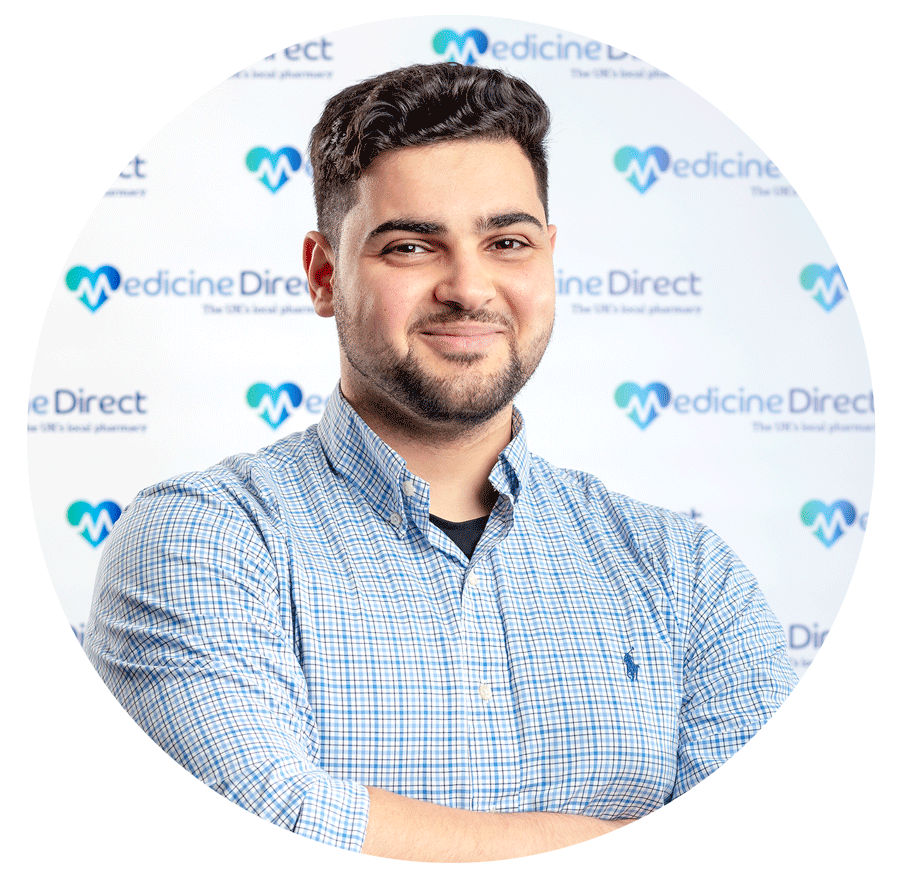 Hussain Abdeh
MPharm: 2211840
Superintendent Pharmacist
This content has been written by our Superintendent Pharmacist Hussain Abdeh and has been medically reviewed by our Pharmacist Sonia Khan
View Profile