Amorolfine 5% Nail Lacquer

Generic (cheaper) version of Curanail
Stops the fungus from growing and spreading
Effectively treats nail fungus infections
What is a fungal Nail Infection?
Fungal nail infections occur quite commonly and are not usually anything to be worried about. However, they can be unsightly and uncomfortable to the person who has the infection. If you have a mild infection of the nail and it is not bothering you, you may not require treatment. However, if the infection is severe and/or painful, a mixture of self-care and medication can help to treat it.
It may take months for the infection to go away. Even if the treatment successfully fights the nail infection, they can often come back later.
Fungal Nail Infection Symptoms
Fungal nail infections will normally start at the edge of the nail. They often then spread to the middle, causing it to become discoloured.
You may have a fungus infection in your nail if you have any of these symptoms:
Thickened nail
Change in the nail's shape
The nail becomes brittle, jagged or crumbles
The nail is discoloured
The nail smells bad
The nail turns a dark colour due to debris building up under the finger or toenail
Fungal Nail Infection Causes
The most common cause of fungal nail infections is a type of fungus called dermatophyte. Mold and yeast can also cause infected nails.
People of any age can develop a fungal nail infection, but they are more likely to develop in older adults. This is because, as nails age, they can become dry and brittle. This results in them cracking and allowing fungi to enter. Weakened immune systems and a reduction in blood circulation to the feet also make fungal nail infections more likely.
If you have suffered with athlete's foot, you may develop a nail infection in your toenail. It can also spread from one nail to another.
Who is at risk?
Certain factors may put you at a higher risk of developing a fungal nail infection.
Some of the things that increase your chances of suffering from this include:
A family history of athlete's foot
A skin or nail injury, or a skin condition like psoriasis
Having diabetes
Having a weakened immune system
Having circulation problems
Heavy perspiration
Walking barefoot in communal areas which are damp, such as swimming pools or gyms
What are the risks?
If you are developing fungi in your nails and you have diabetes, you should speak to your doctor. If you are diabetic, you might have a reduced blood circulation in your feet. You are also more prone to bacterial skin infections, which means that getting a fungal nail infection may lead to a more serious problem.
If you only have a minor infection and do not feel any pain, you may not need treatment. However, if you have a severe fungal infection in a finger or toenail this may be painful and leave permanent damage to the affected nail.
Furthermore, if you have a supressed immune system as a result of a health condition or a medication you are taking, a fungal nail infection may lead to other serious infections that spread to other parts of your body.
Fungal Nail Infection Diagnosis
To correctly diagnose fungal nail infections, your doctor will begin by examining the nail in question. They may also send a sample for examination; if they do this they will either take some nail clippings or gently scrape some of the debris from under the nail. Sending samples for examination will to identify the fungus that has caused the infection.
Psoriasis and other skin conditions can cause similar symptoms to fungal nail infections. Nails can also be infected by yeast and bacteria, so it is important to understand what has caused the infection. This will allow your doctor to decide on the most appropriate course of treatment.
Fungal Nail Infection Treatment
Fungal infections of the nail can usually be treated with a combination of self-care regimes and medical treatment. The treatment you are prescribed will depend on the fungus that has caused the problem and how serious the condition is. There is also a risk that the infection will come back at a later date. Treatment may take months to completely eradicate the problem.
Medication
Your doctor may prescribe you an oral antifungal medication, such as tablets, to treat the infected nail. Oral medicines are normally the first port of call as they tend to clear infections faster than topical treatments do. Some tablets are available to allow a new nail to grow that is not infected.
Usually, you can use antifungal tablets for up to 12 weeks. However, you will not notice the full benefits until the nail has completely grown back. Totally eradicating a fungal infection in the fingernail or toenail may take up to four months. Always read the patient information leaflet and follow the instructions given to you by your doctor when taking antifungal tablets.
Topical treatments such as an antifungal cream may be prescribed for some people. After soaking your feet, you rub the cream into the infected nails. For topical creams to be most effective, it is usually best if you thin the affected fingernails/toenails before applying them. You can do this by using a lotion containing urea; these are available to buy over the counter. Alternatively, some people may have their nail thinned by a doctor using a file.
Medicated antifungal nail polish/lacquer is another option which may be prescribed for you. For this type of treatment to be effective in curing a fungal nail infection, you should paint it onto your nail and the surrounding skin once a day. After doing this for seven days, you will wipe the layers of the nail polish clean with alcohol, then reapply the nail polish as normal. While this is a discrete and simple method of treatment, you may need to use antifungal nail polish consistently for up to one year to remove the infected nail plate.
Surgery
Some fungal nail infections do not respond to medication, so your doctor may advise surgery to temporary remove the infected nail. This will allow them to apply antifungal medicine directly to the nail bed.
Some people may have fungal infections that are so painful and severe that doctors suggest removing the nail altogether.
Doctor Notes
Medicine Direct have an experienced clinical team of doctors, pharmacists and dispensers, all of whom are based in the UK. All are fully trained and qualified to provide appropriate and considered care across all areas of treatment we have available at our online pharmacy.
This means that no matter which member of our team is assigned to your case, you can rest assured that you are in the hands of a highly skilled medical professional, who possesses the compassion and clinical expertise to properly advise you on the best course of treatment.
We are fully regulated
All of our doctors and pharmacists are fully registered with both the General Medical Council (GMC), MHRA and the General Pharmaceutical Council (GPhC). Each member of our team has also worked in various clinic settings in the past, such as community pharmacies and NHS hospitals.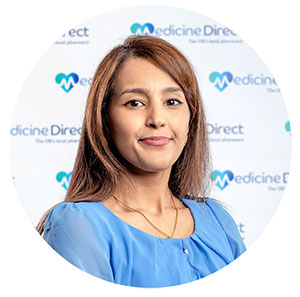 Sonia Khan
MPharm: 2076091
Pharmacist
This content has been written by our Pharmacist Sonia Khan and has been medically reviewed by our Superintendent Pharmacist Hussain Abdeh
View Profile