What is Rosacea?
Rosacea is a chronic inflammatory skin condition that affects the surface of the skin. The symptoms of rosacea often get mistaken for other problems, including acne, eczema or an allergic reaction.
While rosacea symptoms are sometimes mistaken for another condition, it is not an uncommon problem. There is currently no cure for this problem but several topical creams and medications, such as oral antibiotics, are available to lessen the physical signs and symptoms of rosacea.
Rosacea is more common in women, particularly when they are over the age of 30. However, men who get this rosacea may suffer from it more severely.
The cause of rosacea is unknown, but certain types of food and drink (such as spicy food or alcohol) can exacerbate the problem. Being exposed to the sun can also make this condition worse.
You can buy treatment for the symptoms of rosacea from Medicine Direct following an online consultation with one of our registered doctors. They will assess your symptoms and prescribe the most appropriate medication for you.
Place your order with our online pharmacy by 2pm and we can offer you next day delivery on your medicine.
Rosacea Symptoms
The initial signs and symptoms of rosacea include:
Facial redness (flushing) across the nose, cheeks, forehead and chin that comes and goes
A burning or stinging sensation when you wash your face with water or use any skincare products
The skin redness may be more difficult to see if you have darker skin.
As the condition gets worse, the physical symptoms will remain on the surface of the skin all the time.
You may also have the below symptoms:
Tiny broken blood vessels that do not go away
Small red bumps which may be pus-filled
Dry skin
Yellow-orange patches on the skin
Swelling, particularly around the eyes
Thickened skin, particularly around the nose
Sore eyelids or crust around the eyelashes
Types of rosacea
There are four different types of rosacea: rosacea ETR, acne rosacea, thickening skin and ocular rosacea. Each of these subtypes have different symptoms.
Symptoms of rosacea ETR
Sensitive skin
Swollen skin
Dry, rough, scaly skin
Broken blood vessels, which you can see on the skin's surface
Flushing/redness in the centre of the face
Stinging and burning sensation of the skin
Symptoms of papulopustular (acne) rosacea:
Oily skin
Sensitive skin
Broken blood vessels you can see on the skin's surface
Raised patches of skin
Acne-like breakouts with very red skin
Signs hymatous rosacea (thickening of the skin)
Visible broken blood vessels
Thick skin on nose
Large pores
Skin has a bumpy texture
Thick skin on your forehead, ears, chin and cheeks
Signs of ocular rosacea:
Eyes feeling gritty
Bloodshot, watery eyes
Cysts on the eyes
Decline in vision
Dry, itchy eyes
Eyes becoming sensitive to light
Broken blood vessels on the eyelids
Burning or stinging of the eyes
Rosacea Causes
The exact cause of rosacea is unknown, but it is known that there are certain elements that can trigger rosacea to flare up on the face.
The common triggers of rosacea:
Hot drinks
Spicy foods
Emotion
Aerobic exercise, such as running
Environmental factors, such as extreme temperatures
Exposure to sunlight or wind
Cosmetic and skin care products
Alcohol
Drugs that dilate blood vessels, such as medications for blood pressure
Often, you are more likely to develop rosacea if any of the below apply to you:
You are a woman
You are over the age of 30
You have a family history of rosacea
You smoke
You have light skin, especially if it has been damaged by the sun
Rosacea Diagnosis
No diagnostic test exists for rosacea. Your doctor will diagnose you with this problem based on an examination of your skin and asking you some questions about the history of your symptoms.
They may conduct some tests to rule out any skin diseases or other conditions you may be suffering from, such as eczema, psoriasis or lupus. Rosacea can sometimes be mistaken for a different condition, so doing this will help to rule out a false diagnosis or treatment method that will not be appropriate.
If you have any eye symptoms (ocular rosacea), you may be referred for an evaluation by an eye specialist.
Rosacea Treatment
Unfortunately, a cure for rosacea does not currently exist. However, there are various topical treatments and anti-inflammatory medications available to ease rosacea symptoms. In most cases, these symptoms can be controlled by using a combination of quality skin care products and prescription medicine.
Often, rosacea symptoms may reoccur, so how long you will need treatment for will depend on the type of rosacea you have and the severity of your case. Severe cases may require prolonged treatment. Your doctor will provide you comprehensive medical advice on the duration of your treatment.
Prescription treatments
Various prescription treatments for people with rosacea are available:
Topical creams and gels to reduce the redness may be prescribed, such as Finacea gel which contains azelaic acid that can help to improve redness and pimples of milder cases over the course of weeks. Other topical medicines can work to reduce red facial skin by constricting the blood vessels. This type of medicine only constricts the blood vessels temporarily, so you will need to regularly apply the topical treatment in the long-term to prevent flare ups.
Your doctor may prescribe oral antibiotics to help with the acne-like symptoms of rosacea, such as the bumps and pimples. In severe cases of rosacea, where you have tried other treatments and they have not reduced the flushing and pimples, your doctor may prescribe you oral antibiotics for acne, such as isotretinoin. This powerful medicine has anti-inflammatory properties, meaning it can help to clear up the acne-like symptoms that come with rosacea, particularly in acne rosacea.
Therapy options
Certain light-based therapies, such as laser treatment, are may also help to ease the flushing (redness) of enlarged blood vessels that occurs in cases of rosacea.
To maintain the benefits of this type of treatment, you may need to repeat the procedure in the future.
Light0based therapies like laser treatment should never be done by anyone other than a certified medical professional.
Doctor Notes
Medicine Direct have an experienced clinical team of doctors, pharmacists and dispensers, all of whom are based in the UK. All are fully trained and qualified to provide appropriate and considered care across all areas of treatment we have available at our online pharmacy.
This means that no matter which member of our team is assigned to your case, you can rest assured that you are in the hands of a highly skilled medical professional, who possesses the compassion and clinical expertise to properly advise you on the best course of treatment.
We are fully regulated
All of our doctors and pharmacists are fully registered with both the General Medical Council (GMC), MHRA and the General Pharmaceutical Council (GPhC). Each member of our team has also worked in various clinic settings in the past, such as community pharmacies and NHS hospitals.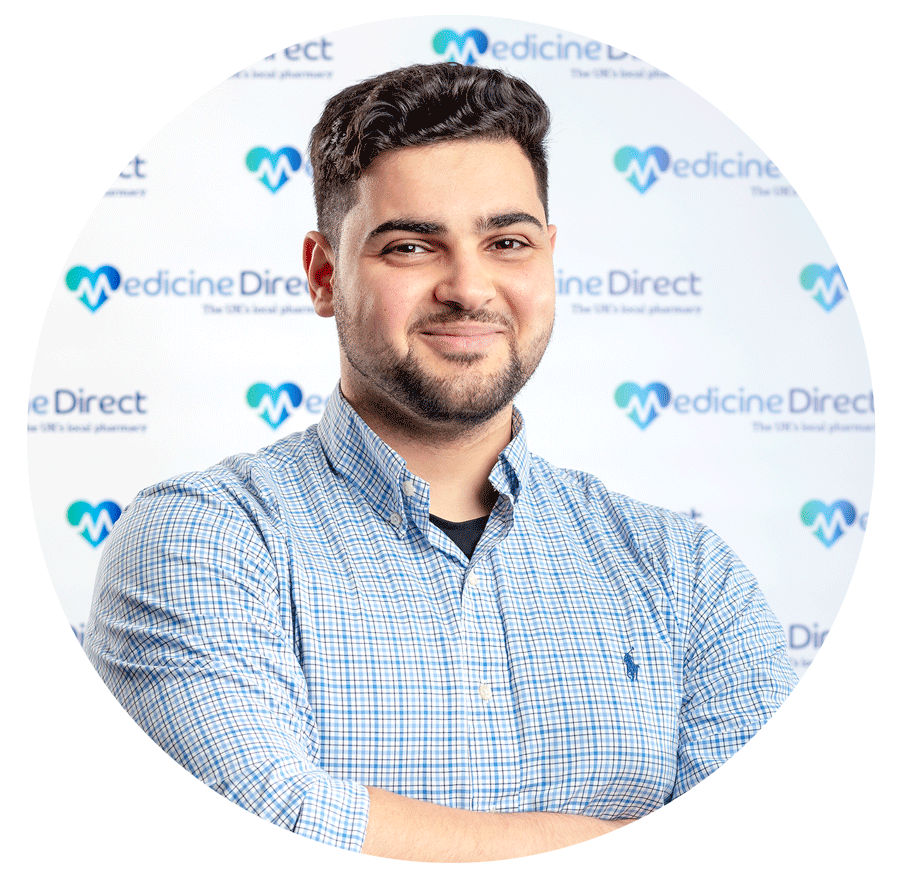 Hussain Abdeh
MPharm: 2211840
Superintendent Pharmacist
This content has been written by our Superintendent Pharmacist Hussain Abdeh and has been medically reviewed by our Pharmacist Sonia Khan
View Profile