Emla Cream

Used to treat Premature Ejaculation
Reduces sensitivity in the penis and delays ejaculation
Helps Men to enjoy sexual intercourse for a longer period of time

Priligy (30mg & 60mg) Tablets

Effective treatment for Premature Ejaculation in Men
Helps me to last up to three times longer during sex
Increases serotonin which promotes a delayed ejaculation
What is Premature Ejaculation?
This problem is commonly experienced by men during sexual intercourse. It is when a man ejaculates much faster than he would like to during sexual activity.
Studies across five different countries have shown that the average time to ejaculate during sex is around 5.5 minutes. However, there is no set definition for how long sex should last; this is down to individual couples to decide how long they wish it to last.
It is quite common for a man to suffer occasional episodes of premature ejaculation (PE), and if this happens from time to time it is no cause for concern. However, if you ejaculate prematurely more than half of the times you have sexual intercourse, you may require treatment.
Premature Ejaculation symptoms
The main symptom of PE is not being able to delay ejaculation for longer than one or two minutes after penetration. However, the problem can happen in all sexual activity, including masturbation.
Men may suffer from either:
Lifelong (primary): This occurs all or almost all of the time, starting from when you first begin sexual activity or intercourse.
Acquired (secondary): This develops after having previous sexual experiences without any problems with ejaculation.
Causes of Premature Ejaculation
The causes of premature ejaculation are both physical and psychological. Although men can suffer with ejaculation problems from the start of their sexual experiences, it usually begins suddenly. Men who have always experienced premature ejaculation could be suffering from it as a result of biological problems or a childhood trauma.
Physical causes of premature ejaculation include:
Problems with the prostate
Problems with the thyroid
The use of drugs
Erectile dysfunction
Psychological causes of premature ejaculation include:
Relationship difficulties
Anxiety or stress
Performance anxiety
Guilt
Premature Ejaculation diagnosis
Men often think they have symptoms of premature ejaculation, but they do not meet the diagnostic criteria for it to be a case of premature ejaculation. These cases could be natural variable premature ejaculation, which includes periods of rapid ejaculation alongside periods of normal ejaculation.
When you visit a doctor, they will ask you about your health history and your sex life. They may also carry out a physical examination. The might also order blood tests if you have trouble gaining an erection and ejaculating prematurely; this will check your testosterone levels.
Additionally, they may refer you to a urologist or mental health professional who can offer advice on sexual dysfunction.
Premature Ejaculation Treatment
How does premature ejaculation treatment work?
You can be prescribed premature ejaculation pills in the UK. Priligy is the best-known medicine for ejaculation problems. It can noticeably increase the time taken for a man to ejaculate.
Like some other treatments, it works by boosting the levels of serotonin in your body, which causes a delayed reaction in areas of the brain that cause ejaculation. This treatment contains the active ingredient dapoxetine, which is a serotonin reuptake inhibitor (SSRI).
The medicine is a quick treatment for premature ejaculation problems as it can be used between one to three hours before sex. It should not be taken more than once every 24 hours.
You can order Priligy online at Medicine Direct. We offer free consultations with our doctors to ensure it is safe for you to use. Once prescribed, you will be able to order it from our online pharmacy.
Behavioural techniques
Treatment options for premature ejaculation can vary, and some people find that certain steps, such as masturbating an hour or two before intercourse, can help to delay ejaculation during sex. Your doctor may suggest you do not have sex for a period of time and focus on foreplay; this will remove pressure from having penetrative sex.
Therapy
Another form of premature ejaculation treatment that some men find help their condition is to see a therapist. Speaking about your past sexual encounters and the reasons why you may suffer from this problem may help to reduce your feelings of anxiety and increase your confidence, which can help a lot of men to perform for longer during sex.
Doctor Notes
Medicine Direct have an experienced clinical team of doctors, pharmacists and dispensers, all of whom are based in the UK. All are fully trained and qualified to provide appropriate and considered care across all areas of treatment we have available at our online pharmacy.
This means that no matter which member of our team is assigned to your case, you can rest assured that you are in the hands of a highly skilled medical professional, who possesses the compassion and clinical expertise to properly advise you on the best course of treatment.
We are fully regulated
All of our doctors and pharmacists are fully registered with both the General Medical Council (GMC), MHRA and the General Pharmaceutical Council (GPhC). Each member of our team has also worked in various clinic settings in the past, such as community pharmacies and NHS hospitals.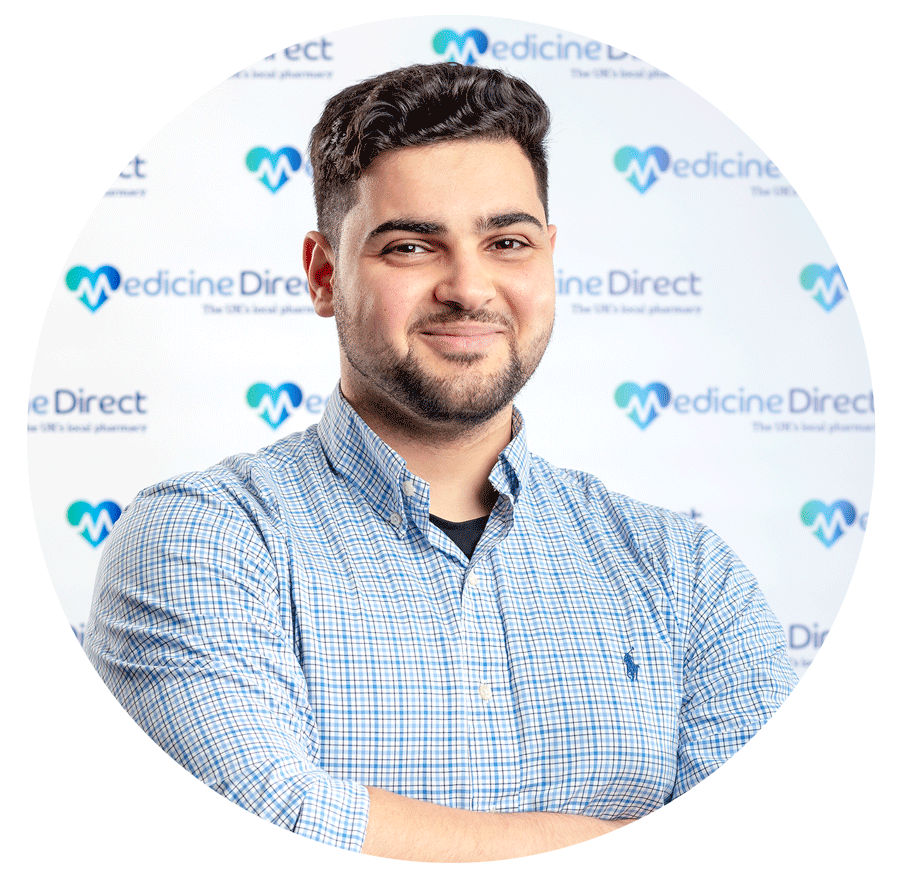 Hussain Abdeh
MPharm: 2211840
Superintendent Pharmacist
This content has been written by James Nuttall and has been medically reviewed by our Superintendent Pharmacist Hussain Abdeh. Hussain has been the Superintendent Pharmacist of Medicine Direct since 2018.
View Profile