Treatments
Migraleve Pink Tablets

Contains Paracetamol, Codeine and Buclizine
Effective treatment for Migraines
Fast acting pain relief

This medicine should only be used for up to three days

Imigran Nasal Spray

Contains 2 sprays per pack
Treats the symptoms of a Migraine
Also available as Imigran Tablets

Anadin Extra Caplets 32s

Fast acting pain relief
Triple action formula of caffeine, paracetamol and aspirin
Used for Headaches, Migraines, Period Pain, Toothache and more

Almotriptan

Effectively treats Migraines
Very fast acting
Generic version of Almogran

Please note brand received may vary

Zolmitriptan

Treatment for Migraine attacks
Relieves pain caused by Migraines
Fast acting

Please note brand received may vary

Rizatriptan

Generic version of Maxalt
Treats the headache stage of a migraine attack
Relieves pain and symptoms

Please note brand received may vary

Maxalt Melt

Branded version of Rizatriptan
Used to treat migraines
Relieves pain and symptoms
What is a Migraine?
Migraines are a common health problem and are normally a moderate or severe headache. You will normally feel a throbbing pain on one side of the head. Around 1 in every 5 women and around 1 in every 15 men will suffer from migraines. It is most common to start experiencing migraines in early adulthood affecting 1 in 7 globally.
Other signs of a migraine may include sensitivity to light and/or sound, feeling sick or being sick.
In some cases, people suffer from migraines up to several times each week. On the other hand, some people may not suffer a migraine attack for months at a time, but they can be very painful and debilitating when they occur.
Unfortunately, there is not currently a cure. However, there are ways to relieve the symptoms of a migraine. Various migraine treatments and tablets are available to help lessen the symptoms.
There are different types of migraine you may experience some include:
Migraine aura without headache (a silent migraine): This is where an aura or other migraine symptoms occur but you do not have a headache
Migraine with aura: Specific warning signs just before you have a migraine, such as seeing flashing lights
Migraine without aura: The most common form of a migraine, where it occurs without any specific warning signs
The Migraine Trust can help with more information on types of migraines.
Migraine Symptoms
The most common symptom of a migraine is an intense headache on one side of the head.
You will normally have moderate or severe pain that causes a throbbing sensation. It will be exacerbated when you move and it will likely inhibit you from being able to carry out certain everyday activities.
The pain can also occur on both sides of your head; it may also spread to your neck or face.
Other common migraine symptoms can include:
Feeling sick
Vomiting
An increased sensitivity to light and soun
Additional symptoms that affect some people can include:
Being unable to concentrate
Diarrhoea
Abdominal pain
Sweating
Feeling either very hot or cold
Some people may experience symptoms with or without a headache. You may not experience any of the additional symptoms listed.
These symptoms normally last any time between 4 hours and 3 days. They can cause you to feel tired for up to a week afterwards.
Causes of Migraines 
It is not known exactly what causes migraines, but it is believed to be due to abnormal activity in the brain which temporarily affect the nerve signals, chemicals and blood vessels in the brain.
Certain triggers have been suggested as the cause of a migraine headache.
Emotional triggers like stress, anxiety, shock and tension have been linked to causing migraine symptoms.
Certain hormonal changes are also linked. It is not uncommon for women to suffer migraines when they are having their period. This can happen between 2 days before beginning a period and for up to 3 days afterwards. The British Menopause Society provides information and fact sheets on the link between menopausal women and migraines.
Migraines improve for women after the menopause in many cases. Although, the menopause can also trigger migraines or make them worse for some women.
Physical triggers like being tired, not getting enough sleep, tension in your neck or shoulders or doing strenuous exercise can cause this problem, also.
Dietary triggers can be harder to track, as in some cases it may not be the food you have eaten, but the temperature of the food as this increases the levels of tyramine, which triggers headaches.
However, products to watch out for include alcohol, caffeine, citrus-based foods and any products that naturally contain tyramine, such as cured meats and some cheeses.
Environmental triggers can cause a migraine, like loud noises, bright lights, strong smells, smoking and changes in temperature or climate.
Certain types of medicine can also act as triggers, including some sleeping tablets, combined contraception pills and hormone replacement therapy (HRT).
Migraine Diagnosis
There is no formal way to diagnose a migraine, but making an appointment with a doctor will allow them to identify any patterns of symptoms or recurring headaches. Getting an accurate diagnosis can take time as migraines are unpredictable.
When you first visit a doctor, they may carry out a physical examination to check your vision, reflexes, sensations and coordination. This will help to identify or rule out any other conditions you may be suffering from.
They will ask you various questions about your migraines and symptoms.
Keeping a diary of when you have a migraine attack and the symptoms you exhibit can be beneficial; it will help your doctor to prescribe the right migraine relief tablets or treatments for your condition.
Treatment
At present, there is no cure for a migraine, but there are various migraine relief tablets and treatments available to purchase from our online pharmacy. Over the counter medicines can help to relieve some symptoms, but if these prove ineffective, you may require a prescription medicine from a doctor.
Treatment advice for migraines
Painkillers are often the first port of call for migraine treatment. The likes of ibuprofen can help to alleviate some of the symptoms, such as nausea, headaches and sensitivity to light.
If these do not prove effective, you should speak to a doctor about other forms of migraine treatment as they may prescribe medicines known as 'Triptans' such as the medicine Sumatriptan, which may be more effective.
Best migraine medication
At Medicine Direct, we have a range of medicine to treat migraines. We offer freeonline consultations with a certified doctor, who will be able to advise you on which treatment is the most effective for you. After receiving a prescription, you can purchase tablets and treatments from our online pharmacy.
If you place your order online by 2pm, we can also offer you next day delivery.
Imigran tablets for migraine
For the treatment of both aura and non-aura migraines.
Maxalt melt
Wafer medicine to be dissolved in the mouth as soon as symptoms begin. Ten milligram doses to be taken no more than three times a day. Sold in wafers or in tablet form of Rizatriptan.
Zolmitriptan
To be taken as instructed by the doctor, usually two tablets as soon as the headache phase of a migraine begins.
Zomig
A nasal spray used to treat headaches. To be sprayed into the nose once to treat a headache as soon as it has begun.
During a migraine attack
Many people have found that lying down or sleeping in a darkened room is most beneficial when suffering from migraines.
Some also say that eating something can make them feel better, or that they feel better when they have been sick. If you do not feel sick, drink some water to keep yourself hydrated.
Our pharmacists and prescribers follow NICE guidelines when prescribing migraine treatments.
Doctor Notes
Medicine Direct have an experienced clinical team of doctors, pharmacists and dispensers, all of whom are based in the UK. All are fully trained and qualified to provide appropriate and considered care across all areas of treatment we have available at our online pharmacy.
This means that no matter which member of our team is assigned to your case, you can rest assured that you are in the hands of a highly skilled medical professional, who possesses the compassion and clinical expertise to properly advise you on the best course of treatment.
We are fully regulated
All of our doctors and pharmacists are fully registered with both the General Medical Council (GMC), MHRA and the General Pharmaceutical Council (GPhC). Each member of our team has also worked in various clinic settings in the past, such as community pharmacies and NHS hospitals.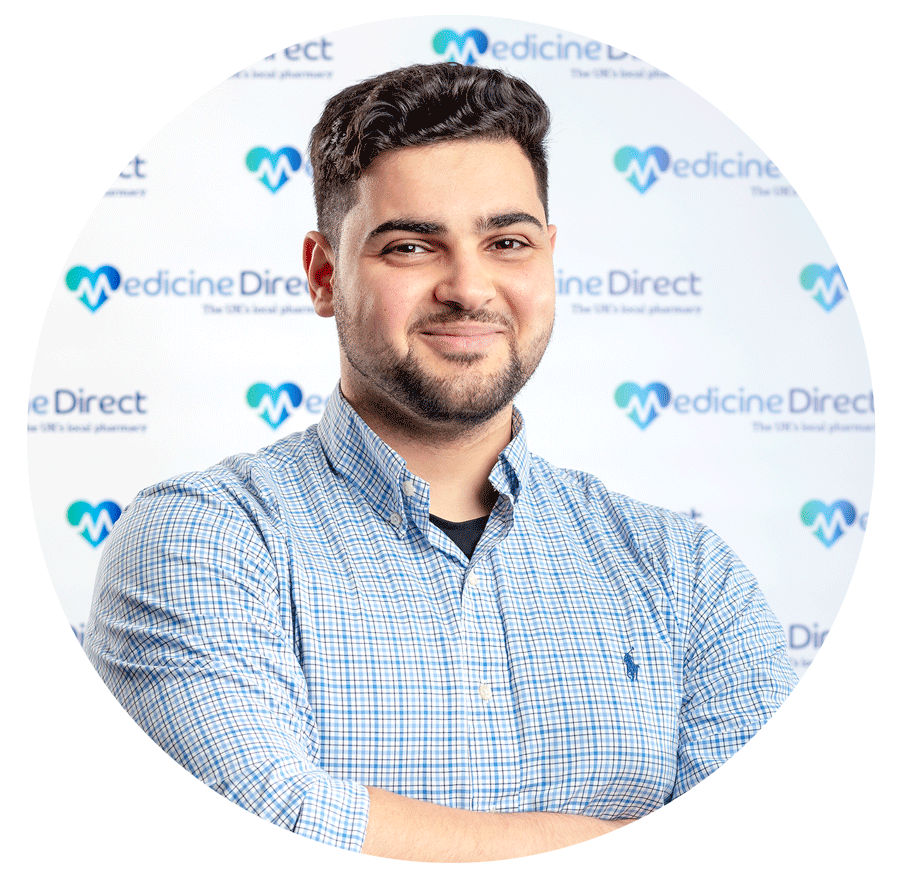 Hussain Abdeh
MPharm: 2211840
Superintendent Pharmacist
This content has been clinically written and medically reviewed by our Superintendent Pharmacist Hussain Abdeh. Hussain has been the Superintendent Pharmacist of Medicine Direct since 2018.
View Profile