Treatments

What is Cystitis?
Cystitis, also known as a water infection, is an inflammation of the bladder which affects up to 40% of women. It can also affect men, though this is rare. It is usually caused by a bladder infection, in which the bladder becomes inflamed. It may also occur if your bladder is irritated or damaged.
Cystitis is seldom a serious condition, it is more of an inconvenience. However, the symptoms of cystitis can be painful, uncomfortable and make it difficult for the sufferer to get on with their day without needing to go to the toilet much more regularly.
There are two types of cystitis. Bacterial cystitis is the name for when your bladder is infected. Non-bacterial cystitis is the name for when your bladder is irritated or damaged. Pain when urinating, and needing to urinate more often, are two of the main symptoms you may experience. Left untreated, cystitis can lead to a kidney infection, which is more serious. Therefore, it is always important to monitor your cystitis carefully.
If your cystitis symptoms are mild, it is possible that it may go away after a few days, particularly if you drink plenty of water to try and flush the infection out of your bladder. With the aid of painkillers, it is also easier to carry out your daily life without being bothered by pain and discomfort. In many cases though, you may need to go to your doctor for an appropriate cystitis treatment.
You can buy cystitis treatments online at Medicine Direct. Following a short online consultation with one of our certified doctors, they can prescribe you a medicine to get rid of cystitis. You can then order this medicine from our online pharmacy. Order online by 2pm and we can have your medicine with you the very next day.
Cystitis symptoms and warning signs
Cystitis can make the sufferer feel unwell and cause problems with urination. It can be painful to urinate and you may also experience an ongoing stomach pain.
The most common cystitis symptoms and warning signs are:
The need to urinate more often and more urgently
A stinging, burning or painful feeling when urinating
Dark, cloudy or strong smelling urine
Lower stomach pain
Feeling sick, tired, unwell and achy
Feeling like you need to urinate again when you have just been to the toilet
Blood in your urine
If these symptoms bother you and continue for longer than 3 days, you should make an appointment to see your GP, who will assess your symptoms and prescribe you a suitable cystitis treatment.
While cystitis is not a serious condition, if left untreated it can lead to a kidney infection, which is more serious and can be very painful. For this reason, it is important to monitor your symptoms' progress and see a doctor if they have not improved after a few days.
Cystitis Causes
The most common cause of an infection of the urinary tract like cystitis is a bacterial infection. This can lead to inflammation of the bladder. However, in some instances, you can get cystitis when the bladder has been damaged or irritated by something else.
The most common non-bacterial cystitis causes are:
Not emptying your bladder fully when you urinate
Pressure on your bladder due to pregnancy
Using a diaphragm
Wiping the wrong way after going to the toilet (you should wipe front to back)
Nicotine
Dehydration
Vigorous sex
Chemicals and perfume in soaps
Diabetes
Wearing a catheter
Cystitis Diagnosis
If you have symptoms of cystitis, you should speak to your doctor as soon as possible. During your appointment you will discuss your symptoms and medical history.
In order to diagnose you properly, your doctor may recommend that you have some tests done. One of the most common tests they may order is a urine analysis. For a suspected infection of the urinary tract, your doctor may ask you to provide a urine sample; this will be analysed to see if blood, pus or bacteria is present in your urine.
A cystoscopy may be performed, where a thin tube with a light and camera attached is inserted through the urethra into your bladder, to check for signs of infection or disease in your urinary tract.
In rare cases, imaging like X-rays or ultrasounds may be required if there is no evidence of infection found. This will help to rule out something more serious like a tumour.
If you are concerned that you have cystitis, it is important to make an appointment to see your doctor as soon as possible. If you are looking to buy cystitis antibiotics online, fill out a Medicine Direct health questionnaire here. This will be passed to one of our doctors, who will assess your symptoms and prescribe the right course of treatment for you.
You can then order your medicine from our online pharmacy. If you order online before 2pm, we can offer you free next day delivery.
Cystitis Treatment
Some bouts of cystitis will go away on their own after a few days, with no need for medication. However, if your symptoms are severe and the infection doesn't seem to be going away on its own, you may need a course of antibiotics.
If you are looking for how to treat cystitis at this point, Medicine Direct offers a type of antibiotic called . You can buy this cystitis treatment from our online pharmacy after an online consultation with a registered doctor.
While taking antibiotics and waiting for your symptoms to clear, it might also help to:
Drink lots of water
Apply a hot water bottle or heat pack to where the pain is
Take paracetamol or ibuprofen for the pain
Urinate frequently
Use a sensitive soap on your genitals when washing
Avoid sex
Wipe from front to back when you go to the toilet
Treatment length for cystitis
If your symptoms are mild and have lasted for less than 3 days, you can try a few treatment methods without seeing a GP. If any of the following do not prove to be an effective remedy for cystitis symptoms, you should make an appointment to see your doctor:
Take painkillers that you can buy over the counter, such as ibuprofen or paracetamol. Always read the information leaflet to make sure it is a suitable medicine for you to use. Speak to the pharmacist if you are unsure.
Drink plenty of water to try and flush the infection out of your bladder.
Having sex may make your cystitis worse, so avoid having sex until you feel better again.
If you choose to use the cystitis medication Trimethoprim, the standard course of treatment is to take two tablets per day for three days. However, the necessary treatment length can vary from person to person. This is because the length of time that this medication takes to start working depends on several factors.
These include the severity of your infection, your age, your gender and whether you have any other health problems. Pregnant women, for example, will need to take antibiotics for 14 days. Once your course of treatment is complete, you should find your symptoms and pain have subsided.
If you are still experiencing discomfort even after you've finished the tablets, we would recommend contacting your GP for further advice.
Doctor Notes
Medicine Direct have an experienced clinical team of doctors, pharmacists and dispensers, all of whom are based in the UK. All are fully trained and qualified to provide appropriate and considered care across all areas of treatment we have available at our online pharmacy.
This means that no matter which member of our team is assigned to your case, you can rest assured that you are in the hands of a highly skilled medical professional, who possesses the compassion and clinical expertise to properly advise you on the best course of treatment.
We are fully regulated
All of our doctors and pharmacists are fully registered with both the General Medical Council (GMC), MHRA and the General Pharmaceutical Council (GPhC). Each member of our team has also worked in various clinic settings in the past, such as community pharmacies and NHS hospitals.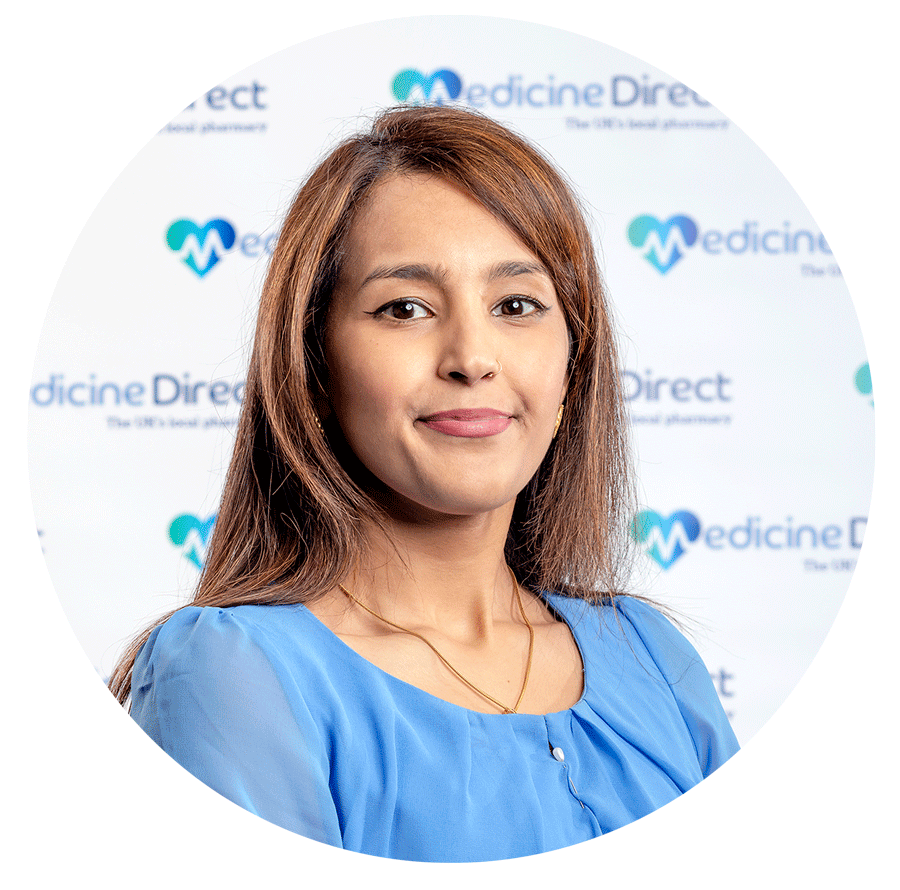 Sonia Khan
MPharm: 2076091
Pharmacist
This content has been clinically researched and medically written by our Pharmacist Sonia Khan. Sonia is our local on-site pharmacist responsible for dispensing a wide range of treatments to our patients on a daily basis.
View Profile