Colgate Duraphat

High fluoride treatment
Prevents tooth decay
Prescription Only toothpaste
What is High Flouride Toothpaste?
Fluoride is a naturally occurring mineral found in water. In the 1950s scientists discovered that, when it was added to toothpaste, it helped prevent decay. Tooth decay is the erosion of teeth or gums, this is caused by the acid produced by dental plaque bacteria.
These oral bacteria produce higher levels of acidity each time you each sugary food or drink. Eventually, if left untreated, the acid can cause cavities to form in teeth. Using fluoride toothpaste is proven to be one of the best ways to reduce acidity. Major toothpaste brands now include sodium fluoride in all their toothpastes. However, your dentist may recommend and prescribe a higher strength of fluoride toothpaste for you if you're at a high risk of tooth decay.
You can order fluoride toothpaste and products online from Medicine Direct. Simply fill in one of our online consultations with one of our doctors and they'll prescribe the best treatment for you.
Where can I buy high fluoride toothpaste from online?
Here are Medicine Direct, you can buy a range of dental products containing fluoride. Our order process is fast and simple. Complete a Medicine Direct health questionnaire here with one of our doctors and they'll recommend the best sodium fluoride products for you.
Our pharmacists and prescribers follow NICE guidelines when prescribing fluoride toothpaste.
Doctor Notes
Medicine Direct have an experienced clinical team of doctors, pharmacists and dispensers, all of whom are based in the UK. All are fully trained and qualified to provide appropriate and considered care across all areas of treatment we have available at our online pharmacy.
This means that no matter which member of our team is assigned to your case, you can rest assured that you are in the hands of a highly skilled medical professional, who possesses the compassion and clinical expertise to properly advise you on the best course of treatment.
We are fully regulated
All of our doctors and pharmacists are fully registered with both the General Medical Council (GMC), MHRA and the General Pharmaceutical Council (GPhC). Each member of our team has also worked in various clinic settings in the past, such as community pharmacies and NHS hospitals.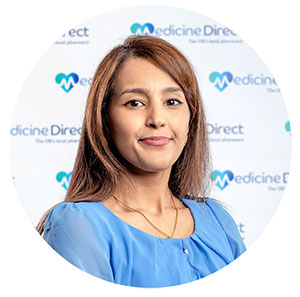 Sonia Khan
MPharm: 2076091
Pharmacist
This content has been written by our Pharmacist Sonia Khan and has been medically reviewed by our Superintendent Pharmacist Hussain Abdeh
View Profile