Treatments
What is Acid reflux?
Acid reflux is a common problem, with 60% of people suffering from it at some point in a 12-month period. However, it can be very uncomfortable and lead to unwanted and unpleasant physical manifestations, such as bad breath and chest pain.
Acid Reflux/heartburn is the feeling you experience when stomach acid travels up from the stomach and towards your throat (acid reflux). It happens when there is excess acid in your stomach, which can be very painful. If it is not treated properly, it can create ulcers and erode the lining of your throat. As for what causes acid reflux, it is normally the result of eating specific foods.
Acid reflux is a condition that is mainly triggered by food. Tweaking your diet or lifestyle is recommended before taking any medicine used to reduce your symptoms.
Acid Reflux Symptoms
The most common acid reflux symptoms are:
A burning sensation in the centre of your chest (heartburn)
A bad, sour taste in your mouth (this is caused by stomach acid)
Bad breath
Bloating and feeling sick (nausea)
A hoarse voice
Recurring cough or hiccups
A sign that these are acid reflux symptoms is that they will be worse after you have eaten, when you bend over or when you lie down.
What is the treatment for acid reflux?
Lifestyle changes
You may be able to treat your heartburn by making changes to your diet and the way you eat. You could try eating smaller but more frequent meals, losing weight if necessary and raising your bed at night so your chest and head are above the height of your stomach. Some people report acid reflux occurring more when they are stressed, so it could be beneficial to find activities or routines that help you to relax and de-stress.
While making these lifestyle changes, be sure to eat well in advance of going to bed (at least 3 or 4 hours) and avoid foods that you believe are triggering your acid reflux and heartburn. Do not smoke or drink too much alcohol and ensure that you wear clothes that are comfortable around your waist and stomach.
Acid Reflux Tablets
To ease acid reflux, your GP may choose to prescribe proton pump inhibitors (PPIs) which can provide effective relief for some of the painful symptoms caused by acid reflux. Proton pump inhibitors work by reducing the amount of acid the stomach produces and as a result ease the symptoms of acid reflux. 
One of the most commonly prescribed treatments for Acid reflux include Omeprazole 20mg capsules which are fast acting and help to ease the symptoms related to excessive stomach acid.
Other products used to treat acid reflux include Lansoprazole 30mg gastro resistant tablets, which can be purchased online after completing an online consultation with a doctor.
What is the best medicine for Acid Reflux?
There are a variety of acid reflux treatments to choose from, however what may be best suited to you may not be best suited to someone else.
The acid reflux treatment you are prescribed will largely depend on the severity of your condition and your previous medical history.
Medicine Direct offers a variety of heartburn remedies and acid reflux medication. These include the commonly prescribed Lansoprazole, Omeprazole and Pantoprazole, which work by reducing the amount of acid your stomach makes. In doing so, it effectively reduces painful heartburn symptoms caused by excessive acid.
Over the counter Acid reflux treatments
In lower doses, you can buy Omeprazole over the counter if it is lower than the 10mg prescription strength alternative. For Omeprazole over 10mg, this will then fall into the prescription only medicine category, which needs to be prescribed by a UK doctor or prescriber.
Acid Reflux treatment prices (UK)
| | | |
| --- | --- | --- |
| Medicine and Dosage | Quantity | Price (starting from) |
| Omeprazole 10mg, 20mg 40mg | 14 Capsules | £11.99 |
| Pantoprazole 20mg, 40mg | 14 Tablets | £11.99 |
| Lansoprazole 15mg, 40mg | 14 Gastro resistant capsules | £11.99 |
| Esomeprazole 20mg, 40mg | 14 Tablets | £12.99 |
Doctor Notes
Acid reflux can appear quite suddenly, it can be triggered by a number of different things, from food, alcohol, exercise and even certain types of medicine. Medicine Direct stock a range of acid reflux treatments, tablets and capsules that you can buy online. All of our acid reflux treatments are clinically proven to help ease the symptoms of acid reflux. We source all of our medicine from UK based wholesalers.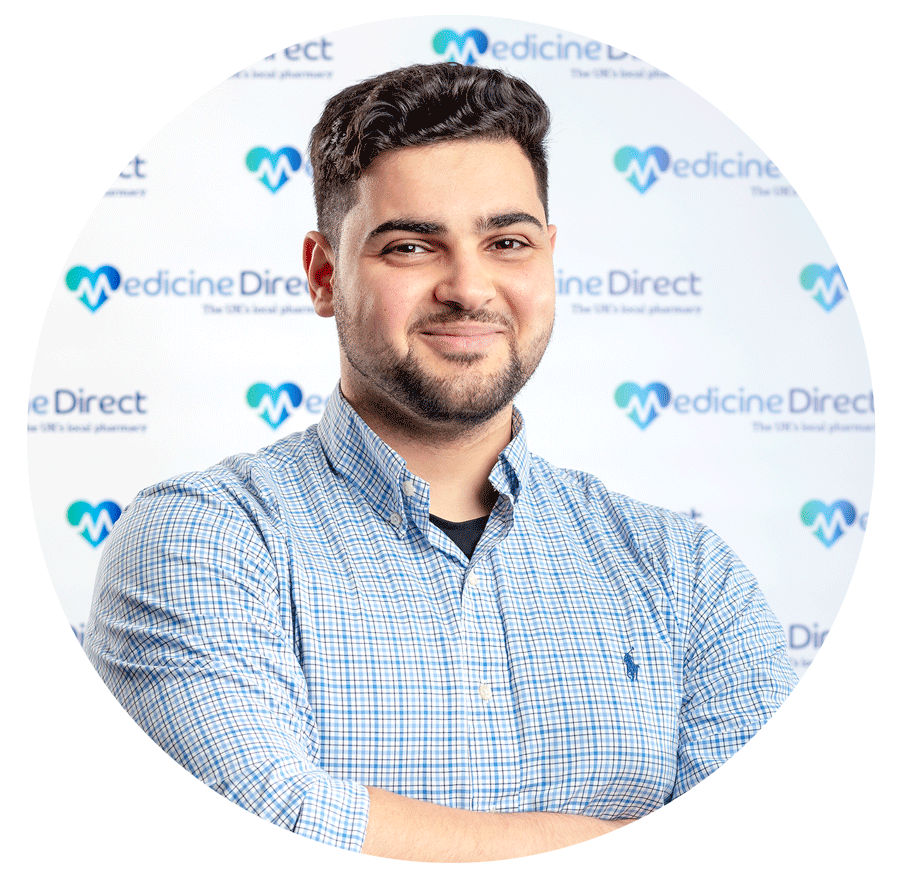 Hussain Abdeh
MPharm: 2211840
Superintendent Pharmacist
This content has been written by our Superintendent Pharmacist Hussain Abdeh and has been medically reviewed by our Pharmacist Sonia Khan
View Profile