What is Nausea
Nausea is a common problem that occurs when your stomach feels uneasy. Various unwanted issues are associate with nausea: vomiting, motion sickness and travel sickness are a few different reactions to this problem. It is often caused by a stomach bug, but can also be a result of anxiety.
There are various treatments available to treat nausea, such as tablets and liquid medicines. Many of these do not require a prescription from a doctor.
Nausea Symptoms
The symptoms of nausea are not always painful, but they do cause a great deal of discomfort, mostly in the stomach, chest, upper abdomen and the back of the throat.
Common symptoms associated with nausea include:
Feeling sick
Stomach pain
Wind
Diarrhoea
Headaches
Fever
Feeling light-headed
Vomiting
Causes of Nausea
There are various different things that can cause nausea and vomiting. If you are currently suffering from nausea, your symptoms could be caused by one or more of the following:
A reaction to medicine
Emotional anxiety or stress
Stomach ulcers
Intolerance to certain foods
Food poisoning
Overeating
Alcohol
Recent surgery
Motion sickness
Travel sickness
Nausea during pregnancy
Experiencing nausea during the early stages of pregnancy is very common. Although it is commonly called 'morning sickness', it can affect women at any time during the day. Some pregnant women feel sick all day.
There are a few ways you can reduce the symptoms of morning sickness. Try and rest as much as possible, as feeling sleepy can cause the nausea to feel more severe. It is important to try and stay hydrated at all times. Some women find that eating cold foods help them, as the smell of hot meals can trigger sickness.
'Acupressure' is another trick to try to alleviate morning sickness. This involves placing a special band on your wrist or forearm to create a pressure that relieves nausea. Usually, women feel better after around 12 weeks of pregnancy as hormone changes are less severe.
You must call your midwife or GP if you are vomiting and are unable to keep food down for 24 hours, or have very dark-coloured urine. These are signs of dehydration or a UTI, which need to be treated as soon as possible.
Nausea Diagnosis
Diagnosing nausea as a specific condition is not easy as this is so often a symptom of many other conditions. However, nausea can cause vomiting; if you have nausea and vomiting for more than 48 hours, you should seek medical advice.
If your nausea is a reaction to motion sickness, you will be able to buy medicines from your local pharmacy without a prescription. In severe cases, you should visit your doctor for medicines that are specifically designed to help motion sickness.
For severe cases of nausea/vomiting, where blood may be present in your vomit, you may require urgent treatment. You should call 111 or go to A&E straight away if this happens.
Nausea Treatment
There are numerous ways you can treat feeling sick at home. Opening windows or taking a walk outside to get fresh air can help. Also, taking small sips of water will help to calm your stomach and keep you hydrated.
Some people find that ginger products and teas containing peppermint can help to get rid of the feeling of nausea.
Another trick is to simply distract yourself. The less you focus on feeling sick, the better you may feel. You should visit a GP if your feeling of nausea lasts for longer than a few days, or is recurring. This is to ensure the illness is not being caused by underlying health problems.
If you feel your nausea worsen, you can try and avoid being sick by resting in a sitting position. Avoid moving too much as this may lead to being sick. Also, try to avoid sitting in a car for a long period of time as the motion can cause nausea.
If you experience nausea at the same time as a tight or heavy chest, pain spreading across your torso, or shortness of breath, contact 999 immediately. These are all common symptoms of a heart attack.
How to avoid severe nausea
Severe bouts of nausea can last for days, and may also be accompanied by migraines or diarrhoea.
More serious cases of illness are generally caused by food poisoning and viruses. Both of these causes of severe nausea are avoidable by practising proper hygiene with food preparation and cleanliness.
You should always wash your hands after using the toilet, and before preparing food. It is also important to make sure you are aware of 'use-by' dates, and store leftover food safely to avoid bacteria multiplying.
If you are travelling, be cautious of street food and local water. Generally, it is advised to avoid drinking local water. Although you cannot be sure of the hygiene standards of a restaurant, a safe guide is to always ensure all food is thoroughly hot before eating.
Over the counter medicine
Medicine to treat sickness can be bought over the counter at pharmacies without a prescription. Various tablets and liquid medicines are available. Many anti-nausea medicines contain bismuth subsalicylate, which protects and calms your stomach lining. Common branded examples of this ingredient are pepto-bismol and kaopectate.
Other OTC nausea medicines work by blocking neuron messages reaching the part of the brain which is responsible for creating sickness. Examples of this medicine include Dramamine and Bonine.
If you are experiencing stomach cramping as well as sickness, a pharmacist may also recommend using paracetamol. Before buying any medicine from a pharmacy, ensure you inform them of any other symptoms, medical conditions or medication you may be already taking.
Buy nausea medicines
Our online pharmacy offers arrange of anti-nausea medicine. Complete a free consultation with one of our pharmacists, and they will prescribe you the treatment most suited to your needs.
What are the symptoms of nausea?
Nausea symptoms are not always painful, but they can cause a great deal of discomfort. Common symptoms are: Feeling sick, Stomach pain, Wind, Diarrhoea, Headaches, Fever, Feeling light-headed, Vomiting.
When do I need to see my GP about nausea?
Understanding what causes you to feel nauseous will help you to determine whether or not you should visit a doctor. If your problem comes as a result of drinking too much alcohol or eating too much, these symptoms should go away on their own. This means you are unlikely to need to see a doctor. If you are consistently feeling nauseous, you are advised to speak to a doctor. Vomiting is not uncommon when you are feeling nauseous. If you have had nausea and vomiting for longer than 48 hours, you should see your doctor. Speak to a doctor if you have any of the following symptoms: Stiffness in your neck and a headache, Dehydration, Blood in your vomit, Severe stomach pain, Your nausea keeps persisting and you are not pregnant.
What medicines are used to treat nausea?
A range of medicines are available to treat this condition, some of which are commonly prescribed, while others are safe to use without a prescription. Medicines that are available to buy at Medicine Direct include: Domperidone, which works to stop you feeling sick. We stock a wide range of medicines you can use to relieve feeling nauseous. After an online consultation with one of our certified doctors, they can prescribe the medicine they find to be best for your symptoms. You can then order this from our online pharmacy.
Can nausea be prevented?
It is not always possible to prevent this problem, but managing underlying causes can prevent the nauseous feeling you may get as a result. If your medication makes you feel nauseous, speak to your doctor about the best way to cope with this; they may prescribe you a different treatment. Some of the below steps may help to prevent you from feeling sick, providing the cause and triggers can be controlled: Avoid foods that are difficult to digest, Eat slowly and eat smaller meals, Drink liquids between meals rather than during the meal itself, Eat when you do not feel nauseous , Do not drink too much alcohol, Get plenty of fresh air, Drink ginger or mint tea, Eat food that contains ginger, Avoid cooking or eating food that has a strong odour, Do not lie down after eating, Do not wear clothes that are too tight around the waist, Avoid hot, greasy, rich or fried foods.
I'm pregnant, can I take this medicine?
You should make sure your doctor is aware if you are pregnant; Mefenamic Acid may not be suitable for women to use if they are pregnant. You should also inform your doctor if you think you may be pregnant, are trying to get pregnant, or are breastfeeding.
Doctor Notes
Medicine Direct have an experienced clinical team of doctors, pharmacists and dispensers, all of whom are based in the UK. All are fully trained and qualified to provide appropriate and considered care across all areas of treatment we have available at our online pharmacy.
This means that no matter which member of our team is assigned to your case, you can rest assured that you are in the hands of a highly skilled medical professional, who possesses the compassion and clinical expertise to properly advise you on the best course of treatment.
We are fully regulated
All of our doctors and pharmacists are fully registered with both the General Medical Council (GMC), MHRA and the General Pharmaceutical Council (GPhC). Each member of our team has also worked in various clinic settings in the past, such as community pharmacies and NHS hospitals.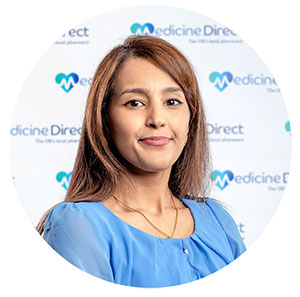 Sonia Khan
MPharm: 2076091
Pharmacist
This content has been written by our Pharmacist Sonia Khan and has been medically reviewed by our Superintendent Pharmacist Hussain Abdeh
View Profile