What is Eczema?
Eczema is a common dry skin condition that can be itchy and result in a scaly rash. The skin can tear if it is scratched, which can lead to further problems such as infection. Those who suffer with it develop dry patches as their skin does not produce enough natural oils to protect the outer layers. This means skin breaks down more easily which is why it becomes cracked or inflamed.
Atopic eczema is not contagious, so it cannot be passed on. Instead, eczema is usually inherited from family members. It tends to appear sporadically for most sufferers. It is a very common skin condition, with 20% of children and 8% of adults in the UK suffering from it. Studies undertaken found such links between Atopic eczema and genetics. 
The severity of this condition can vary from person to person; some people may only have small areas of dry skin that itches occasionally, while others may have widespread skin inflammation that itches constantly.
Eczema Symptoms
The most common symptoms of atopic eczema are when your skin becomes itchy, sore, cracked and dry.
Normally, you will have periods where your symptoms improve, which is usually followed by other periods where you have flare-up. You may suffer flare-ups 2 or 3 times each month.
Atopic eczema can occur all over your body, but it is particularly common on your hands (particularly fingers), the insides of your elbows or the backs of your knees. Children who suffer from this condition may have it on their face and scalp. However, your symtoms and appearence of eczema may differ depending on the type of eczema you have.
Eczema Causes
Both environmental and everyday products can cause eczema to be triggered. For instance, washing detergents or soaps can cause the skin to lose some of its natural oils, making it even drier.
Environmental factors such as pollen or cold weather can also dry out the skin further which will trigger a flare-up. For some women, hormones can play a part in making their dermatitis worse, especially during pregnancy.
Diet is also thought to be a factor in causing eczema to worsen. If you think your diet may be causing flare-ups, try and keep a food diary to take to your doctor as they may be able to see a pattern of food triggers to avoid. Do not cut out any food types until you have spoken to a doctor.
Eczema Diagnosis
No tests are required to diagnose eczema. Your doctor will examine your skin and review your medical history to make a diagnosis. Patch testing may also be carried out to rule out any other skin conditions you may have, or identify any other problems that accompany the eczema.
If your child has a rash and you believe it may be caused by certain food they are eating, speak to your doctor about identifying food allergies.
Eczema Treatment
Unfortunately, there is not a cure for eczema but there are a variety of treatments you can use to ease the symptoms. Products such as moisturisers, topical creams and ointments can be used to reduce swelling and redness.
A doctor may also recommend antihistamines. There are also ways you can treat eczema at home. Some tips for home treatments include:
Avoid scratching areas of affected skin
Put mittens on your baby to stop them scratching
Change your detergents and soaps until you find one that does not irritate
Avoid anything that may trigger it like heat or certain fabrics such as wool
The two most common forms of treatment are:
Topical corticosteroids, which are creams and ointments to reduce redness and swelling
Emollients, which are moisturisers that you should use every day to sop the skin becoming dry
Buy eczema cream online
Our online UK pharmacy stocks a range of products to help treat eczema. We offer free consultations with an online doctor. They will review your consultation to be able to recommend the best treatment for you. All our treatments are shipped safely with free postage and packaging.
Our pharmacists and prescribers follow NICE guidelines when prescribing eczema treaments.
Doctor Notes
Medicine Direct have an experienced clinical team of doctors, pharmacists and dispensers, all of whom are based in the UK. All are fully trained and qualified to provide appropriate and considered care across all areas of treatment we have available at our online pharmacy.
This means that no matter which member of our team is assigned to your case, you can rest assured that you are in the hands of a highly skilled medical professional, who possesses the compassion and clinical expertise to properly advise you on the best course of treatment.
We are fully regulated
All of our doctors and pharmacists are fully registered with both the General Medical Council (GMC), MHRA and the General Pharmaceutical Council (GPhC). Each member of our team has also worked in various clinic settings in the past, such as community pharmacies and NHS hospitals.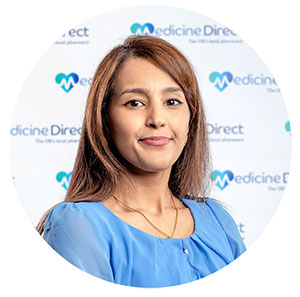 Sonia Khan
MPharm: 2076091
Pharmacist
This content has been written by our Pharmacist Sonia Khan and has been medically reviewed by our Superintendent Pharmacist Hussain Abdeh
View Profile