Treatments
Qvar Inhaler

Preventer inhaler
Contains the steroid Beclometasone
Available as an inhaler/autohaler

Symbicort Turbohaler

Preventer Inhaler
Effective treatment for Asthma and COPD
Reduces inflammation of the airways

Seretide Inhaler

Combination Inhaler
Reduces inflammation of the lungs and airways
Prevents future Asthma attacks
Provides effective relief for up to 12 hours

Atrovent Inhaler (20mcg)

Provides effective treatment for Asthma and Chronic Obstructive Pulmonary Disease (COPD)
Relaxes the muscles in the airways to the lungs
Effects last between 3-5 hours

Clenil Modulite Inhaler

Brown Preventer Inhaler
Reduces inflammation and relaxes the muscles in the airways to the lungs
Prevents future asthma attacks

Flixotide Inhaler

Preventer Inhaler used to prevent Asthma Attacks
Reduces inflammation in the airways to the lungs
Widely prescribed for Athma and COPD
What is Asthma?
Asthma is a common lung condition that affects your ability to breathe normally. It may occur randomly or be triggered by exposure to things such as dust or smoke. While it is incurable, there are many effective treatments to keep your symptoms at bay.
Visit our Asthma guides section for more detailed information relating to asthma and the different types of asthma inhalers.
Asthma Symptoms and Warning Signs
Generally, the most common symptoms of asthma are the same regardless of your gender or age.
Common Asthma Symptoms
Breathlessness/shortness of breath
A tight chest
Coughing
Wheezing
Common Asthma Attack Symptoms
Breathlessness/shortness of breath that stops you sleeping, eating or speaking
A tight chest that is constant and severe
Coughing that is constant and severe
Wheezing that is constant and severe
Fast heartbeat, or breathing fast
Feeling dizzy, exhausted, drowsy, confused or faint
Fainting
Lips or fingers that turn blue
3 people die every day in the UK as the result of an asthma attack. If you feel that you may be having an asthma attack you should use your blue inhaler immediately and call an abulance.
Asthma triggers and causes
Asthma can be triggered by a number of things, from pollen triggers, to dust or even cold weather. Every individual who sufferes form Asthma may find that their symptoms worsen under certain conditions.
What Asthma inhalers are available online?
Medicine Direct offer a range of different asthma inhalers, depending on your condition, we offer reliever, preventer and combination inhalers.
For most people, two inhalers are prescribed. One is a blue inhaler, which relieves symptoms, the other is a brown inhaler which prevents them. Combination inhalers also exist which combine the properties of both a reliever inhaler and a preventer inhaler.
Preventer Inhalers
Preventer inhalers are used every day in order to prevent asthma symptoms occurring. A preventer inhaler works by preventing inflammation and swelling of the airways allowing air to pass through freely and unrestricted.
By preventing inflammation and swelling of the airways it also allows the medication contained within the inhaler to access the airways and gets to work exactly where it is needed.
As preventer inhalers will prevent asthma symptoms occurring, this also reduces the likelihood of needing to use a reliever inhaler as often due to the fact that symptoms may not occur as frequent.
Preventer inhalers will also build up protection and resistance to certain asthma symptoms which is also why it is important to take your inhaler daily when prescribed.
There are many different types of preventer inhalers, the most commonly prescribed ones are, Clenil Modulite and Flixotide
Reliever Inhalers
Reliever inhalers are usually blue in colour and are the most commonly used type of asthma inhaler in the UK. Anyone that has previously been diagnosed with asthma or COPD will be prescribed a blue reliever inhaler such as Ventolin which is to be used whenever you start to experience symptoms.
Reliever inhalers are used to relieve the symptoms of asthma such as an asthma attack. A reliever inhaler works by getting medication directly to your lungs causing the muscles surrounding the airways to relax. As a result, the airways become wider allowing air to pass through them more freely.
For individuals that only experience mild symptoms, for example when their symptoms are brought on by a known asthma trigger, a reliever inhaler is the ideal type of inhaler as this can be taken when you start to experience the symptoms.
However for individuals that find they have to use their reliever inhaler quite often, for example more than three times per week, your GP may choose to prescribe a preventer inhaler to work alongside your reliever inhaler.
There are many different types of reliever inhalers, the most common ones are, Ventolin and Salamol
Compare Asthma Inhalers online
Asthma Inhaler Prices (UK)
How long do I need to use my Inhaler for?
As asthma is incurable and a lifelong condition, it is likely that you will need to use your inhaler for the rest of your life. 
How do I buy asthma inhalers online?
You can buy various asthma inhalers online at Medicine Direct by completing an online consultation with one of our UK prescribers. Please note that our service does not replace the need for your regular asthma peak flow test with your GP.
Our pharmacists and prescribers follow NICE guidelines when prescribing Asthma Inhalers.
Doctor Notes
Asthma is a lifelong condition that does not have a cure; however, it can be managed with the regular use of asthma inhalers and treatments. Knowing exactly what type of inhaler to use and when to use it can help you to manage your asthma symptoms and over time build up a resistance to your asthma triggers. Medicine Direct offer a mixture of reliever, preventer and combination inhalers that are all clinically proven to help treat the signs and symptoms of asthma. Start your online consultation with a member of our UK based medical team to order your asthma inhalers online.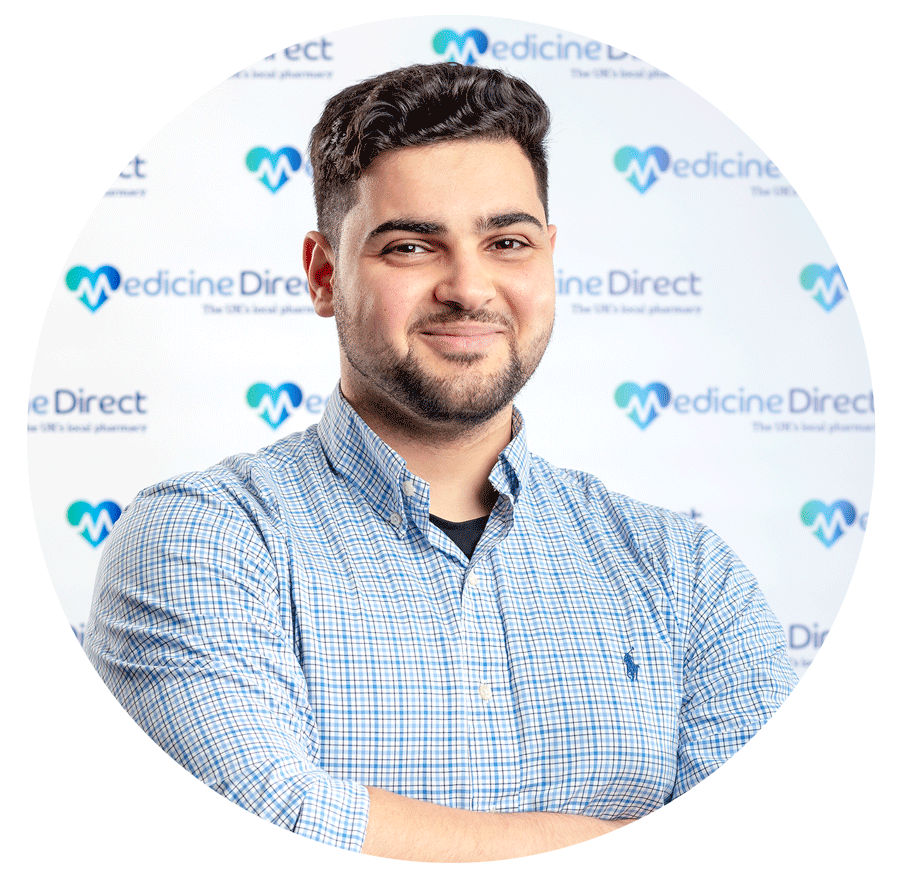 Hussain Abdeh
MPharm: 2211840
Superintendent Pharmacist
This content has been written by our Superintendent Pharmacist Hussain Abdeh and has been medically reviewed by our Pharmacist Sonia Khan
View Profile