Treatments
Propranolol (10mg & 40mg)

Most commonly prescribed for anxiety, angina and heart failure
Slows down the rate at which the heart beats
Typically gets to work within just a couple of hours

Maximum quantity per treatment: 84 Tablets

Please note brand received may vary
What are Beta Blockers?
Due to their hormone blocking properties, doctors prescribe beta blockers to treat heart disease such as angina, heart failure, aarrhythmia (irregular heart beat), and can also be used to prevent future heart attacks and strokes. Certain beta blockers such as propranolol can be used to treat high blood pressure and heart failure. Beta blockers are also used to treat situational anxiety and other stress related illnesses such as migraines.
Beta blockers, particularly propranolol is taken to help those suffering from anxiety as they reduce the body's physical reactions to stress. The medicine lowers the heart rate, which helps the body to relax. Depending on your anxiety, a doctor may advise them to be taken daily or just before a high-stress event.
For instance, you may want to take a beta blocker before giving a speech to reduce your anxiety. However, as they cannot help to treat the psychological causes of anxiety, blocking agents are used as a short-term solution.
For more information about Beta Blockers.
What treatments are available?
Our UK registered pharmacy offers two different types of beta-blockers. The dosage of beta blockers is condition and severity dependent. It is important to answer our online consultation thoroughly so that the correct dose is prescribed for you.
After an online consultation with one of our certified doctors, they will prescribe you the medication they deem the most suitable for your specific needs. You can then buy this from our online pharmacy; if you order online by 2pm, we can also offer you free next day delivery.
Bisoprolol
Bisoprolol is a common beta blocker in the UK, it can be used to treat a number of conditions. To ensure that you are buying bisoprolol in its correct dosage for your condition, you need to complete an online consultation with one of our prescribers. You can buy Bisoprolol tablets online at medicine direct for just 
Propranolol
Propranolol 40mg tablets are typically prescribed for the treatment of anxiety. However, for conditions such as angina it can be one tablet up to two to four times a day. It is available to buy in boxes of either 10mg or 40mg doses, in packs of 28 or 56 capsules.
What are Beta Blockers user for?
Bbeta blockers are used to treat a number of different issues including:
High blood pressure
Anxiety
Migraines
Preventing heart attacks, heart disease and strokes
Treating illnesses that can cause atrial fibrillation and an irregular heartbeat
You can also take Propranolol if you have too much thyroid hormone in your body, as this medicine helps to reduce your symptoms. This will normally be taken in conjunction with medication to treat an overactive thyroid.
Beta Blocker side effects
Some of the common side effects reported include:
Headache
Dizziness or weakness
Bodily aches and pains
Nausea or vomiting
Tiredness
Slow heart rate
If you are prescribed beta blockers, our team of doctors and pharmacists follow the NICE guidelines when prescribing beta blockers.
Who should not use beta blocker treatments?
This medication is not suitable for everyone to take. Speak to your doctor if you have:
Low blood pressure or a slow heart rate
Heart failure
Asthma
Lung disease
Have had an allergic reaction to Propranolol or any other medication in the past
Severe blood circulation problems
Metabolic acidosis
Can I buy beta blockers over the counter?
You can not buy beta blockers over the counter, they are prescription-only and are commonly prescribed for people with blood pressure problems and angina. They are also both prescribed for anxiety problems.
Because of the severity of the conditions that beta blockers are prescribed for, they need to be prescribed to you by a doctor or pharmacist. 
Our guide to beta blockers compares the most common beta blockers and what they are used to treat.
Beta Blocker Prices (UK)
| | | |
| --- | --- | --- |
| Medicine | Quantity | Price (starting from) |
| Propranolol 10mg | 28 Tablets | £13.99 |
| Propranolol 10mg | 56 Tablets | £19.99 |
| Propranolol 10mg | 84 Tablets | £26.99 |
| Propranolol 40mg | 28 Tablets | £14.99 |
| Propranolol 40mg | 56 Tablets | £22.99 |
| Propranolol 40mg | 84 Tablets | £27.99 |
| Bisoprolol 1.25mg | 28 Tablets | £13.99 |
| Bisoprolol 2.5mg | 28 Tablets | £13.99 |
| Bisoprolol 3.75mg | 28 Tablets | £13.99 |
| Bisoprolol 5mg | 28 Tablets | £13.99 |
| Bisoprolol 7.5mg | 28 Tablets | £13.99 |
| Bisoprolol 10mg | 28 Tablets | £13.99 |
Doctor Notes
Medicine Direct have an experienced clinical team of doctors, pharmacists and dispensers, all of whom are based in the UK. All are fully trained and qualified to provide appropriate and considered care across all areas of treatment we have available at our online pharmacy.
This means that no matter which member of our team is assigned to your case, you can rest assured that you are in the hands of a highly skilled medical professional, who possesses the compassion and clinical expertise to properly advise you on the best course of treatment.
We are fully regulated
All of our doctors and pharmacists are fully registered with both the General Medical Council (GMC), MHRA and the General Pharmaceutical Council (GPhC). Each member of our team has also worked in various clinic settings in the past, such as community pharmacies and NHS hospitals.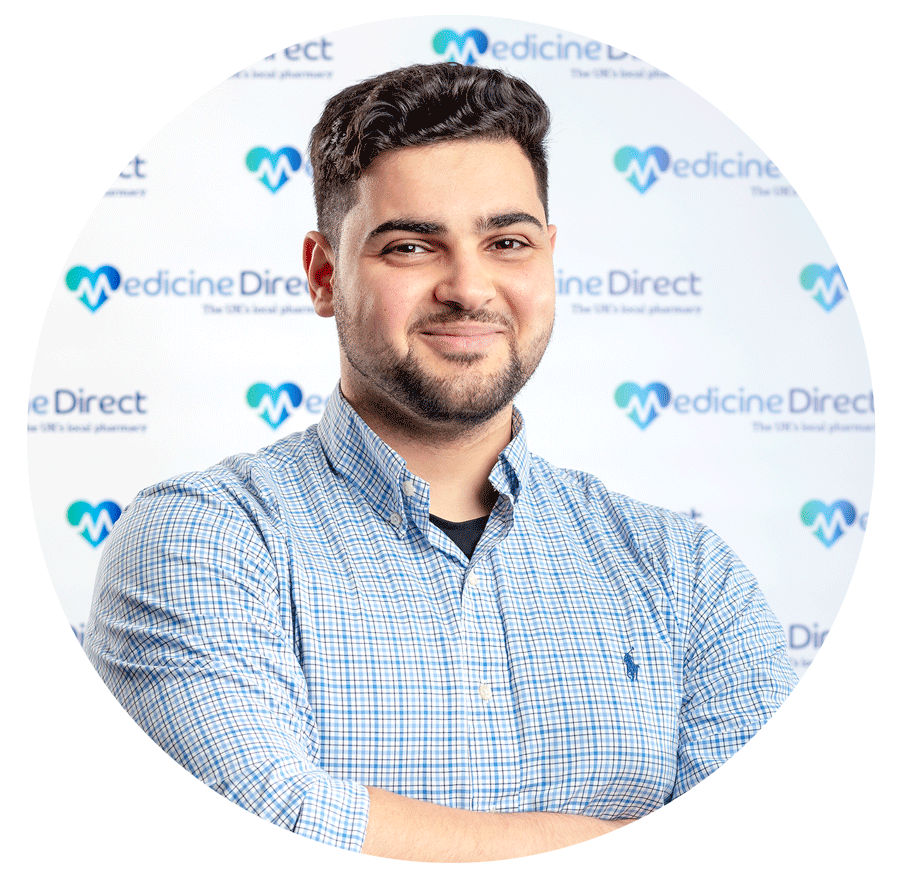 Hussain Abdeh
MPharm: 2211840
Superintendent Pharmacist
This content has been written by our Superintendent Pharmacist Hussain Abdeh and has been medically reviewed by our Pharmacist Sonia Khan
View Profile