Bacterial Vaginosis Treatments
Treatments

What is Bacterial Vaginosis?
Bacterial vaginosis (BV) is a common condition for women, which occurs when the normal balance of bacteria in the vagina is disrupted. It does not cause pain or itching in most cases, although a sufferer of the condition may have unusual vaginal discharge.
The condition is not a serious threat to a woman's health in most cases. Around 50% of people affected will not have any symptoms at all. If you develop bacterial vaginosis while pregnant, you should seek medical treatment as there is a chance of complications, such as a premature birth or miscarriage.
Is bacterial vaginosis a sexually transmitted disease?
This condition is not an STI, but it can increase your risk of catching an STI if you have it.
Is there a cure for BV?
In some cases, this condition will resolve itself, but you may require a prescription treatment for bacterial vaginosis, which you can buy from Medicine Direct's online pharmacy.
Bacterial Vaginosis Symptoms
Half of the women who have bacterial vaginosis will not have any symptoms at all.
How do I know if I have BV?
The most common symptoms of BV is unusual vaginal discharge, particularly after sex. This discharge has a strong fishy smell.
Your discharge may also become a grey-white colour and be thin and watery.
Bacterial Vaginosis Causes
What causes bacterial vaginosis?
Bacterial vaginosis is the result of a change in the natural balance of the bacteria inside your vagina.
It is not completely clear what causes this change to occur, but you are more likely to suffer with bacterial vaginosis if:
You use perfumed products in or around your vagina
You are sexually active
You have an IUD contraception
You have a new sexual partner
Bacterial vaginosis can be triggered by having sex, but it is not an STI. It can also be passed from one woman to another during sexual intercourse.
If you have BV, you are more susceptible to catching an STI. This might be because BV causes your vagina to be less acidic, which means you are less protected against infections.
Bacterial Vaginosis Diagnosis
When you speak to your doctor, they will ask you questions about your medical history and if you have had any previous vaginal infections or STIs.
Testing your vaginal pH is another possibility; your doctor may do this to check the acidity of your vagina by placing a pH test strip in your vagina. They may perform a pelvic exam to examine your vagina for signs of infection.
This involves a visual examination and inserting two fingers into your vagina while pressing on your abdomen to check for disease in your pelvic organs.
They might take a vaginal secretion sample, to check for an overgrowth of anaerobic bacteria in your vaginal flora.
Bacterial Vaginosis Treatment
Can BV go away without treatment?
In some cases, BV can go away on its own once the body has restored the bacterial balance. However, if symptoms persist, bacterial vaginosis is usually treated with either antibiotic tablets, a metronidazole tablets or gel or a clindamycin cream.
Bacterial vaginosis treatment
Creams used to treat BV help to relieve symptoms such as itchiness, as well as restore the pH balance. Some brands also work to neutralise the strong smell, which some sufferers can find embarrassing.
Metronidazole gel contains an antibiotic which helps to fight against the bad bacteria causing the infection. It is spread in the areas around and inside the vagina for up to five days to cure the infection. Metronidazole is also available as a tablet.
Buy bacterial vaginosis treatment online
At Medicine Direct, you can order bacterial vaginosis antibiotic treatments online. Simply complete an online consultation with one of our qualified doctors, and they will prescribe whichever antibiotic is right for you. All postage is free, and packaging is discreet.
We have up to seven different types of antibiotics available for bacterial vaginosis:
Doxycycline
Treatment can be bought in either 50mg or 100mg strengths, and in various course time lengths. Our doctors will review your health history and advise the dosage on a case by case basis.
Cefixime
This antibiotic can be ordered in packs of seven 200mg tablets per order. Please follow the doctor's dosage recommendation.
Ciprofloxacin
Between six to twelve tablet packets are available for purchase online.
Azithromycin
Between three to six tablet packets can be prescribed to treat bacterial vaginosis, based on severity of symptoms.
Lariam
A one-week course is usually prescribed by the doctor to treat BV.
Malarone
One 250/100mg tablet to be taken per day.
Doctor Notes
Medicine Direct have an experienced clinical team of doctors, pharmacists and dispensers, all of whom are based in the UK. All are fully trained and qualified to provide appropriate and considered care across all areas of treatment we have available at our online pharmacy.
This means that no matter which member of our team is assigned to your case, you can rest assured that you are in the hands of a highly skilled medical professional, who possesses the compassion and clinical expertise to properly advise you on the best course of treatment.
We are fully regulated
All of our doctors and pharmacists are fully registered with both the General Medical Council (GMC), MHRA and the General Pharmaceutical Council (GPhC). Each member of our team has also worked in various clinic settings in the past, such as community pharmacies and NHS hospitals.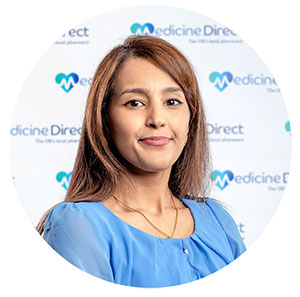 Sonia Khan
MPharm: 2076091
Pharmacist
This content has been written by our Pharmacist Sonia Khan and has been medically reviewed by our Superintendent Pharmacist Hussain Abdeh
View Profile