Avodart (Dutasteride)

Treats Male Pattern Baldness
Stimulates hair growth
Prevents further hair loss

Please note brand received may vary

Finasteride Tablets (1mg)

Used to treat Male pattern baldness
The generic version of Propecia
Visible results in just 3 - 6 Months
One of the world's most widely prescribed hair loss treatments

Please note brand received may vary
What is Alopecia
Alopecia Areata is the medical term for hair loss. The condition usually begins by causing small patches of baldness and, although it most commonly effects the scalp, it can also lead to hair loss in the beard, eyebrows and across the limbs. In some cases, sufferers can experience complete body hair loss.
Hair lost to alopecia can regrow, but it may take months or even years. In some cases, it cannot be guaranteed that any regrowth will happen. Early signs of alopecia are not consistent across everyone. Hair thinning may begin gradually over time, or the follicles could suddenly all be lost.
Hair loss is rarely something you need to worry about, but it can be very upsetting and cause you to be very self-conscious. Female and male pattern baldness usually runs in the family, while other forms of hair loss can be temporary. Hair loss (alopecia) can affect your whole body, not just your scalp. As well as being hereditary, you can also suffer hair loss as a result of medical conditions, hormone changes or ageing.
Medicine direct have a range of hair loss treatments available. Begin an online consultation with one of our doctors today, to be prescribed the best hair loss tablets for you.
Alopecia Symptoms
Depending on the type of hair loss, symptoms can appear in different ways.
They may include:
Full-body hair loss, which can be the result of certain medical treatments like chemotherapy for cancer. This hair normally grows back.
Thinning on the top of the head, which is the most common form of hair loss. It affects many people as they age. Men's hair usually begins to recede at the forehead's hairline, while women's parting usually broadens. Women may also have a receding hairline.
Patches of scaling that spread over the scalp, which is a sign of ringworm.
Sudden loosening of hair, which can be the result of a sudden physical or emotional shock. This is normally temporary.
Circular or patchy bald spots.
What types of hair loss are there?
There are various different types of this condition, which can affect different people at different stages of life.
Alopecia areata, which is common among teenagers and young adults, although it can affect people of all ages. Around six in every 10 people will have this problem before they are 20. This is where you suffer bald patches that come and go; the theory is that this is the result of a problem with the immune system.
Anagen effluvium, which is a common reaction to chemotherapy. This affects hair all over the body.
Scarring alopecia, also known as cicatricial alopecia, is often the result of a medical condition. This involves the hair follicles being destroyed and not growing back.
Male pattern baldness
Male pattern baldness (androgenic alopecia) is the most common cause of hair loss. This is hereditary and will affect around 50% of men by the time they turn 50. This condition is when your hairline recedes from the forehead and thins on the temples and crown.
Male pattern baldness is the result of the sensitivity of the hair follicles to testosterone. Hair follicles shrink when exposed to testosterone, causing them to stop functioning altogether, eventually. Male pattern baldness is mostly genetic and no cause for concern. It can be treated with various surgical and medical treatments to help the problem.
Although less common, female pattern baldness is another type of hair loss, which is normally shown by the hair on the top of a woman's head thinning. There are less treatment options for this condition compared to male pattern baldness, but there are still various treatments a woman can use to help ease the problem.
Causes of Alopecia
Not all hair loss is a sign of alopecia. People naturally lose between 50-100 hairs a day. Moreover, gradual hair loss is a normal part of the ageing process. However, some hair loss may be a medical condition caused by illness, stress, anaemia or chemotherapy.
Other reasons for hair loss may run in the family, such as male pattern baldness. Understandably, experiencing hair loss can be upsetting, so you should seek help if your alopecia begins to affect your well-being. You should also consider getting a medical consultation if patches of your hair are going completely bald, you're losing hair in clumps or your scalp has a burning sensation.
Understandably, experiencing hair loss can be upsetting, so you should seek help if your alopecia begins to affect your wellbeing. You should also consider getting a medical consultation if patches of your hair are going completely bald, you're losing hair in clumps or your scalp has a burning sensation.
Alopecia Diagnosis
Before your doctor diagnoses you with a condition, you will likely have a physical exam. They will also ask you about how you take care of your hair, your diet and your family and medical history.
They may conduct the following tests to help reach a diagnosis:
A scalp biopsy, where the doctor will scrape samples from skin or a few hairs they pluck from your scalp. This will be examined under a microscope to see if you have an infection that is causing the hair loss.
A blood test, which will show if you have any medical conditions causing the problem.
A pull test, which involves the doctor gently pulling several hairs to see how many come out at once. This checks the stage of the shedding process.
A light microscopy, where your doctor will use an instrument to examine hairs that have been trimmed at the base. This helps to identify any problems with the hair shaft.
Alopecia Treatment
How can hair loss be treated?
If the hair loss is mild, then treatment is not needed. The hair is likely to grow back over time, especially if it was caused by a medical condition. For more severe hair loss, there are a variety of treatments available to stimulate hair growth. For instance, there are scalp steroid creams which can be applied to the bald patches twice a day.
For complete baldness, some people invest in wigs to cover their heads. Tattooing is also an option for those who have lost short hair, for example, their eyebrows. Some people have also invested in hair transplant surgery, in which hair follicles from healthy areas are moved to the patches of baldness. Tablets can also be prescribed.
Buy Hair Loss Tablets
At Medicine Direct, we offer a range of hair loss tablets available on prescription. Simply complete an online consultation with one of our doctors, and they can recommend which treatment is right for you.
We offer two types of hair loss medication:
Propecia
Propecia is the brand name for Finasteride.
A single 1mg tablet is to be taken daily without any breaks. You can order it in boxes of 28-168 tablets.
Finasteride
1mg tablet to be taken daily at the same time. Boxes of 28-168 tablets can be purchased.
Finasteride is a prescription-only medicine for men. It may take a few months to see results, but many men who use this medication notice a significant slow in their hair loss, and some also notice new hair growth. It blocks the conversion of testosterone to dihydrotestosterone, which causes hair follicles to shrink. This allows the follicles to return to their normal size.
Doctor Notes
Medicine Direct have an experienced clinical team of doctors, pharmacists and dispensers, all of whom are based in the UK. All are fully trained and qualified to provide appropriate and considered care across all areas of treatment we have available at our online pharmacy.
This means that no matter which member of our team is assigned to your case, you can rest assured that you are in the hands of a highly skilled medical professional, who possesses the compassion and clinical expertise to properly advise you on the best course of treatment.
We are fully regulated
All of our doctors and pharmacists are fully registered with both the General Medical Council (GMC), MHRA and the General Pharmaceutical Council (GPhC). Each member of our team has also worked in various clinic settings in the past, such as community pharmacies and NHS hospitals.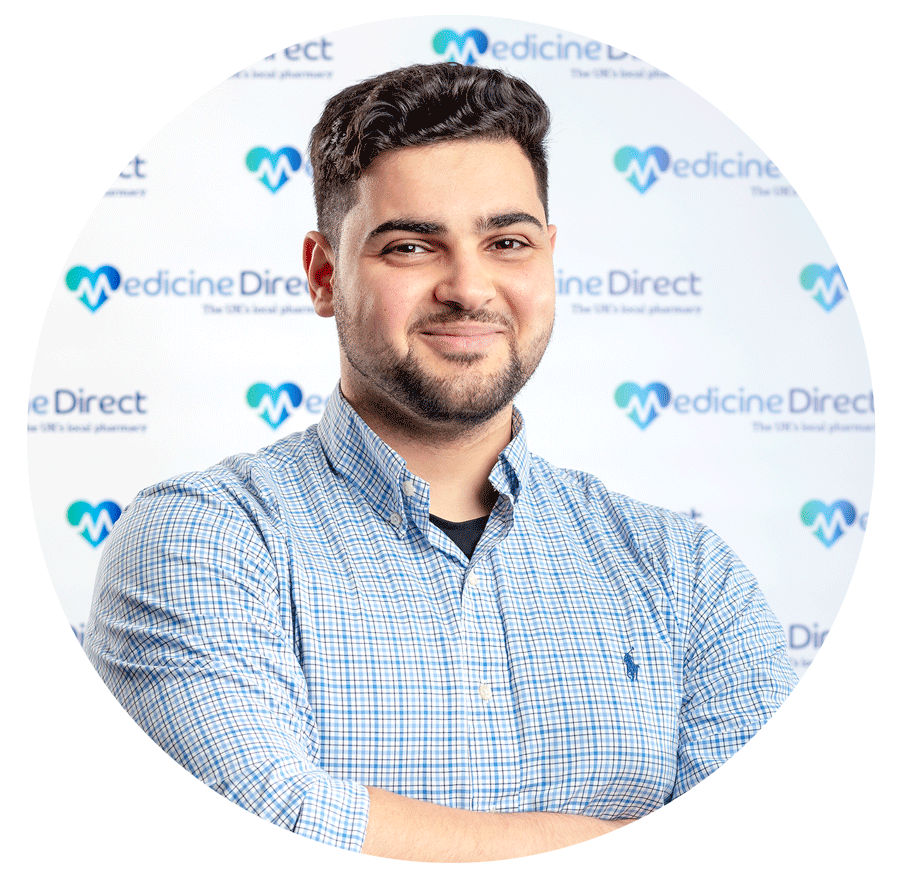 Hussain Abdeh
MPharm: 2211840
Superintendent Pharmacist
This content has been written by our Superintendent Pharmacist Hussain Abdeh and has been medically reviewed by our Pharmacist Sonia Khan
View Profile