What is thrush?
Thrush is a yeast infection that affects both men and women. It is a particularly common infection in women, with around 75% of women suffering from thrush at least once in their lifetime. There are various different kinds of thrush, such as oral and vaginal thrush. However, it can also affect other areas of your body, like the armpits, groin and between your fingers. This type of thrush often results in a red, itchy or painful rash that scales over with white or yellow discharge.
In some cases, you may not exhibit any thrush symptoms at all.
Thrush is not classed as a sexually transmitted infection (STI), but it can be very uncomfortable and be passed on through having sex. It is also quite common for thrush to come back more than once.
Thrush Symptoms
Thrush symptoms are similar for both men and women.
For women, symptoms of thrush include:
Thick, white discharge (like cottage cheese)
Soreness or burning during sex
Itching or irritation of the vagina
Stinging while urinating
For more information on Vaginal thrush symptoms in women, visit the NHS Inform website.
For men, symptoms of thrush include:
Redness or burning around the foreskin and head of the penis
Difficulty in pulling back the foreskin
White discharge
Unpleasant smell
For more information on thrush symptoms in Men, visit the NHS inform website.
If you keep getting thrush, you will need to go and visit your GP to rule out any other health issues. It might be the sign of an STI, or the result of an immune system condition such as diabetes.
Causes of Thrush
Thrush is caused by a fungus that is called candida which can cause a number of physical symptoms. This fungus is normally harmless. Although thrush is not an STI, it can be passed on, or caused, by sex.
More commonly, you can get thrush by changing the balance of vaginal or penile bacteria. This can happen if you are taking antibiotics, are pregnant, or if your skin is irritated. Irritation can be caused while showering if you use heavily perfumed soaps, and if you do not dry yourself properly after washing.
Thrush commonly grows in warm and/or moist conditions and grows if the bacterial balance changes.
You are particularly vulnerable to the thrush infection if:
You are pregnant
You have been through the menopause
You have diabetes that is not well controlled
You are currently taking any antibiotics
You have a weakened immune system (for example, you may have had chemotherapy or HIV)
Your skin is damaged or irritated
Thrush Diagnosis
A doctor or sexual health expert can diagnose thrush.
You should speak to your GP or a sexual health clinic if:
You are under 16 or over 60
Your treatment has not worked
You are pregnant or breastfeeding
You are exhibiting thrush symptoms for the first time
Your thrush keeps coming back
You have thrush or a weakened immune system
Your doctor will ask you certain questions, including:
How long you have had the symptoms
Whether you have asthma or a steroid inhaler
Do you have any long-term health conditions?
Do you have any other new symptoms of illness?
Have you taken any antibiotics for an infection?
Thrush Treatment
There are a variety of thrush treatments available. Avoiding sex and using cotton underwear will help to restore the bacterial balance. Steer away from tightly fitted clothing or synthetic materials.
Thrush vaginal tablets, also known as pessaries, are one option for treatment. These are put inside the vagina using an applicator. Typically, vaginal thrush treatments can be used for up to 6 days. If your thrush has not improved, you should visit your GP for advice.
Antifungal creams can also be bought to help relieve your thrush symptoms. A common home remedy is to use natural yoghurt. However, there is no scientific evidence to suggest that this can improve the symptoms of thrush. Nonetheless, women have reported that yoghurt can help to relieve burning or itching sensations.
Tablets for thrush
If pessaries and antifungal creams do not work, oral tablets can also be used. At Medicine Direct, you can buy thrush treatment online with a valid UK prescription, which one of our registered doctors can issue to you. Simply fill in the free online consultation with an online doctor, and they will prescribe you the medication if you are eligible.
We offer one of the most commonly taken thrush tablets, Suprax.
Buy thrush treatment at Medicine Direct for genuine medication, delivered right to your door. Buy online with us before 2pm and we can also offer you free next day delivery.
Clotrimazole
This medication comes in the form of cream and is to be applied to the affected area. This medication can be used to treat thrush in both men and women.
Doctor Notes
Medicine Direct have an experienced clinical team of doctors, pharmacists and dispensers, all of whom are based in the UK. All are fully trained and qualified to provide appropriate and considered care across all areas of treatment we have available at our online pharmacy.
This means that no matter which member of our team is assigned to your case, you can rest assured that you are in the hands of a highly skilled medical professional, who possesses the compassion and clinical expertise to properly advise you on the best course of treatment.
We are fully regulated
All of our doctors and pharmacists are fully registered with both the General Medical Council (GMC), MHRA and the General Pharmaceutical Council (GPhC). Each member of our team has also worked in various clinic settings in the past, such as community pharmacies and NHS hospitals.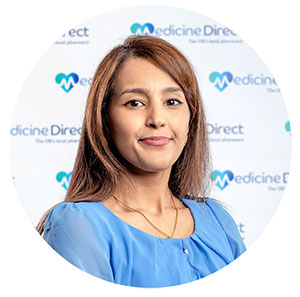 Sonia Khan
MPharm: 2076091
Pharmacist
This content has been written by our Pharmacist Sonia Khan and has been medically reviewed by our Superintendent Pharmacist Hussain Abdeh
View Profile