Treatments
Ponstan Tablets (500mg)

Effectively treats period pain
Non-steroidal Anti-inflammatory Drug (NSAID)
Works by soothing flaming agents in the body responsible for pain
Branded version of Mefenamic Acid

Feminax Ultra

Feminax Ultra is no longer manufactured, Naproxen 250mg is a recommended alternative
Fast acting medicine that provides pain relief during your period
Effective treatment for Women aged between 15 - 50 Years old
What is period pain?
Period pain is part of a woman's menstrual cycle. It is a perfectly normal and common problem and most women will get it at some point during their lives.
It is most commonly experienced as muscle cramps in your stomach, which can also spread to your thighs and your back.
In some cases, you may experience intense spasms, but it may also be a more constant but duller pain. The pain can vary between periods, too, with some causing few problems while others may be more painful.
It is not uncommon to get pelvic pain even when not on your period.
Period Pain Symptoms
The most common symptoms of period pain are:
A dull, continuous ache
Pain in your lower back and thighs
Throbbing or cramping in your stomach
Pain that begins 1 to 3 days before your period, that is at its worst 1 day after your period starts and that goes away 2 to 3 days later
Some women also experience the following symptoms:
Headaches
Loose stools
Nausea
Dizziness
Your doctor may also prescribe you with anti sickness Cyclizine Hydrochloride Tablets which can help reduce the feeling of nausea and dizziness. 
Side effects of period pain medication
It is rare to experience side effects while taking pills to stop your period. At most, women may notice light spotting towards the end of the course. However, it is important to be aware of any potential side effects so that you can speak with your doctor regarding a change in prescription.
Reported side effects include:
Dizziness or tiredness
Headaches
Nausea or vomiting
Tender breasts
A change to your libido
Diarrhoea or constipation
Period delay tablets may not be safe for you to take if you have allergies, or if you are taking another medication. You must share your medical history on the online assessment. Our doctors need to understand this medical history to make sure it is safe for you to use the medicine.
Period Pain Causes
Period pain is caused by the muscular wall of the womb contracting. The womb is continually contracting, but these contractions are mild enough for women to not notice them.
When you are on your period, the wall of the womb contracts more vigorously so the womb can shed lining as part of the menstrual cycle. This compresses the blood vessels in your womb's lining, temporarily cutting off the blood and oxygen supply to the womb. The tissues in the womb release chemicals that trigger pain as a result of having no oxygen.
While these chemicals are being released, your body also produces prostaglandins, which are chemicals that make the womb muscles contract even more.
It is suggested that period pain affects some women more than others as a result of a build-up of prostaglandins, meaning their contractions are much stronger than other women's.
Medical conditions
In rare cases, period pain can be the result of an underlying medical condition, including:
Fibroids
Endometriosis
Adenomyosis
Pelvic inflammatory disease
Period Pain Diagnosis
In a lot of cases, period pain does not need a diagnosis and can be treated with painkiller tablets like paracetamol, which you can purchase over the counter.
However, if your symptoms are severe or are unaffected by painkillers, you should speak to your doctor. They may wish to carry out a pelvic examination, to either rule out or diagnose any other possible causes of your period pain. This involves inserting gloved, lubricated fingers into your vagina to feel for anything unusual in your ovaries or womb.
This examination will only be carried out with your permission; if you would feel more comfortable, you can specifically ask that a female doctor does the examination and ask a friend or relative to be present. You can also ask a practice nurse to be present as a chaperone.
If your period pain has not eased after three months of treatment, your doctor may refer you to a gynaecologist to rule out any other medical conditions.
Period Pain Relief Tablets and Treatments
Tablets to for period pain can be bought online from Medicine Direct following an online consultation with a qualified doctor, who will prescribe you the most suitable tablets for your problem. You can then order these tablets from our online pharmacy. Order online by 2pm and we can offer you free next day delivery, meaning you can delay your period as soon as possible.
Mefenamic acid is a very fast acting NSAID which is commonly prescribed to treat period pain. Mefenamic acid is also sold under the brand name Ponstan.
Naproxen is a nonsteroidal anti-inflammatory drug and can be used to treat a number of different conditions. With the global stock shortage of Feminax Ultra, women are being recommended Naproxen 250mg Tablets for period pain which is the same active ingredient and strength contained in Feminax Ultra.
Doctor Notes
Medicine Direct have an experienced clinical team of doctors, pharmacists and dispensers, all of whom are based in the UK. All are fully trained and qualified to provide appropriate and considered care across all areas of treatment we have available at our online pharmacy.
This means that no matter which member of our team is assigned to your case, you can rest assured that you are in the hands of a highly skilled medical professional, who possesses the compassion and clinical expertise to properly advise you on the best course of treatment.
We are fully regulated
All of our doctors and pharmacists are fully registered with both the General Medical Council (GMC), MHRA and the General Pharmaceutical Council (GPhC). Each member of our team has also worked in various clinic settings in the past, such as community pharmacies and NHS hospitals.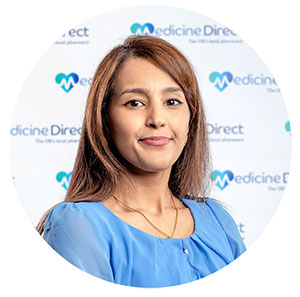 Sonia Khan
MPharm: 2076091
Pharmacist
This content has been written by our Pharmacist Sonia Khan and has been medically reviewed by our Superintendent Pharmacist Hussain Abdeh
View Profile