What is Arthritis
Arthritis affects more than 10 million people in the UK. While the onset of this condition normally takes place in people who are over the age of 40, arthritis can affect people of all ages, right down to children.
The two most common types of arthritis are osteoarthritis and rheumatoid arthritis. Arthritis causes inflammation and pain in your body's joints, most commonly in your hands, knees, hips and spine. However, this condition comes in a wide range of different forms and can affect many different parts of the body.
Arthritis may cause a great deal of pain for some sufferers, and while no treatment currently exists to cure it, there are pain relief medicines to help alleviate discomfort, as well as medicines to slow down the progress of arthritis.
Arthritis Symptoms
Arthritis comes in many different forms, so each person's symptoms will vary depending on which type they have.
You may have arthritis if you have any of the following:
Weakness and muscle wasting
Pain, stiffness or tenderness in your joints
Inflammation in and/or around the joints
Restricted movement of the joints
Warmed red skin over the affected joint
If you suffer from any of the above symptoms, it is very important that you get checked by a doctor. To receive the right pain relief medication and the most effective treatment for arthritis, it is vital you are diagnosed correctly, as quickly as possible.
Causes of Arthritis
Certain forms of arthritis are caused by a reduction of the regular amount of cartilage tissue. Cartilage is tissue in your joints that is firm but flexible. It absorbs the pressure created when you move or put stress on your joints.
Rheumatoid arthritis is an autoimmune disorder that is caused by your body's immune system attacking your body's tissues; this affects the synovium, which is a soft tissue that creates a fluid to lubricate your joints. This form of arthritis is a disease of the synovium, which can lead to the destruction of bone and the cartilage inside your joints.
If you suffer an injury to your joints, or an infection in your joints, this may make the natural breakdown of cartilage tissue worse, which can lead to osteoarthritis. The most common form of arthritis in the UK is osteoarthritis, possibly because it can be brought on by everyday wear and tear. If you have a family history of osteoarthritis, you have a higher risk of developing it, too.
Studies have shown that other causes of Rheumatoid Arthritis can be genetic, in fact; to date, researchers have found over 100 genetic traits that are more common in patients suffering from Rheumatoid Arthritis.
Arthritis Diagnosis
If you think you may be suffering from arthritis, or are suffering from any of the following symptoms, the first step you should take is to see your doctor:
Weakness and muscle wasting
Pain, stiffness or tenderness in your joints
Inflammation in and/or around the joints
Restricted movement of the joints
Warmed red skin over the affected joint
Your doctor will give you a physical examination, during which they will check for fluid around your joints, warm or red joints, or a limited motion in your joints. Booking an appointment with a rheumatologist is an option if you are in serious pain. This can result in your being diagnosed quicker and therefore receiving treatment faster. If required, your doctor may also refer you to a specialist.
The likes of X-rays, CT and MRI scans will show images of your bones and cartilage, which helps your doctor to rule out any other possible conditions you might have.
It is common for people who think that they might have arthritis to have a blood test. Your doctor may also examine the inflammation levels in your blood and joint fluids. This will help them to diagnose the specific type of arthritis you have.
During a medical examination, your doctor/gp will ask you a series of questions to help determine the type of arthritis you have. More infomation on what you can expect in your arthritis check up can be found on the Arthritis foundation page.
Arthritis Treatment
Currently, there is no known cure for arthritis. Pain relief and medication to prevent your condition from getting any worse are the two main focuses of arthritis treatment.
Your doctor may prescribe you a combination of medication to improve the function of your joints.
There are a number of different medications available to aid the treatment of arthritis, including various non-steroidal anti-inflammatory drugs (NSAIDs), like ibuprofen, and Naproxen which can help to provide pain relief and reduce inflammation.
Your doctor may prescribe corticosteroids if you suffer from rheumatoid arthritis, or disease-modifying antirheumatic drugs (DMARDs), which work by suppressing your immune system. Various medication can be bought over the counter and on prescription as a treatment for osteoarthritis. Various arthritis treatments can be bought at Medicine Direct's online pharmacy, following an online consultation with a doctor. If you order online before 2pm, we can offer you free next day delivery on your medication, meaning you can start to ease the pain almost immediately.
Pain relief creams are also available to order online.
When it comes to controlling pain, different people find different techniques more beneficial than others, and you will discover over time what works best for you. Alongside medication, the likes of heating pads and ice packs have proven to be beneficial for some. Walking sticks, walkers or mobility scooters will help to take the pressure off your joints, if necessary.
Surgery
In some cases, your doctor may advise you to undergo surgery to replace your joint with an artificial one; this is particularly common for knee and hip replacements.
A joint fusion can be performed by your doctor if you have severe arthritis in your fingers or wrists. This locks the ends of your bones together until they heal and join together properly.
Physical therapy
Various exercises to help strengthen the muscles around your joints are also an important part of your arthritis treatment. This can help to ease pain and allow you to get on with your daily life without feeling impaired by your condition.
For the sake of easing your arthritis and improving your overall health, your doctor may suggest that you make certain lifestyle modifications. Health-conscious lifestyle changes you can make to ease arthritis include:
Eating a healthy balanced diet
Taking a regular amount of exercise to keep your joints flexible
Losing weight
Avoiding over-exertion
The Arthritis Foundation webiste covers  the information you need on physical therapy for Arthritis.
Doctor Notes
Medicine Direct have an experienced clinical team of doctors, pharmacists and dispensers, all of whom are based in the UK. All are fully trained and qualified to provide appropriate and considered care across all areas of treatment we have available at our online pharmacy.
This means that no matter which member of our team is assigned to your case, you can rest assured that you are in the hands of a highly skilled medical professional, who possesses the compassion and clinical expertise to properly advise you on the best course of treatment.
We are fully regulated
All of our doctors and pharmacists are fully registered with both the General Medical Council (GMC), MHRA and the General Pharmaceutical Council (GPhC). Each member of our team has also worked in various clinic settings in the past, such as community pharmacies and NHS hospitals.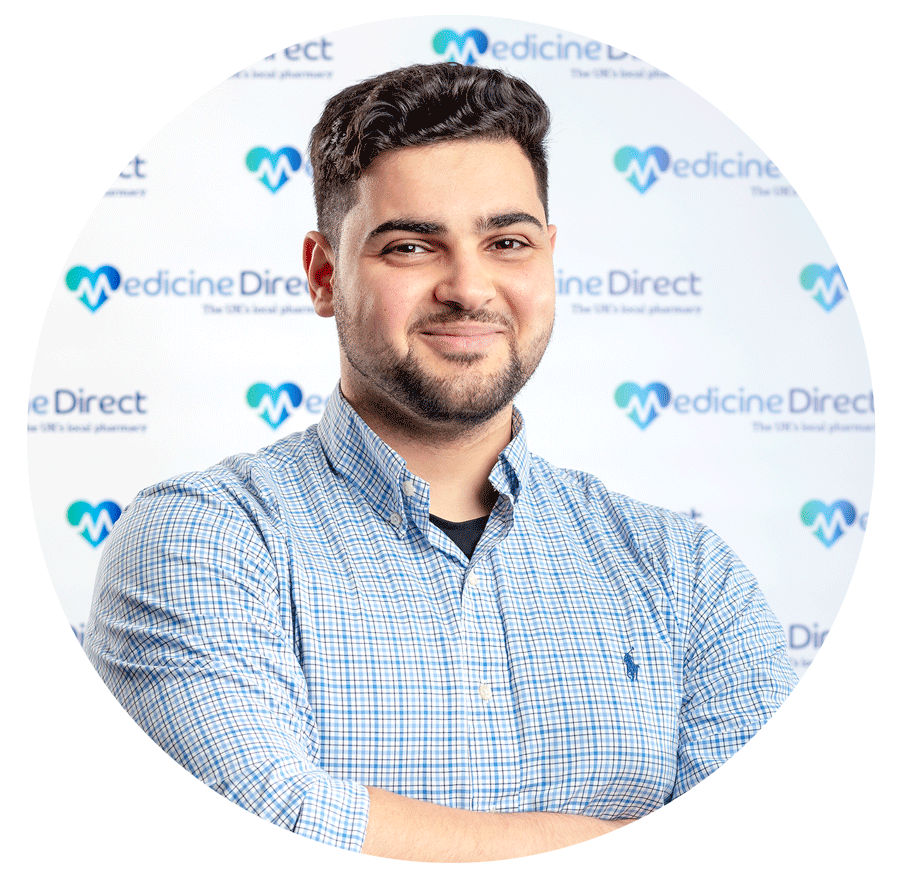 Hussain Abdeh
MPharm: 2211840
Superintendent Pharmacist
This content has been written by our Superintendent Pharmacist Hussain Abdeh and has been medically reviewed by our Pharmacist Sonia Khan
View Profile