Vitaros Cream

Effective topical cream for treating erectile dysfunction
Takes effect in up to 30 minutes
Lasting results between 1 and 2 hours

Please note brand received may vary
What is Erectile dysfunction?
Erectile dysfunction, also sometimes called impotency, is when a man's penis cannot achieve or maintain an erection. This is due to a lack of blood flow to the penis.
Erectile problems are very common and are generally harmless. In some cases, an erection can be maintained by relaxing and being patient. In others, it may be that you are tired, drunk, stressed or anxious, and this is preventing you from getting or staying erect. In some cases, erection problems let you know that there is a health issue you need to deal with. You can also take a variety of tablets to help you get an erection quickly, that lasts for several hours.
Erectile Dysfunction Symptoms
The common symptoms of erectile dysfunction include:
Problems getting an erection or being unable to get an erection altogether
Problems staying erect
Reduced sexual desire
If you experience any of the above symptoms, you should seek help from your doctor or pharmacist.
Causes of Erectile Dysfunction
The causes of erectile dysfunction are varied; some are physical while others are emotional. These include:
Stress
Anxiety
Tiredness
Alcohol, or excessive alcohol consumption
A side effect of medication
Porn-induced erectile dysfunction can also be an issue for some men.
If you experience impotency regularly, for example more than half the times you have sex, you should speak to a doctor. This is because it may indicate an underlying health condition, such as diabetes, high blood pressure or cardiovascular disease.
Erectile Dysfunction Diagnosis
Most men who suffer from erectile dysfunction can be diagnosed by a doctor after a physical exam and answering a few questions about their symptoms and medical history. You may require further tests or a referral if you have any chronic health conditions, or if your doctor believes an underlying health problem may be present.
If you are tested for an underlying condition, you may have:
A physical exam, which may include an examination of your penis and testicles and checking your nerves for sensation
Blood tests to check for heart disease, low testosterone levels, diabetes and other conditions
Ultrasound to see if you have any blood flow problems
Urine tests to look for symptoms of diabetes or any other underlying conditions you might have
Your doctor may also give you a psychological exam, where they will ask you questions to rule out depression and other possible psychological reasons behind your erectile dysfunction.
Sexual health clinics can diagnose this condition and can also help to treat it. Many clinics offer walk-in services, which means you do not even need to make an appointment to see somebody. Often, they are able to get test results back faster than your local GP is.
During your appointment
When you go to your appointment to discuss your problem, a doctor or nurse will ask you about the lifestyle you have, the relationships you have (both sexual and non-sexual), and any problems you may be having that cause stress.
They will check your blood pressure and carry out other basic health checks, as well as examining your genitals, which will allow them to rule out any obvious physical causes for your problem.
Your doctor might examine your prostate if one of your symptoms is needing to urinate more frequently, or any other urine problems. They may also need to perform a rectal examination.
Erectile Dysfunction Treatment
Fortunately, there are a variety of treatments available to help men who suffer from erectile dysfunction, some of which do not require a prescription.
Erectile dysfunction pills work to help you get and stay hard. They do this by reducing the effect of a chemical in the body called phosphodiesterase type 5, or PDE-5. PDE-5 makes sure that too much blood doesn't go to the penis during an erection. However, when erectile dysfunction occurs, the chemical overcompensates and does not send enough blood to the penis. This lack of blood means that you cannot get hard. Tablets relax and widen your blood vessels and increase the flow of the blood to the penis.
Medicine Direct offers a variety of erectile dysfunction tablets, including Viagra, Cialis (Tadalafil), Levitra and Spedra. They are all PDE-5 inhibitors and work in the same way. You can order erectile dysfunction pills from these brands here at Medicine Direct in a variety of dosages and pack sizes.
After an online consultation with a doctor, they will give you a valid UK prescription to order your treatment from our online pharmacy. Order by 2pm and we can have your medication with you the very next day.
If you would like to buy erectile dysfunction tablets online, fill out a Medicine Direct health questionnaire here. This will be passed to one of our doctors, who will assess your symptoms and prescribe the right course of treatment for you.
Medicine to lower high cholesterol, such as statins, is sometimes prescribed in cases where the penis's blood vessels have become narrower.
Testosterone medicines are also prescribed in cases where ED is caused by hormonal problems.
Lifestyle changes
Certain lifestyle changes can also help to reduce your problem. If you suffer from erectile dysfunction problems, you may want to make some lifestyle changes, including:
Losing weight (if necessary)
Exercising regularly
Quitting smoking
Reducing feelings of stress and anxiety
Doctor Notes
Medicine Direct have an experienced clinical team of doctors, pharmacists and dispensers, all of whom are based in the UK. All are fully trained and qualified to provide appropriate and considered care across all areas of treatment we have available at our online pharmacy.
This means that no matter which member of our team is assigned to your case, you can rest assured that you are in the hands of a highly skilled medical professional, who possesses the compassion and clinical expertise to properly advise you on the best course of treatment.
We are fully regulated
All of our doctors and pharmacists are fully registered with both the General Medical Council (GMC), MHRA and the General Pharmaceutical Council (GPhC). Each member of our team has also worked in various clinic settings in the past, such as community pharmacies and NHS hospitals.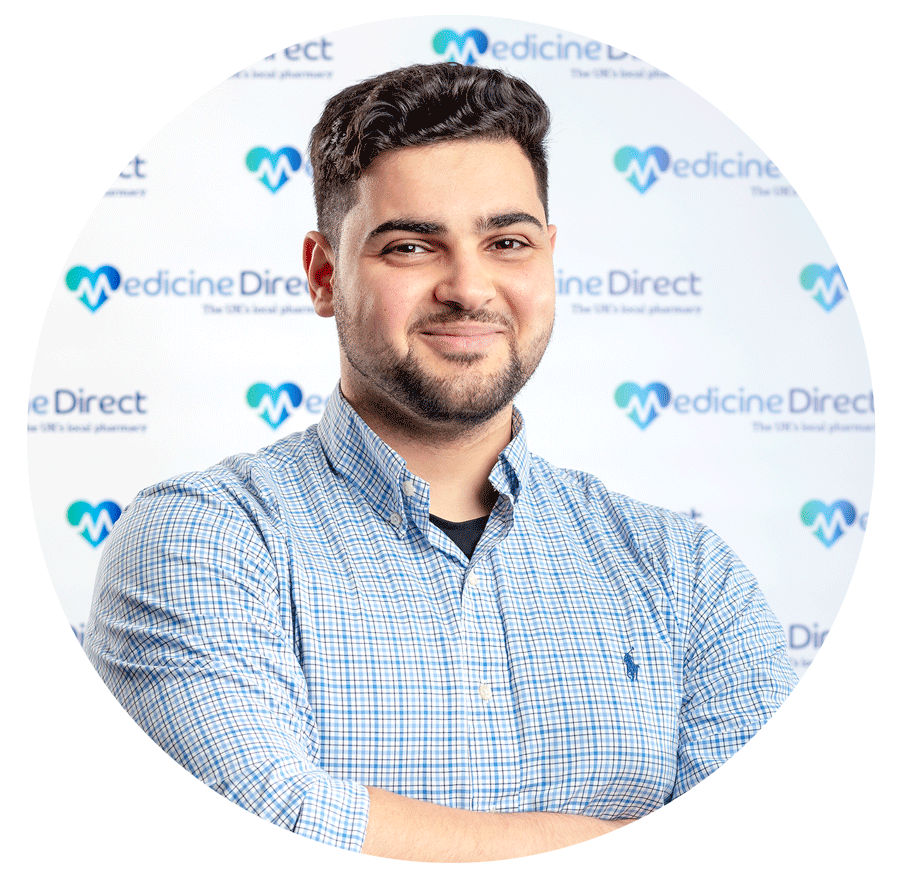 Hussain Abdeh
MPharm: 2211840
Superintendent Pharmacist
This content has been written by our Superintendent Pharmacist Hussain Abdeh and has been medically reviewed by our Pharmacist Sonia Khan
View Profile