Loratadine (10mg) 30 Tablets

Effective allergy treatment
Non-drowsy antihistamine
Helps to quickly relieve allergy symptoms

Please note brand received may vary

Dymista Nasal Spray

Each bottle contains 120 sprays
Relieves allergy symptoms 
Contains antihistamine and corticosteroid combination

Beclometasone Nasal Spray (200 Sprays)

Each bottle contains 200 sprays
Relieves allergy symptoms such as colds and hay fever
Reduces itching, stuffy or runny nose and sneezing

Please note brand received may vary

Desloratadine 5mg

Non-drowsy antihistamine medicine
Relieves allergic symtoms
Treats allergies such as Hay fever

Please note brand received may vary

Avamys Nasal Spray

Reduces allergy symptoms
120 sprays per bottle
Used to treat Hay Fever and other Allergies
What is Hay Fever?
Hay fever is an extremely common condition where airborne pollen triggers an allergic reaction in the sufferer. Up to one in five people are affected by it at some point in their lives. There are three different types of pollen which you may be allergic to, these are: tree pollen, grass pollen and weed pollen.
The pollen particles are released at different times throughout the year and sufferers generally find the time between late March-September to be the worst, as that is when the pollen count is highest. Unfortunately, there is no cure for hay fever. However, symptoms can be relieved with treatment and people may find that their hay fever begins to get better they get older.
Hay Fever Symptoms 
Many symptoms of hay fever can be mistaken for the common cold, this is because there are a lot of similarities between the two conditions.
Common symptoms of hay fever include:
Irritation of the eyes
Sneezing or coughing
Itchiness in the throat or ears
Blocked nose
Fatigue
Headaches or pains in your temples
Watery eyes
Causes of Hay Fever 
Typically, hay fever is an allergic reaction to airborne pollen, so if there is a high pollen count in the air your allergy symptoms will be much worse.
Dust mites and animal fur are other common causes of hay fever symptoms.
Hay Fever Diagnosis
Your doctor will perform a physical exam and ask you about your medical history to diagnose hay fever.
They may recommend a skin prick test to check for an allergic reaction after materials that can trigger allergies are pricked into your skin. Alternatively, they may give you an allergy blood test to measure your immune system's response to specific allergens.
Hay Fever Treatment 
It is rare for hay fever to create any type of medical complication. Nonetheless, it can have an impact on the sufferer's life and productivity at work or school. Hay fever can last weeks or even months, meaning it can become very frustrating, especially if symptoms such as a loss of smell or irritation begin to affect your daily life.
Avoiding pollen is the most effective way of getting rid of hay fever, but that is almost impossible as pollen is dispersed throughout the air that we breathe. The NHS recommend taking certain measures, such as using Vaseline around your nose, trapping pollen so it's not inhaled, and showering or changing clothes as having been outside.
You can also buy air filters for your home which remove pollen particles and vacuuming regularly also helps to remove dust which may contain pollen. You should avoid working or being outside where possible.
You can also take antihistamines treatments such as tablets or sprays to relieve hay fever symptoms.
Buy hay fever tablets online
At Medicine Direct we offer free postage and packaging for all UK orders. Simply complete an online consultation and one of our doctors will recommend the best hay fever treatment for you.
You can order hayfever treatments such as Rhinocort, Cetirizine and Fexofenadine plus more from our pharmacy. 
Our pharmacist and prescribers follow NICE guidelines when prescribing medicines to treat hay fever.
Doctor Notes
Medicine Direct have an experienced clinical team of doctors, pharmacists and dispensers, all of whom are based in the UK. All are fully trained and qualified to provide appropriate and considered care across all areas of treatment we have available at our online pharmacy.
This means that no matter which member of our team is assigned to your case, you can rest assured that you are in the hands of a highly skilled medical professional, who possesses the compassion and clinical expertise to properly advise you on the best course of treatment.
We are fully regulated
All of our doctors and pharmacists are fully registered with both the General Medical Council (GMC), MHRA and the General Pharmaceutical Council (GPhC). Each member of our team has also worked in various clinic settings in the past, such as community pharmacies and NHS hospitals.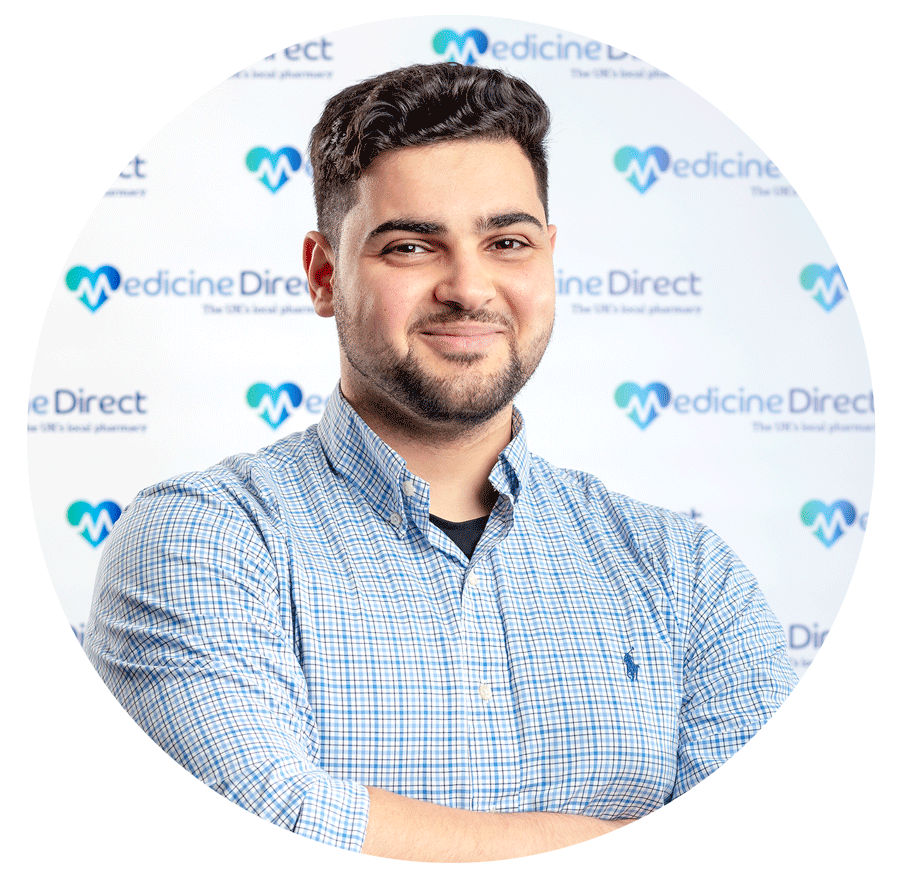 Hussain Abdeh
MPharm: 2211840
Superintendent Pharmacist
This content has been written by our Superintendent Pharmacist Hussain Abdeh and has been medically reviewed by our Pharmacist Sonia Khan
View Profile