What is the Flu?
The flu is caused by a viral infection. Usually, the infection is spread between people through germs living on surfaces or hands. It is known for being very contagious, especially during the first week of showing symptoms.
You do not have to visit your doctor if you think you have the flu. In fact, it is recommended that you avoid going into your GP so that you do not assist the virus in spreading. Instead, symptoms can be treated at home. If you are suffering from a particularly severe bought of the flu, you can order flu treatment online from our pharmacy.
Simply fill in the online consultation form and one of our doctors will advise you on the best course of action to take, whether that be our antiviral medicine available through prescription or home remedies.
Flu Symptoms
The symptoms of flu can change depending on your age and the strain of the virus. For instance, children may experience painful earache on top of the usual symptoms associated with flu. Some adults may also experience vomiting or watery eyes. However, there are common symptoms to look out for when suffering from a bout of flu.
Symptoms include:
Cough
Runny nose
Sore throat
Your body aches
Headaches
Vomiting
Loss of appetite
High temperature
Trouble sleeping
Diarrhoea and/or stomach pain
Feeling tired or exhausted
Flu Causes
The flu virus travels through the air in droplets when someone who is infected coughs, sneezes or talks. Other people can inhale these droplets directly, or pick them up from touching objects that have the germs on them, such as a phone or television remote.
The flu is a highly contagious condition, usually from the day before the symptoms first appear until around five days after the symptoms start.
Influenza viruses change constantly and new strains appear quite often. If you have had it in the past, your body will have made antibodies to fight that particular strain. If you catch a strain of flu that is similar to one you have had before, these antibodies may help your immune system to prevent the infection or make it less serious. 
However, they will not protect your health from new strains of influenza as influenza stains can mutate and repleace old ones.
Flu Diagnosis
Flu symptoms can be diagnosed by a physical exam conducted by your doctor. They will check for symptoms of influenza and may also order a test that detects influenza viruses.
If you catch influenza at a time when it is widespread, you may not be tested at all; instead your doctor may diagnose you based purely on your symptoms.
At Medicine Direct, one of our certified doctors can diagnose your flu symptoms after assessing your answers on our online questionnaire. After assessing your answers and symptoms, they will be able to prescribe the most suitable treatment method for you, without you needing to leave the house. This makes it easier for you to rest and stops the risk of your passing on the virus to others.
Flu Treatment
In most cases, the flu can be treated at home by keeping warm, resting and taking medicine to lower your temperature and relieve your aches. It is also very important to stay hydrated.
Some flu strains such as influenza A and influenza B are treated using a prescribed antiviral medicine. Antiviral medicine will work by attacking the flu virus to stop it from multiplying and spreading through your body. As it slows the rate of spreading, it gives your body more chance to fight back against the viral infection.
You can order antiviral flu medicine from our online pharmacy at Medicine Direct:
Tamiflu
Two tablets are to be taken each day for five days. Different dosage strengths are available, from 30mg-75mg. The doctor will prescribe the correct strength for your needs according to your online consultation.
Our pharmacists and prescriber follow NICE guidelines when prescribing antivrial medication to treat flu.
Doctor Notes
Medicine Direct have an experienced clinical team of doctors, pharmacists and dispensers, all of whom are based in the UK. All are fully trained and qualified to provide appropriate and considered care across all areas of treatment we have available at our online pharmacy.
This means that no matter which member of our team is assigned to your case, you can rest assured that you are in the hands of a highly skilled medical professional, who possesses the compassion and clinical expertise to properly advise you on the best course of treatment.
We are fully regulated
All of our doctors and pharmacists are fully registered with both the General Medical Council (GMC), MHRA and the General Pharmaceutical Council (GPhC). Each member of our team has also worked in various clinic settings in the past, such as community pharmacies and NHS hospitals.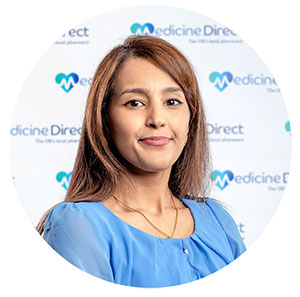 Sonia Khan
MPharm: 2076091
Pharmacist
This content has been written by our Pharmacist Sonia Khan and has been medically reviewed by our Superintendent Pharmacist Hussain Abdeh
View Profile