Written by: Hussain Abdeh MPharm: 2211840
Published on: 10/05/2021
Updated on: 19/05/2021
Naproxen is one of the most commonly prescribed painkiller medicines in the UK. It is particularly effective at providing fast acting and long lasting relief from conditions that cause pain and inflammation in the muscles and joints.
This article will be taking a deeper look at how naproxen works, what it is most commonly used for  and who it is suitable for. It will also cover the possible side effects that can occur while using this painkiller.
What is naproxen?
Type of medicine
Non-steroidal anti-inflammatory drug (NSAID)
Used to treat

Arthritis
Pain relief
Inflammation
Period Pain
Gout
Muscle Aches
Toothache

Available Dose
250mg - 500mg
Drug Form
Oral Tablet
Drug Status
Prescription Only
Naproxen tablets belong to a class of medicines called nonsteroidal anti-inflammatory drugs (NSAIDs).
It is a prescription-only medicine that is often prescribed for people who suffer with painful inflammatory conditions of the muscles and joints.
This medicine most commonly comes in tablet form, but it is also available as a liquid that you swallow. Most people who take naproxen will start to feel better within one hour of taking it. If you take it twice a day on a regular basis, it may take up to three days for the medicine to reach its full effect.
Naproxen can be taken alongside other over the counter painkillers like paracetamol or co-codamol if you require additional pain relief. However, it must not be taken at the same time as one of the most commonly bought over the counter painkillers, ibuprofen. Ibuprofen is also a nonsteroidal anti-inflammatory drug, and you should not take more than one type of this medicine at the same time.
To learn more about Naproxen, ibuprofen and paracetamol, have a read of our helpful guide.
Statistics show that naproxen is the most commonly prescribed NSAID in the UK, accounting for over 58% of all NSAID prescriptions.
What does Naproxen do?
Nonsteroidal anti-inflammatory drugs like naproxen work to relieve pain by blocking enzymes that help to make chemicals called prostaglandins. Prostaglandins contribute towards pain and inflammation by dilating the blood vessels, causing swelling. By blocking these chemicals from being produced, NSAIDs like naproxen can significantly reduce inflammation and the pain that comes with it.
Naproxen is primarily a medicine to help manage arthritis symptoms and also relieves pain caused by conditions such as rheumatoid arthritis, osteoarthritis, sprains and strains and gout. You can also buy naproxen from pharmacies to treat period pain without needing a prescription.
Naproxen can be used for pain relief in adults and children. However, children should only ever take naproxen if it has been prescribed for them by a doctor.
Who can take naproxen?
You should not take naproxen if you are allergic to aspirin, any other NSAIDs (such as ibuprofen), or any other painkiller medications.
Naproxen can harm unborn babies, so it must not be taken by women during the final 3 months of pregnancy. Talk to your doctor before taking naproxen if you are pregnant or breastfeeding.
This medicine is also not suitable for you if:
You have any severe liver, kidney or heart problems
You have or have ever had any stomach or gut problems, such as ulcers or bleeding
You have ever had bleeding or stomach perforation while taking NSAIDs
Talk to your doctor or pharmacist before you start to take naproxen if any of the below apply to you:
You have ever had a stroke, have any heart problems or think you may be at risk of any of these (such as having high blood pressure or you smoke)
You have asthma or allergies, or have had swelling of the lips, eyes, face or tongue in the past
You have nasal polyps or you sneeze a lot, have a runny, blocked or itchy nose
You feel weak or are an older person
You have problems with the arteries anywhere in the body
You have problems with how your blood clots
You have any liver or kidney problems
You have too much fat in your blood
You have any autoimmune conditions such as systemic lupus erythematosus, colitis or Crohn's disease
Naproxen can also interact with other medicines, so it is very important that your doctor or pharmacist knows if you are currently taking any other medication. This includes both prescription and non-prescription medicines.
Dosage
You should aim to take the lowest effective dose for the shortest time possible.
The dose of naproxen you are prescribed will depend on the severity of your condition. 
Condition
Includes
Dose
Rheumatic Disease

Ankylosing Spondylitis
Fibromyalgia
Arthritis
Gout
Lupus

500mg - 1g daily in 1-2 divided doses
Musculoskeletal Disorders

Injuries or disorders to:

Muscles
Nerves
Tendons
Joints
Cartilage
Spinal Disks

500mg initially, followed by 250mg every 6-8 hours
Menstrual Pain
500mg initially, then 250mg every 6-8 hours
Acute Migraine

500mg to be taken in combination with Sumatriptan
Generally, adults will be instructed to take naproxen up to twice a day to treat diseases of the joints.
For muscle and bone disorders, as well as period pain, the starting dose is normally 500mg, then 250mg every 6 to 8 hours as needed. Do not take more than 3 tablets a day for period pain.
Doses for the elderly and people with heart, liver or kidney problems are normally lower.
A doctor will prescribe a dose for children depending on their weight.
Naproxen has a half life of between 12 and 17 hours. The half life of a drug is the amount of time it takes for your body to reduce the active substance in your system by half.
Side Effects
Like any medicine, naproxen can cause side effects, particularly if it is not taken as instructed. However, not everyone who takes it will suffer adverse reactions.
There are several things that can increase the risk of experiencing side effects whilst taking naproxen such as, taking a medicine that interacts with the way Naproxen works, or by consuming alcohol with Naproxen.
Common side effects
The following side effects are quite common, occurring in more than 1 in 100 people:
Rash
Dizziness
Changes in vision
Ringing in the ears
Headaches
Confusion
Feeling tired and sleepy
Our guide on Naproxen side effects covers a complete list of the common, serious and adverse side effects when taking Naproxen.
Naproxen during pregnancy
Use of Naproxen is not recommended if you are more than 30 weeks pregnant. However, there are some instances in which Naproxen may still be prescribed in women who are more than 30 weeks pregnant.
Paracetamol is a recommended and safer alternative painkiller when pregnant, however; if paracetamol is unable to control your pain your doctor may choose to prescribe Naproxen. 
For women who are prescribed Naproxen after 30 weeks of pregnancy, it is likely you will also be assessed and monitored by a fetal medicine specialist.
Is Naproxen safe?
Naproxen is a safe medicine to use when taken as instructed by your doctor. You should only take this medicine if it has been prescribed for you. You don't need a prescription to take it for period pain, but you should only take it as instructed and for a short length of time.
What happens if I stop taking Naproxen?
If you regularly take naproxen, you should not suddenly stop without speaking to a doctor. This may lead to withdrawal symptoms and can also increase your risk of developing clots. If you regularly take naproxen and wish to stop, speak to your doctor about gradually lowering your dose.
How long can I take Naproxen for?
Naproxen can cause ulcers in the stomach or gut if taken for a long time. You should aim to take naproxen for the shortest time possible, at the lowest dose possible. If you need it for period pain or another short-term problem, you should not need to take naproxen for more than a few days.
If you need to take it for longer than this, speak to your doctor.
How long does Naproxen last?
Naproxen will stay in your system for approximately 93.5 hours. This may seem like a very random number; however, it is calculated using the half-life of Naproxen, which is 12 to 17 hours, typically the body will require 5.5 half-lives to remove the active ingredient from the body. In this case, we take the half-life of Naproxen which is 12 to 17 hours and multiply it by 5.5 to get to the 93.5 hours until Naproxen is removed by the body.
How quickly does Naproxen start to work?
The anti-inflammatory and pain relieving effects of Naproxen can be felt within 1 hour of taking it. However it may take a couple of days for Naproxen to reach it's full pain relieving potential and ease symptoms.
Is Naproxen good for pain and swelling?
Naproxen is effective at treating pain and swelling by blocking a chemical called prostaglandins which are responsible for inflammation which causes pain and swelling.
Does Naproxen work straight away?
Naproxen may take a few days to ease your symptoms, however it's pain relieving effects can be felt within just 1 hour of taking it.
What should I do if naproxen gives me stomach ache?
Naproxen can sometimes cause stomach ache when taking it, particularly in those with at risk of, or with a history of peptic ulcer disease. 
It is recommended taking a proton pump inhibitor along with naproxen to protect the lining of the stomach and ease the symptoms of stomach ache that naproxen can cause.
Our medical guide covers more detailed information on how to protect your stomach when taking naproxen with Omeprazole.
References
https://www.betterhealth.vic.gov.au/health/conditionsandtreatments/medications-non-steroidal-anti-inflammatory-drugs#how-nsaids-work
https://www.nhs.uk/medicines/naproxen/
https://www.medicines.org.uk/emc/files/pil.6023.pdf
https://www.england.nhs.uk/wp-content/uploads/2019/11/NSAID-safety-audit-1819.pdf
https://www.ncbi.nlm.nih.gov/books/NBK525965/#:~:text=The%20liver%20extensively%20metabolizes%20Naproxen,of%2012%20to%2017%20hours.                                                  
Our guide to Naproxen covers everything you need to know about Naproxen. What does Naproxen treat and what are the side effects when taking it.
Doctor Notes
The anti-inflammatory properties that Naproxen has make it one of the most widely prescribed pain relief medicines in the UK. Naproxen can be used for a wide range of conditions from period pain and gout to arthritis and joint pain.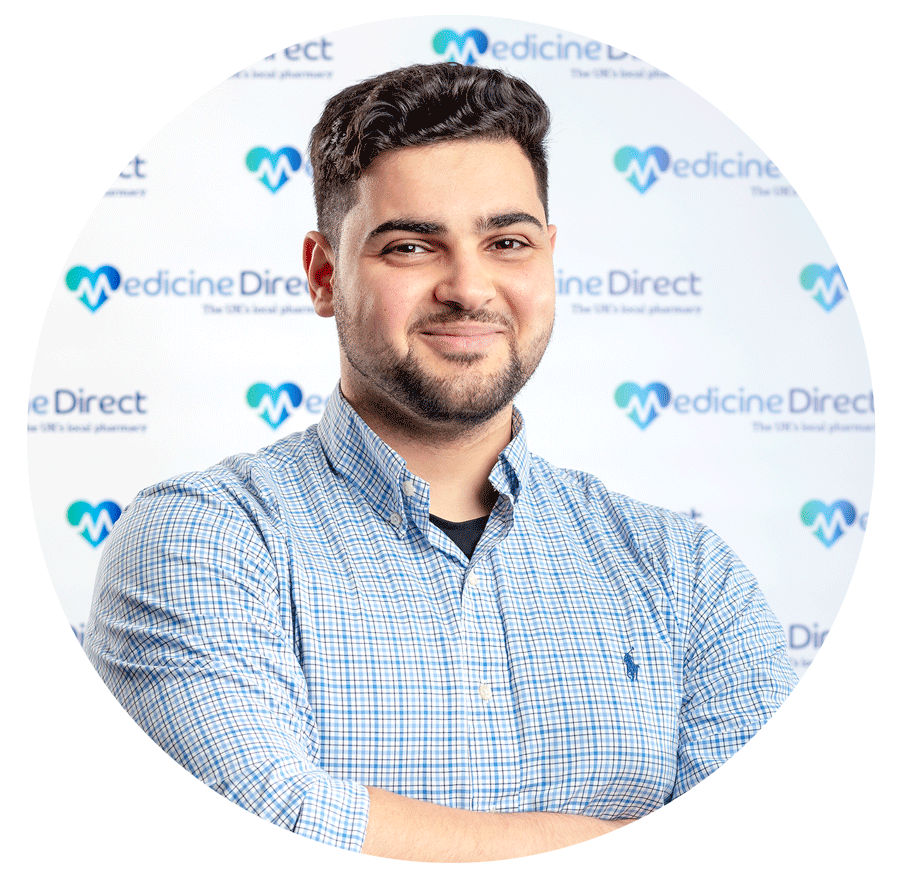 Hussain Abdeh
MPharm: 2211840
Superintendent Pharmacist
This content has been written by our Superintendent Pharmacist Hussain Abdeh and has been medically reviewed by our Pharmacist Sonia Khan
View Profile