Written by: Hussain Abdeh MPharm: 2211840
Published on: 07/06/2021
Updated on: 07/06/2021
Ventolin inhalers provide fast-acting and long-lasting relief from the symptoms of asthma and other breathing difficulties. However, like all medicines, they are not risk-free and come with potential side effects.
Some side effects are common and often go away on their own after a few days. However, some side effects are more serious and may need to be treated by a health professional.
In this article, we will be looking at the known side effects of Ventolin, along with what you can do to cope with them. We will also explain what you should do if you take too much of this medication, as well as list the medicines that should not be used at the same time as Ventolin.
What is Ventolin?
Ventolin is a branded "reliever" inhaler that contains the active ingredient salbutamol. This inhaler is used to relieve the symptoms of chronic breathing problems like asthma and chronic obstructive pulmonary disease (COPD). If taken before exercising, it can also be used to prevent the symptoms of asthma and COPD from occurring.
You can find more information about Ventolin in our detailed medical guide, what is Ventolin. This thoroughly explains what Ventolin is and what it is used to treat.
Ventolin side effects
When used as instructed, salbutamol is considered to be a very safe and effective medicine. The side effects associated with Ventolin are minimal, but that does not mean it is impossible to suffer an adverse reaction.
People who are using a medicine for the first time are often at the greatest risk of suffering side effects. This is because your body may need to get used to the medicine; if this is the case, the side effects should subside after a short time.
Side effects can be exacerbated by taking too much medicine or taking other medicines that are known to interact with salbutamol.
Knowing exactly how to use you medicine can be the difference in your medicine helping your symptoms or not. We recommend reading our guide on how to use Ventolin to ensure that you are taking your medicine correctly and getting the most from it.
If you are taking a high dose of medicine, you are also at an increased risk of getting side effects. Your doctor may lower your dose if you do experience side effects.
Common side effects
The common side effects of Ventolin may affect more than 1 in 100 people who need to take 1 or 2 puffs of the inhaler:
Shakiness
Headaches
A temporarily faster heartbeat without chest pain
Muscle cramps
If you get any of these side effects, they will normally get better as your body gets used to the medicine. They are not dangerous and should not be a real cause for concern.
However, if they become serious or do not go away, you should speak to your doctor or pharmacist.
Coping with common side effects
There are certain things you can do to cope with the side effects listed above.
Feeling shaky
If you experience shakiness, try taking just one puff of your Ventolin inhaler instead of two; this may be enough to relieve your COPD or asthma symptoms. If you still need to take two puffs to relieve your symptoms, do not worry, the shakiness should go away after a short period of time. Talk to your doctor if you continue to feel shaky.
Headaches
Drink plenty of water and get enough rest if you experience headaches. You should also avoid drinking alcohol as this can dehydrate you and make your headache worse. If you do get headaches, they will normally cease after the first week of using Ventolin. A pharmacist will be able to recommend a suitable painkiller if needed. If they are particularly painful or do not go away after one week, please consult your doctor.
Muscle cramps
Any muscle pain that is not caused by hard work or exercise should be reported to your doctor.
Faster heartbeat
If you notice a faster heartbeat without chest pain, make sure you are not exceeding the recommended dose of salbutamol. If you are taking the recommended dose and have a faster heartbeat, speak to your doctor as your treatment may need to be reviewed. It may be that you do not need to take your inhaler as often.
Serious side effects
The following side effects only occur very rarely, but they are very serious.
You should seek medical attention straight away if you get any of these:
A severe headache
Chest pain, particularly if you also have a fast or unusual heartbeat
Severe dizziness or you pass out
Muscle pain, muscle cramps, muscle weakness, a heartbeat that does not feel normal (these may be symptoms of low levels of potassium)
Serious allergic reaction
In rare cases, it is possible that you may experience a serious allergic reaction (anaphylaxis) to salbutamol. If this happens, you may need urgent medical attention.
Any of the following symptoms may be signs of an allergic reaction. You should either call 999 or go to the nearest Accident and Emergency department straight away if:
You are wheezing
Your face, throat, tongue, lips or mouth starts to swell
You have any breathing difficulties
You get a skin rash that is red, itchy or swollen
You have tightness in your throat or chest
Your skin starts to peel or blister
Please note, the information in this guide may not be exhaustive. To see a comprehensive list of potential side effects, you should always read the patient information leaflet, which will accompany your medication. Here, you will find a full list of known side effects, as well as guidance on what to do if you get them.
If you get any side effects that are not listed in the leaflet, you can report them to the Medicines and Healthcare products Regulatory Agency (MHRA) via their Yellow Card Safety Scheme.
How long do Ventolin side effects last?
if you experience any side effects from Ventolin or its active ingredient Salbutamol, they will usually start to ease within 30 minutes to a couple of hours. 
Is it safe to use Ventolin every day?
Ventolin is not indicated for everyday use. If you find that you are having to use your Ventolin reliever inhaler every day, you will likely be prescribed a preventer inhaler that can be used daily and helps your body build up a natural tolerance to asthma triggers.
Preventer inhalers should be used daily whereas a reliever inhaler such as Ventolin should be used only when your symptoms get worse, or you are having an asthma attack.
How many puffs of Ventolin is safe?
The maximum daily dose for an adult within 24 hours is 8 puffs. For a child the maximum daily puffs of Ventolin is 4.
Can I overdose on Ventolin?
Whilst an overdose of Ventolin is unlikely to be fatal, it can cause some unpleasant side effects which include:
Dry mouth
Headache
Shaking
Increased heart rate
Nausea
Light headedness
Are there long-term side effects of Ventolin?
The salbutamol contained in Ventolin is not believed to cause any problems if taken for a long time. If you have been using Ventolin for a long time and believe that your inhaler is not as effective as it used to be, please speak to your doctor.
Ventolin during pregnancy
Salbutamol, the active ingredient within a Ventolin Inhaler is considered safe to use during pregnancy. If you are pregnant and using Ventolin, you should also speak to your doctor who will be able to talk to you about the risks and benefits of using Ventolin during pregnancy.
Other medicines and Ventolin
You should always inform your doctor or pharmacist if you are already taking or have recently taken any other medication. This includes medicine that can be bought over the counter, including vitamins, supplements, and herbal remedies.
Some medicines can interact and stop each other from working properly. In the case of Ventolin inhalers, it is particularly important that your doctor knows if you are already taking:
Any other asthma medications
Medicines to treat an irregular or fast heartbeat
Is it safe to take Ventolin for a long time?
Yes, salbutamol is a very safe medicine and there is nothing to suggest that taking it for a long time will cause any adverse effects.
Can I drink alcohol with it?
It is safe to drink alcohol in moderation while using Ventolin.
Will it affect my fertility?
There is nothing to show that using Ventolin will have any effect on the fertility of men or women.
Will it affect my contraception?
No, salbutamol has no effect on any type of contraception.
Summary
The medicine contained in Ventolin is a safe one, and the risk of side effects are very low. While you may experience some mild side effects during the first couple of weeks of taking Ventolin, these should resolve themselves as your treatment goes on.
Like any medicine, you should read the patient information leaflet for a complete rundown of side effects. Read this leaflet before you start to take Ventolin, so that you are fully prepared for any potential adverse reactions.
If you have any questions or concerns about side effects, please do not hesitate to discuss them with your doctor or pharmacist before you start using this inhaler.
References
A list of Ventolin side effects https://www.drugs.com/sfx/ventolin-side-effects.html
Ventolin indications and dose - https://bnf.nice.org.uk/drug/salbutamol.html#indicationsAndDoses
What are the side effects of using a ventolin asthma inhaler? Our guide details the common and more serious side effects you should look out for.
Doctor Notes
Ventolin is a relatively safe inhaler and when used correctly it can provide long term relief from asthma symptoms. If you suffer from asthma, it is recommended to have a ventolin inhaler in your possession at all times as it can provide instant relief in the event of an asthma attack.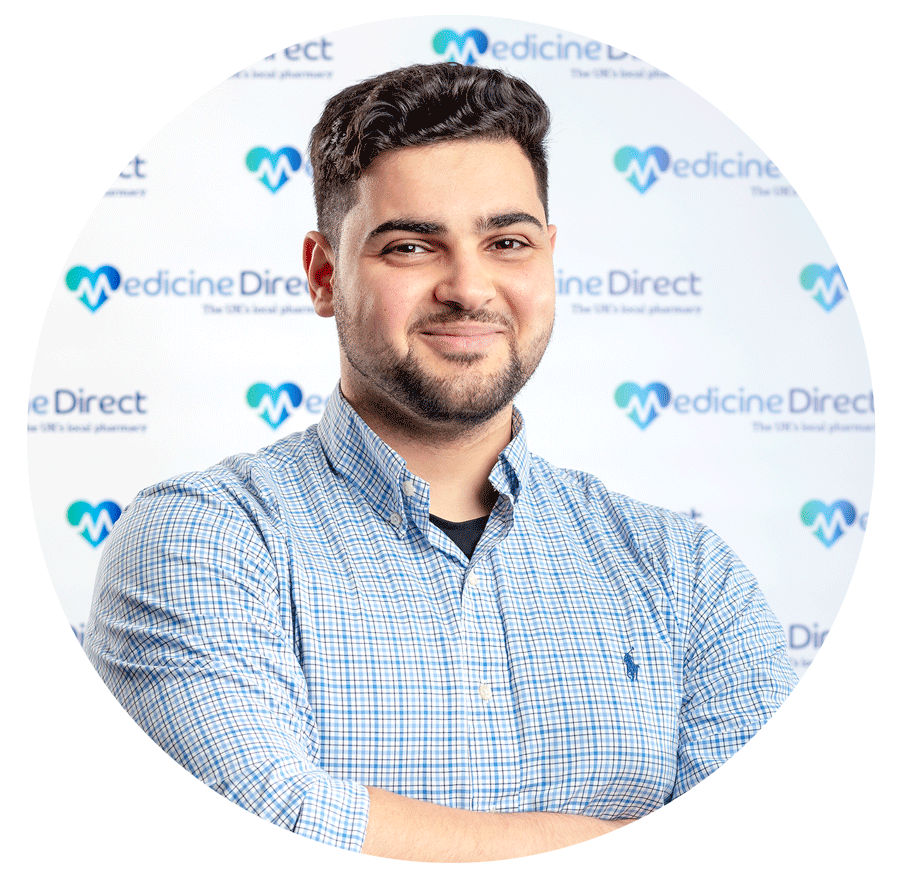 Hussain Abdeh
MPharm: 2211840
Superintendent Pharmacist
This content has been written by our Superintendent Pharmacist Hussain Abdeh and has been medically reviewed by our Pharmacist Sonia Khan
View Profile