Written by: Hussain Abdeh MPharm: 2211840
Published on: 04/05/2021
Updated on: 07/06/2021
Breathing conditions like asthma and chronic obstructive pulmonary disease (COPD) can be very debilitating problems to live with, sometimes making it difficult for sufferers to do very basic activities.
Fortunately, there are a large range of medicines available to help sufferers cope with these chronic medical conditions, allowing them to carry on with their daily lives. Ventolin inhalers are the most commonly used inhalers for the symptoms of asthma and COPD, alleviating the wheezing and breathlessness that these conditions often cause.
In this article, we will look at the different types of Ventolin inhalers available, who should use them and how, as well as the possible side effects that come with them.
What is Ventolin?
Ventolin is a brand of inhaler that works to relieve the symptoms of breathlessness and wheezing that are brought on by conditions like asthma and chronic obstructive pulmonary disease (COPD). It can also be taken to prevent an asthma attack and COPD symptoms from occurring if you use it before exercising.
There are two types of the Ventolin inhaler, the evohaler and the accuhaler. Both contain the active ingredient salbutamol and have the same benefits as generic salbutamol inhalers. There are various other brands of inhalers that also contain salbutamol as the active ingredient and work in the same way as Ventolin.
Ventolin is also available in a generic version, Salamol inhaler also contains salbutamol as the active ingredient and is usually cheaper in price.
Uses of Ventolin
The Ventolin blue reliever inhaler is only available on prescription. To effectively relieve your breathing difficulties, it is important to always use this medicine exactly as your doctor, pharmacist or nurse tells you.
Depending on whether you use a Ventolin Accuhaler or a Ventolin Evohaler, you may be required to use a different dose. Children may also be told to use a lower dose than adults.
The table below shows the normal recommended doses for adults and children when using both the evohaler and the accuhaler.
Ventolin Dose
| | | | |
| --- | --- | --- | --- |
|   | Ventolin Evohaler (Adults & children over 12 years) | Ventolin Evohaler (Children under 12 years old) | Ventolin Accuhaler  |
| To relieve asthma symptoms | One or two puffs. | One puff. Two puffs if needed. | One inhalation (200 micrograms). |
| To prevent asthma symptoms | Two puffs 10-15 minutes before exercise or being exposed to a trigger. | One puff 10-15 minutes before exercise or being exposed to a trigger. Two puffs if needed. | One inhalation 10 to 15 minutes before exercising or being exposed to a known trigger. |
| For regular treatment | Two puffs up to 4 times a day. | Two puffs up to 4 times a day. | One inhalation up to 4 times a day. |
| Maximum dose in 24 hours | 8 puffs in 24 hours. | 8 puffs in 24 hours. | One inhalation (200 micrograms) four times a day.  |
Please make sure that you read the patient information leaflet thoroughly before you start to use your inhaler.
If you have any questions as to how to use your inhaler, or you are unsure of the dose you should take, please speak to your doctor or pharmacist.
How does it work?
A medical condition such as asthma or COPD narrows the airways, which makes it much harder for air to pass in and out of the lungs.
Ventolin inhalers contain a medicine called salbutamol as the active ingredient. Salbutamol is a short-acting beta 2 agonist, which works by stimulating the beta 2 receptors in the lungs. Doing this relaxes the muscles in the airways and helps to open them up. This makes it much easier to breathe.
There are two different types of asthma inhalers: preventers and relievers. Ventolin inhalers are known as reliever inhalers. This means that they work to relieve your symptoms of chronic obstructive pulmonary disease (COPD) and asthma, as and when they flare up. You can also take them before exercising or coming into contact with a trigger (such as dust or animal fur), to prevent breathing problems.
'Preventer inhalers' are prescribed for people with a chronic medical condition that hinders their breathing. Preventer inhalers contain a low dose of steroid medicine, which works to suppress swelling and inflammation in your airways. This allows you to get on with your day, unhindered by your medical condition. You should take this type of inhaler every day; you will also be prescribed a reliever inhaler, which you should take in the event of an asthma attack or any other breathing difficulties.
For anyone that has been diagnosed with asthma it is important to know exactly how to use ventolin to provide instant relief from asthma symptoms and sudden asthma attacks.
Types of Ventolin inhalers
Both the Ventolin Accuhaler and the Ventolin Evohaler contain salbutamol as the active ingredient. They also both work to relive symptoms such as wheezing and breathing difficulties. The terms 'evohaler' and 'accuhaler' mean that there are no CFC propellants contained in the inhalers. 
However, the appearance and usage of these two inhalers are not the same. The Ventolin Evohaler is a standard asthma inhaler, which contains a canister of the medicine that you need to push down as you breathe in. After inhaling the medicine, you should hold your breath for a few seconds to give it time to work. This can swiftly and effectively relieve the symptoms of asthma and COPD.
In contrast, the Ventolin Accuhaler is a more compact device. It is a round container that stores a dry powder. When using the accuhaler, you do not need to push down on a canister to release the medicine. Instead, you just place the mouthpiece to your lips, breathe in deeply through your mouth and then hold your breath for approximately 10 seconds. After this, you breathe out slowly and your symptoms should have been alleviated. 
Some people find that the Ventolin Accuhaler is easier to use, because it does not require them to synchronise their breathing with pushing down on a canister. For this reason, the accuhaler is often recommended for children.
There are many different ventolin alternatives, all of which contain the same active ingredient, Salbutamol. Your doctor will decide which brand or version of salbutamol is best suited to manage your asthma symptoms. 
What are the side effects of using Ventolin?
Like any medicine, Ventolin comes with the risk of certain side effects, although it is important to remember that these will not affect everyone who uses these inhalers.
Salbutamol inhalers like Ventolin come with quite a low risk of side effects. If you have used your inhaler as instructed by your doctor, pharmacist or asthma nurse, it is very unlikely you will experience any adverse reactions to the medicine.
As is the case with all medicines, you should always make sure that you read the patient information leaflet, which will accompany your inhaler. This leaflet will contain a comprehensive list of potential side effects, as well as details on what to do if you get them.
If you or your child has used the inhaler as instructed and the symptoms are not improving or are getting worse, you should call 999 or go to A&E straight away.
Common side effects
Common side effects of salbutamol occur in more than 1 in 100 people who have taken one or two puffs from the inhaler:
Muscle cramps
Feeling shaky
Headaches
A temporarily faster heartbeat without chest pain
These side effects are not normally a cause for concern and should ease over time as you continue to use the inhaler.
You should speak to your doctor if they do not go away or start to concern you.
Serious side effects
In rare cases, some people may suffer more serious side effects.
You should seek medical attention as soon as possible if any of the below reactions occur:
A severe headache
Chest pain, particularly if you have an increased heartbeat or your heartbeat does not feel normal
Dizziness or fainting
Muscle weakness or pain, muscle cramps or your heartbeat feels irregular (these may be signs of low potassium levels)
Serious allergic reaction
Any of the symptoms listed below could be signs of a serious allergic reaction to salbutamol. You should either dial 999 or go to A&E immediately if:
You are finding it hard to breathe or speak
You have tightness in your chest or throat
You are wheezing
You get a skin rash that may include red, itchy, swollen, blistered or peeling skin
You have swelling in your mouth, face, lips, tongue or throat
The above list is not exhaustive, for more information on ventolin side effects, we recommend reading our detailed medical guide.
Who shouldn't take Ventolin?
Ventolin is one of the most renowned brands of inhalers and provides fast and effective relief from asthma and chronic obstructive pulmonary disease (COPD). It can be used by adults and children of all ages. However, it may not be safe for everyone to use.
You should not use this inhaler without speaking to your doctor first if:
You are allergic to salbutamol or any other medicines
You are currently taking any other medicines, including those that do not need a prescription
You have galactose intolerance, the Lapp lactase deficiency or glucose-galactose malabsorption
Please talk to your doctor, pharmacist, or nurse if you have any questions.
References:
https://www.netdoctor.co.uk/medicines/allergy-asthma/a8236/ventolin-salbutamol/
https://www.webmd.com/drugs/2/drug-22577/ventolin-hfa-inhalation/details
Ventolin Accuhaler Patient Information Leaflet - https://www.medicines.org.uk/emc/files/pil.849.pdf
https://www.nhs.uk/medicines/salbutamol-inhaler/
https://www.asthma.org.uk/advice/inhalers-medicines-treatments/inhalers-and-spacers/preventer/#whatispreventer
We take a look at what a Ventolin inhaler is in more detail. How a Ventolin inhaler is used and what the different types of salbutamol inhalers are used for.
Doctor Notes
Ventolin inhalers are a must have for any asthma sufferer. Any individual that suffers from asthma or any breathing difficulties should ensure they always have a Ventolin reliever inhaler in their possession. They offer extremely quick relief from asthma triggers and offer potential lifesaving relief when taken during an asthma attack.
For anyone at risk of experiencing an asthma attack, it is highly important that you know exactly how to use a Ventolin inhaler to get maximum relief when needed.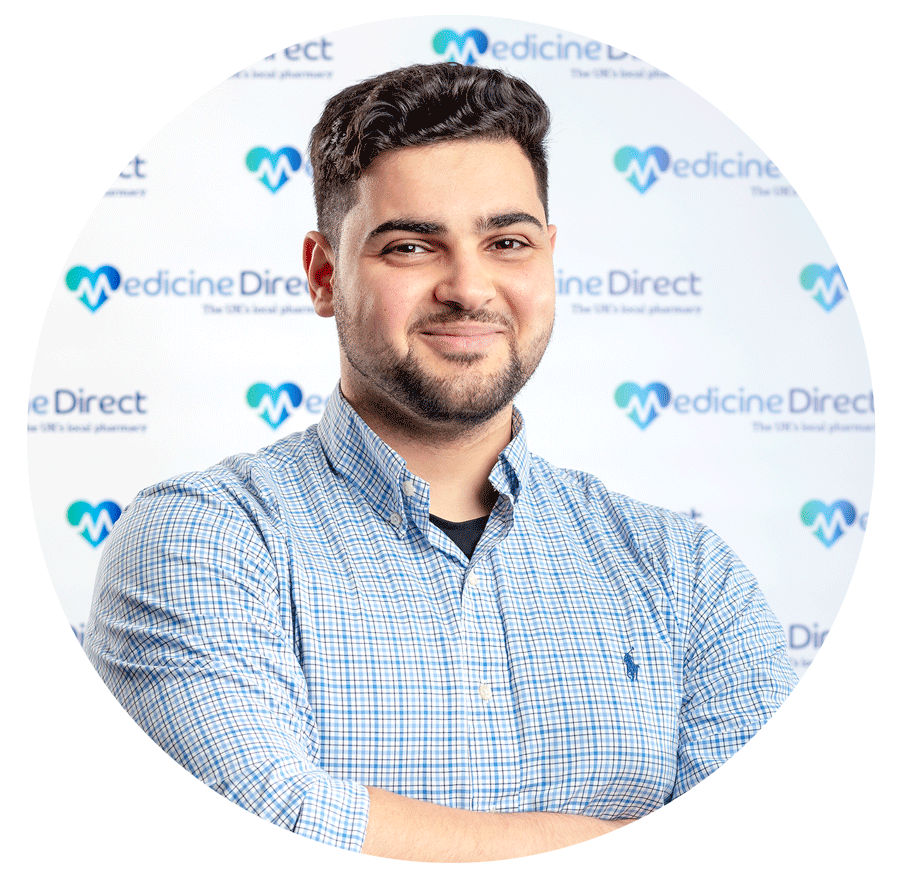 Hussain Abdeh
MPharm: 2211840
Superintendent Pharmacist
This content has been written by our Superintendent Pharmacist Hussain Abdeh and has been medically reviewed by our Pharmacist Sonia Khan
View Profile