Cyclizine belongs to a group of medicines known as antihistamines. It is taken to stop you from feeling sick or vomiting. Most adults and children over 6 years old can take cyclizine to treat nausea.
This antihistamine gets to work within half an hour and you should start to feel better within a couple of hours. It is classed as a "drowsy antihistamine", meaning it may cause drowsiness in some people who take it, although this won't affect everyone.
Read our guide "what is Cyclizine used for?" to learn more about Cyclizine and what it treats.
Before you buy Cyclizine 50mg tablets to treat your nausea, we recommend familiarising yourself with some of the most common and more serious side effects that you may experience when taking this medicine.
Cyclizine side effects
All medicines can cause side effects and cyclizine is no exception. When you buy cyclizine, you will receive a patient information leaflet with the tablets. You should always read this before you start to take it for a comprehensive list of possible side effects, as well as advice on what to do if you get them.
Please note that extra caution should be taken when taking Cyclizine during pregnancy.
Some side effects of cyclizine will be more severe than others.
Common side effects
If any of the side effects listed below persist or bother you, you should contact your doctor. The most common side effects of cyclizine occur in more than 1 in 100 people who take it and include:
Drowsiness
Headaches
Constipation
Blurred vision
Dry mouth
Most of these side effects will resolve themselves and should not cause any real problems.
Serious side effects
Although the more serious side effects of cyclizine are rare, occurring in less than 1 in 10,000 people, you should still seek medical attention straight away if you notice any of them developing in you.
Serious side effects of cyclizine that should be checked immediately include:
You notice your skin or the whites of your eyes turning a yellow colour (this could indicate a liver problem)
You have any severe bleeding or bleeding that cannot be stopped
You experience muscle stiffness, involuntary face or tongue movements, or shaking
Serious allergic reaction
Any of the symptoms below could be a sign of a serious allergic reaction, which may require immediate treatment in hospital.
If you get any of these symptoms, you should either go to A&E or call 999 straight away:
You get a skin rash that is itchy, swollen, blistered, peeling or red
You have any breathing problems
You are wheezing
Your mouth, face, throat, tongue or lips start to swell
You feel a tightness in your throat or chest
Are there any long term side effects?
Taking cyclizine in the long term is not likely to do you any harm. There are no commonly reported long term side effects of this medicine.
However, you are advised to only take cyclizine for as long as you need to for your nausea symptoms. Ideally, this will be for the shortest time possible.
Does cyclizine cause withdrawal symptoms?
Cyclizine is very unlikely to cause withdrawal symptoms if you only take it for a short time to treat your nausea. Cyclizine is not considered to be addictive if taken in moderation, so the risk of withdrawal is very low.
Does cyclizine cause weight gain?
Weight gain is not a side effect commonly associated with cyclizine.
How to cope with cyclizine side effects
Drowsiness is one of the most common side effects of taking cyclizine. Cyclizine is a drowsy antihistamine, meaning it is more likely to make you feel tired than some other antihistamine medicines. If you experience drowsiness, avoid drinking alcohol as this may make it worse. Do not drive or use any machines until the drowsiness subsides. If you are experiencing drowsiness as a constant side effect, talk to your doctor as an alternative medicine may be more suitable.
If constipation occurs, you may be able to combat this by incorporating more fibre into your diet, such as fruit, vegetables and whole grains. Drinking the recommended amount of water each day can also help to treat constipation, as can gentle exercise such as taking a walk every day.
Dry mouth can normally be resolved by sucking on a sugar-free sweet or chewing gum to produce saliva. Drinking the recommended amount of water will also help with dry mouth.
If you have had blurred vision for longer than two days, you should talk to your doctor. Do not drive, cycle or operate machines until this problem goes away.
In the event of any of the serious side effects occurring, you should seek medical attention straight away.
Who can't take cyclizine?
According to the NHS wesbite, Cyclizine is generally considered to be a safe medicine for both adults and children over 6 years old to take. However, it may not be suitable for everyone to take.
Do not take cyclizine without talking to your doctor if:
You have ever had an allergic reaction to this or any other medicine
You have a liver problem
You have glaucoma
You have any health problems that can cause bowel obstruction, such as diverticulitis or Crohn's disease
You are epileptic or have any other problem that may cause seizures
You have porphyria
You have any bladder or urinary problems
You have phaeochromocytoma
You are intolerant to certain sugars or cannot absorb them
Cyclizine can affect the results of allergy tests, so you should tell your doctor if you are due to have one. They may tell you to stop taking cyclizine for a few days beforehand.
Tell your doctor or pharmacist if you are taking any other medication. In particular, they should be aware if you are taking:
Any other medication that can cause drowsiness, urinary problems or dry mouth
Any antidepressants classed as monoamine oxidase inhibitors (MAOIs)
Cyclizine alternatives
If cyclizine is unsuitable for you to take, or if you experience side effects while taking it, do not worry; there are various alternative medicines for nausea.
Domperidone is another fast-acting anti-sickness medicine. This medicine works to block the messages passed between the digestive system and the brain, relieving and preventing the symptoms of nausea and vomiting.
Stemetil tablets contain the active ingredient prochlorperazine maleate, which is believed to work by blocking dopamine to stop nausea messages reaching the brain's vomiting centre. This medicine gets to work within half an hour to an hour.
Generic Prochlorperazine tablets are also available to buy, which will work in the same way and in a similar length of time to Stemetil.
Summary
In conclusion, cyclizine is generally a very safe medicine to take, effectively relieving nausea symptoms swiftly.
Although there is a risk of side effects, the risk is minimal and the most common adverse effects are likely to subside after a short time, without causing any real problems.
When taken exactly as prescribed by your doctor or pharmacist, Cyclizine is unlikely to cause any lasting or serious side effects. All of our prescribers follow NICE guidelines when prescribing Cyclizine 50mg.
If you are concerned about side effects or have any questions, you should speak to your doctor or pharmacist about them before you start taking cyclizine tablets.
Cyclizine side effects, from the most common symptoms to the more serious warning signs to look out for.
Doctor Notes
Before taking any type of medicine, it is important to familiarise yourself with any potential side effects that you may experience. Cyclizine is a relatively safe medicine, however like all medicines it can cause certain side effects. Being able to identify common or serious side effects gives you an extra level of safety and protection should you start to develop any side effects.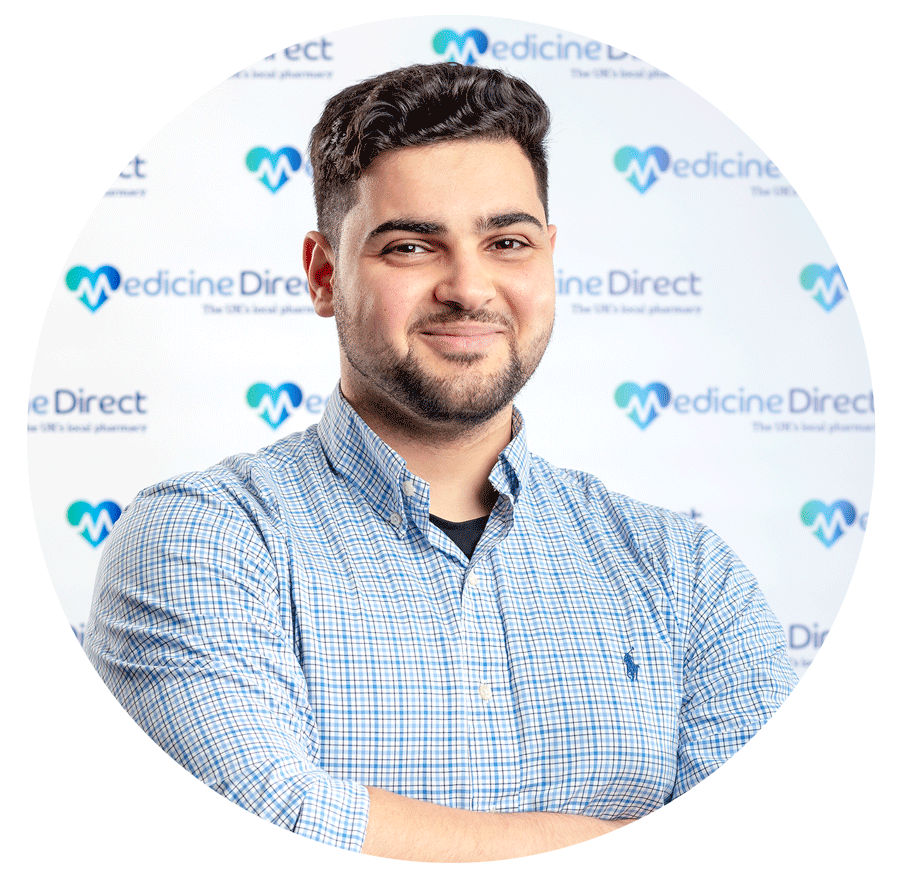 Hussain Abdeh
MPharm: 2211840
Superintendent Pharmacist
This content has been written by our Superintendent Pharmacist Hussain Abdeh and has been medically reviewed by our Pharmacist Sonia Khan
View Profile