Written by: Hussain Abdeh MPharm: 2211840
Published on: 14/06/2021
Updated on: 14/06/2021
Acid reflux is an uncomfortable and unpleasant problem that can affect people of all ages. There are various causes of acid reflux, but the food you eat can have a large impact on the severity and frequency of your symptoms. In this article, we will be looking at what acid reflux is and how diet can impact it. We will also list the main trigger foods of acid reflux, as well as healthy alternatives that can help with the problem.
What is acid reflux?
Your stomach produces acid naturally as a way of digesting food. Acid reflux occurs when this acid moves up into your oesophagus.
The main symptoms of acid reflux are a burning sensation in the middle of your chest (heartburn) and a sour taste in your mouth, which is caused by the acid in your stomach travelling into the throat.
It can be very uncomfortable and if you are unfortunate enough to be plagued by it frequently, this is known as GORD (gastro-oesophageal reflux disease). This is a sign that you should consider improving your diet. While medicine may help to ease the symptoms of your acid reflux, changing your diet is the best way to prevent it altogether.
How can diet impact acid reflux?
Acid reflux is a condition that primarily develops in the stomach, and the unique environment of the stomach is largely dictated by the kinds of food we eat. While some of us may simply be more prone to acid reflux, it is still true that what you eat will affect the severity of your reflux or could even be completely responsible for it.
As a rule of thumb, fatty and salty foods, and those foods which are high in cholesterol, are often considered to be factors in the development of GORD or chronic acid reflux.
Foods that trigger acid reflux
The food you eat has a large impact on your stomach's internal workings; diet is very important in controlling the long-term effects of acid reflux.
While some foods may actively relieve your acid reflux, there are also many foods that can trigger the problem. If you are attempting to relieve your acid reflux by changing your diet, you are advised to cut the following foods out of your diet as much as possible:
Fatty meats such as beef and lamb, which are high in both cholesterol and fatty acids.
Saturated fats, trans fats, and other high-fat foods, which may cause the sphincter in the stomach to relax, letting more food travel back up into the oesophagus.
High levels of salt and sodium
Dairy products, such as milk and cheese are high in saturated fats. It may be helpful to replace semi-skimmed or full-fat milk with skimmed milk in your fridge.
Other foods known to trigger acid reflux include:
Chocolate
Caffeinated drinks, such as tea and coffee
Citrus fruits and drinks, such as orange juice and grapefruit juice
Spicy foods
Peppermint
Onions
Garlic
A recent study into acid reflux inducing foods found that hot spicy stews topped the list when it came to triggering symptoms.
Which foods help to reduce acid reflux?
You can help to lessen your acid reflux symptoms by avoiding some foods and eating others. Studies have shown that dietary changes are, in some cases, just as effective as drugs in treating acid reflux and GORD.
The good news is that the foods which will help with acid reflux are all those found in a healthy diet anyway. In fact, one study found that those following a traditional Mediterranean diet had a lower reported incidence of acid reflux related symptoms.
You should try substituting trigger foods with these healthy alternatives:
Vegetables, which are naturally low in fat and sugar, can help to reduce your stomach acid levels. Leafy green vegetables, potatoes and cucumbers are all great choices.
Ginger is considered a natural remedy for heartburn, so adding a little of this anti-inflammatory root to your morning smoothie might be a good idea.
Oats can absorb stomach acid and reduce the symptoms of acid reflux, so whipping up a bowl of porridge when you are feeling particularly bad may help.
Non-citrus fruits are the best options for avoiding acid reflux, as they are much less acidic than most citrus fruits.
Lean meat, seafood and egg yolks are healthy ways to get protein into your diet without exacerbating acid reflux.
Healthy fats, which include avocados, nuts, olive oil and sunflower oil. These fats will be far less likely to trigger acid reflux compared to saturated fats and trans fats.
How to treat your acid reflux
Dietary changes are often prescribed to help with occasional bouts of acid reflux and should also help to relieve the symptoms of long-term GORD. However, it is also important to check in with your GP to ensure that there is no underlying cause of your acid reflux. A GP may also be able to offer different prescription drugs called antacids or proton pump inhibitors (PPIs), such as omeprazole capsules and lansoprazole gastro-resistant capsules, which are the most prescribed medicines that can help to reduce stomach acid and relieve discomfort from acid reflux.
However, some patients are not happy with the idea of taking medication for a non-life-threatening illness, especially when making small changes to their diet may be just as effective anyway. For this reason, dietary adaptations are often considered to be one of the primary routes of treatment by many sufferers of acid reflux.
Medication for acid reflux
Although changes to diet will be the first recommendation provided to you by your doctor, they may also choose to prescribe you a proton pump inhibitor (PPI) to take, such as lansoprazole, to ease the symptoms of acid reflux (GORD). The dosage you are prescribed will depend on the severity of your symptoms and the pain you are experiencing. Some proton pump inhibitors such as Omeprazole is available over the counter in smaller doses.
Proton pump inhibitors work by stopping the proton pumps in your stomach lining from working properly. This reduces how much acid is made by the stomach and helps to alleviate the symptoms of acid reflux. Further details on proton pump inhibitors can be found in our guide.
There are several other conditions that share many of the same signs and symptoms as acid reflux, most notably gastritis. Gastritis is different from acid reflux; acid reflux is caused by excessive stomach acid, which can then travel back up the oesophagus and cause pain and discomfort. In contrast, gastritis is caused when the stomach's lining becomes inflamed after suffering damage. Both conditions are usually treated with the same medications such as PPIs (proton pump inhibitors).
References
https://www.healthline.com/health/gerd
https://www.webmd.com/heartburn-gerd/guide/what-is-acid-reflux-disease
https://www.healthline.com/health/gerd/proton-pump-inhibitors
What foods trigger acid reflux symptoms and what foods help acid reflux symptoms? Our guide explains everything.
Doctor Notes
Making simple tweaks to your diet can help you manage the symptoms of acid reflux more effectively without the need for medicine. Changing your diet and cutting out foods that trigger acid reflux symptoms should be the first point of call for anyone that currently suffers with acid reflux.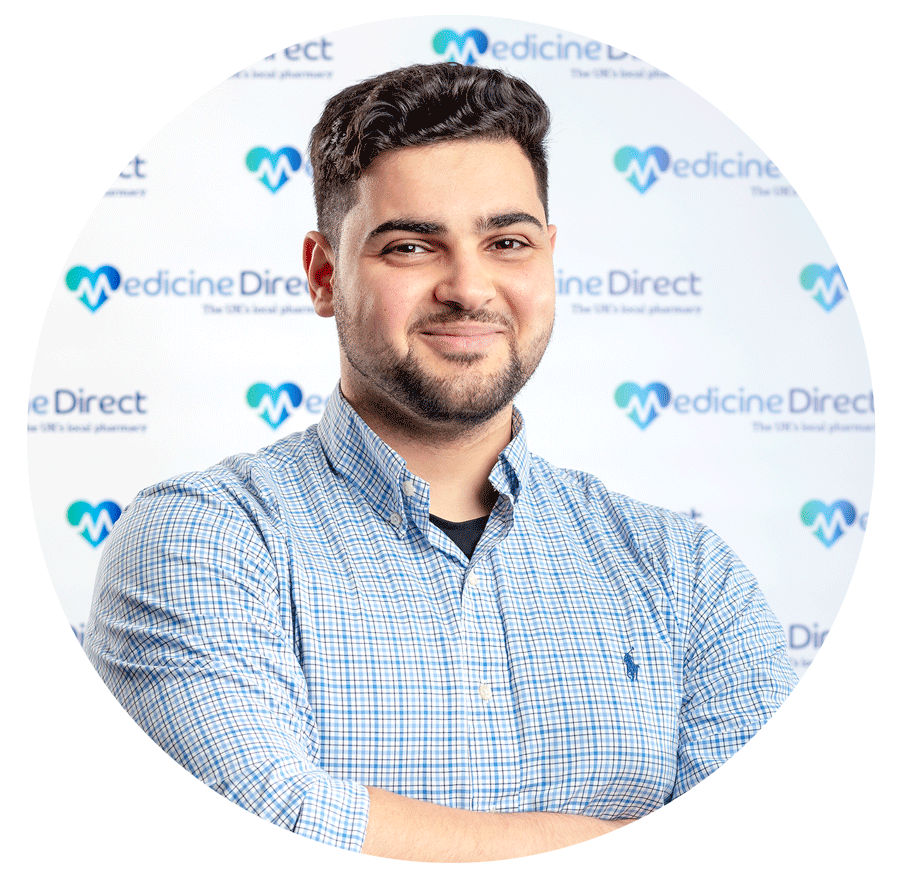 Hussain Abdeh
MPharm: 2211840
Superintendent Pharmacist
This content has been written by our Superintendent Pharmacist Hussain Abdeh and has been medically reviewed by our Pharmacist Sonia Khan
View Profile