A guide to Proton Pump Inhibitors (PPIs)
Written by: Hussain Abdeh MPharm: 2211840
Published on: 10/06/2021
Updated on: 10/06/2021
If you are suffering from a condition that is caused by excessive acid in the stomach, your doctor may well prescribe you a medicine called a proton pump inhibitor (PPI).
This article will look at what PPIs are, how they work, who can take them and the most common medications that belong to this class of medicine. It will also provide an overview of the side effects that may occur while taking a PPI.
What are proton pump inhibitors?
Proton pump inhibitors work by stopping the proton pumps in your stomach lining from working properly. Proton pumps are very small substances that help the stomach to produce acid, which is then used to digest food.
Taking a proton pump inhibitor reduces how much acid is produced by the stomach, alleviating the symptoms of problems like acid reflux and gastro-oesophageal reflux disease GORD. It also helps stomach ulcers to heal on their own due to a reduction in acid.
When you take a proton pump inhibitor, you should start to feel better within 1 hour, with the full benefits being felt after 2-3 days. However, they may need up to 4 weeks to achieve their full effect, so during the first month you may still experience some acid symptoms.
What are proton pump inhibitors used for?
Proton pump inhibitors are prescribed for a number of conditions associated with stomach acid.
Most commonly, they are prescribed to treat:
Acid reflux and heartburn
Heartburn is a burning sensation in the chest that is caused by stomach acid travelling towards the throat (acid reflux). This can also cause an unpleasant taste in your mouth. If this keeps happening, it may mean that you have a chronic condition called gastro-oesophageal reflux disease (GORD).
Because PPIs reduce how much acid is made by the stomach, they can significantly reduce the symptoms of heartburn and acid reflux.
Indigestion
Indigestion is a very common problem that will affect most people from time to time. In these cases, it is not a cause for concern. However, it can still cause uncomfortable symptoms like nausea, wind and bloating. There are some PPIs that can be bought over the counter in low doses to treat indigestion symptoms.
Stomach ulcers
Stomach ulcers are open sores along the lining of the stomach. The most common symptom of a stomach ulcer is a gnawing or burning pain in the abdomen. This problem can cause complications that can be fatal if left untreated.
PPI medicines can be taken to both treat and prevent stomach ulcers from occurring. By reducing how much stomach acid is produced, ulcers can heal naturally on their own.
Zollinger-Ellison syndrome
Proton pump inhibitors can also be prescribed for Zollinger-Ellison syndrome, which is a rare problem caused by a tumour in the gut or pancreas.
What are the most common PPIs?
If you are suffering from one of the conditions listed above, you will likely be prescribed one of the following common PPIs:
Omeprazole
Omeprazole tablets are available in 10mg, 20mg and 40mg doses, which can be bought over the counter to treat indigestion and heartburn. If you are suffering from a more serious problem such as chronic acid reflux (GORD), you may be prescribed a higher dose of omeprazole by a doctor.
For more information about Omeprazole, you can read our helpful medical guide on what is Omeprazole?
Pantoprazole
Low-strength 20mg versions of pantoprazole can also be bought from pharmacies without needing a prescription. Higher doses can only be bought on prescription. It is available as tablets or a liquid.
Pantoprazole is suitable for adults and children over the age of 12. It is not normally recommended for women who are pregnant, although it is safe to take if you are breastfeeding.
Lansoprazole
Lansoprazole gastro-resistant capsules is a prescription-only medicine (POM). It comes in the form of tablets, capsules or a liquid you swallow. It is also available as dispersible tablets, which dissolve on the tongue.
For more information regarding Lansoprazole and what it is used for, we recommend reading our guide to Lansoprazole.
Esomeprazole
Esomeprazole can be bought in 20mg doses from pharmacies to treat milder indigestion and heartburn cases. Higher doses require a prescription.
It is available as tablets, capsules, granules or as a liquid. While it can be taken by adults and children, children should only take esomeprazole if it has been prescribed for them.
It is not suitable for pregnant women and is not normally recommended for women who are breastfeeding.
A study concluded that most PPIs are equally effective when treating acid reflux and other acid related conditions.
How to take proton pump inhibitors
Normally, you will be instructed to take proton pump inhibitors once a day, usually in the morning. The dose you are prescribed will depend on the severity of your condition. All of our doctors and prescribers follow the nice guidelines when prescribing any Proton Pump Inhibitors. You can view the recommended doses for different PPI's on the NICE website.
Sometimes, your doctor may tell you to take the medicine twice a day; in this case, take it once in the morning and once in the evening.
Your dosage will depend on the reason why you need to take the medicine, which medicine you are prescribed and your age.
If you are prescribed tablets, these should be swallowed whole with a drink of water. Capsules should also be swallowed whole, although these can often be opened, and the granules can be mixed in a small drink of water or juice. They can also be sprinkled onto a spoonful of yogurt or other soft food and taken this way.
If you are taking dispersible tablets, these should be placed on your tongue to melt in the mouth. If you have been prescribed a PPI as a liquid, it should come with a spoon or syringe to help you take the correct dose. If you do not receive a spoon or syringe, please ask your pharmacist for one. Do not use household cutlery to measure your dose.
Your medicine will come with a patient information leaflet, which will contain comprehensive instructions on doses and how it should be taken. As with any medicine, you must be sure to comply with your doctor or pharmacist's instructions. Ask your doctor or pharmacist if you are not sure how to take it.
What to do if you miss a dose?
If you take your PPI medication once a day and forget to take a dose, take it as soon as you remember, unless it is less than 12 hours until your next dose is due. If this is the case, skip the dose you missed and just take your next dose at the usual time, then carry on as normal.
If you take your medication twice a day, take the missed dose as soon as you remember, unless it is within 4 hours of your next dose. If this is the case, skip the dose you missed and take the next dose at the usual time, then keep taking the medicine as normal.
Side Effects of Proton Pump Inhibitors (PPIs)
Proton pump inhibitors, like all medicines, can cause side effects. However, not everyone gets them.
You may experience side effects if you are taking a PPI medicine for the first time. These side effects will generally get better on their own as your body gets used to the medicine.
Common side effects include:
Headaches
Nausea
Constipation
Wind
Vomiting or diarrhoea
Stomach pain
These adverse effects should clear up on their own after a few days. Speak to your doctor if any of these bother you or do not go away.
Serious side effects
The following side effects are serious.
You should seek medical attention straight away if you get:
Yellow skin, dark-coloured urine and tiredness
Joint pain accompanied by a red skin rash, particularly in parts of the body that are exposed to the sun
Stomach pain that seems to be getting worse
Urinating less, pain while urinating, swollen ankles, lower back pain, rash or a high temperature
Always read the patient information leaflet for complete details on side effects. Speak to your doctor or pharmacist if you have any questions.
Yellow Card Scheme
Any side effects that are not listed here or in the patient information leaflet can be reported to the Medicines and Healthcare products Regulatory Agency (MHRA), using their Yellow Card Scheme.
This scheme is designed to inform doctors and pharmacists of new side effects of specific medicines. To report a new side effect, you will need to detail the reaction you experienced, the name of your medication, who had the side effect and your personal details.
References
https://www.nhs.uk/medicines/lansoprazole/
https://www.nhs.uk/medicines/omeprazole/
https://www.nhs.uk/medicines/esomeprazole/
What are Proton Pump Inhibitors? Our guide covers everything you need to know about the most commonly used PPIs
Doctor Notes
Proton Pump Inhibitors (PPIs) are the go-to treatment for many doctors and pharmacists when treating acid related conditions. There are several PPIs to choose from, all of which have a very similar mechanism of action and are equally as effective as each other.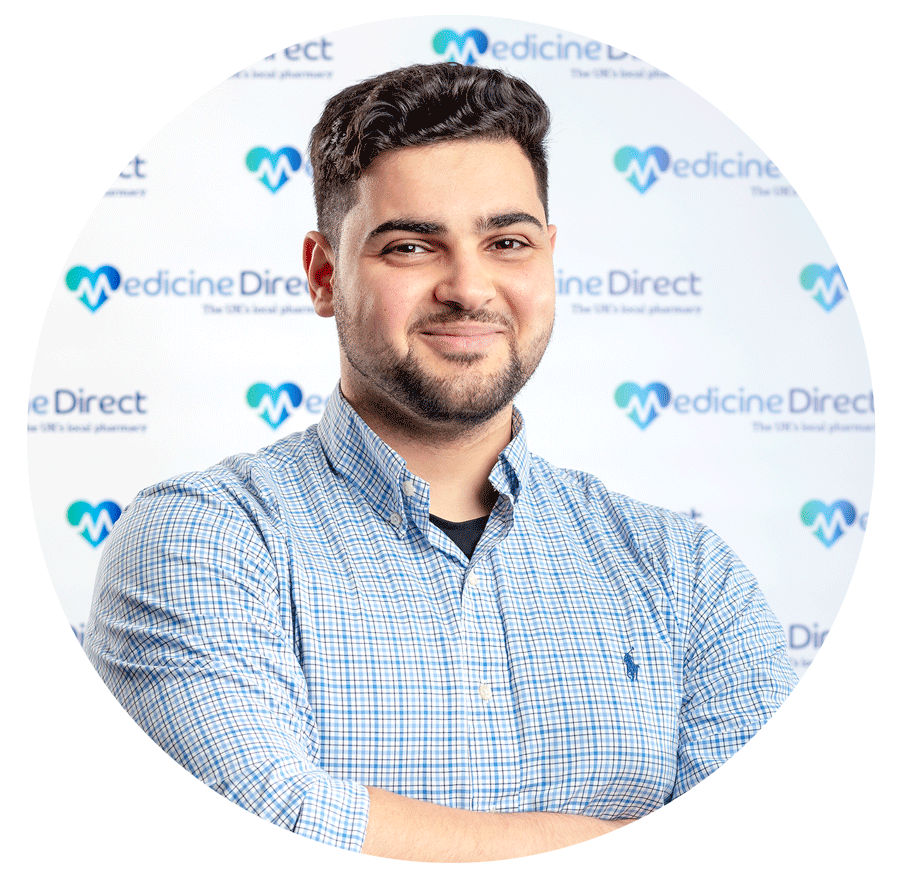 Hussain Abdeh
MPharm: 2211840
Superintendent Pharmacist
This content has been written by our Superintendent Pharmacist Hussain Abdeh and has been medically reviewed by our Pharmacist Sonia Khan
View Profile