Managing Arthritis with medication
Written by: Hussain Abdeh MPharm: 2211840
Published on: 12/10/2020
Updated on: 07/05/2021
Arthritis is a chronic and often difficult condition to live with, causing pain and inflammation in the joints. More than 10 million people in the UK have arthritis or a similar condition that causes the same type of pain.
Living with this condition can be debilitating, but there are many medicines available to help with arthritis pain. There are also simple and healthy steps you can take to lessen the risk of developing it. This article will explore the various options of treatment for arthritis. Furthermore, it will look at different types of arthritis and arthritis symptoms.
What is arthritis?
Arthritis is a painful condition to live with and can be a serious cause of disability in people of all ages. It is most likely to develop in adults who are in their mid-40s, but it can develop earlier and later than this. Children can also develop arthritis.
If arthritis pain goes without being treated, it can cause further problems including:
Swelling
Chronic pain
Deformities in the limbs
Stiffness in the joints
Impaired motion
There are various types of arthritis, but the two most common forms are rheumatoid arthritis and osteoarthritis.
Rheumatoid arthritis
Rheumatoid arthritis a long-term autoimmune disease that most commonly affects the wrists, hands and feet. This type of inflammatory arthritis can cause flare-ups, which are times when the symptoms are worse than before.
If you suffer from rheumatoid arthritis, you may also have problems with other areas of the body. Generalised symptoms like fatigue and weight loss can also occur in people who have this type of arthritis.
It occurs when the immune system mistakenly attacks the cells that line your joints. This causes the joints to swell, which makes them painful and stiff. As it progresses, rheumatoid arthritis can lead to joint, cartilage and bone damage. Women are at a greater risk of developing this problem, as are people who have a family history of rheumatoid arthritis.
Osteoarthritis
Osteoarthritis is the most common type of arthritis in the UK.
Your joints undergo small amounts of damage during your daily life, but your body will normally repair this damage on its own. Osteoarthritis occurs when your bones' protective cartilage breaks down. This results in swelling, pain and movement problems. Some people experience growths developing which can end up swollen and red.
You are at a greater risk of getting osteoarthritis if you are older. Women are also more prone to it than men, as are people who are obese or who have a family history of osteoarthritis.
Aside from osteoarthritis and rheumatoid arthritis, there are also less common forms of arthritis. These include:
Gout
Gout is the result of excessive amounts of uric acid in the body. This can develop in any joint, but is common in the feet, causing pain, swelling and redness.  Gout attacks can appear quite suddenly and usually last between 5 to 7 days. Gout can be controlled by implementing healthier diet and lifestyle changes.
Fibromyalgia
It is not clear what causes Fibromyalgia; the symptoms of this condition also vary from person to person. Fibromyalgia causes pain all over the body, it can be triggered by a stressful event such as an injury or massive emotional distress such as the death of a loved one. There is no cure for Fibromyalgia, however; it is usually treated with painkillers.
Ankylosing spondylitis
Which is a long-term inflammatory condition. It often affects bones, muscles and ligaments in the spine. AS is 2 times more common in men than women, strangely it also tends to develop in teenagers and younger adults unlike other forms of arthritis.
Enteropathic arthritis
Which is a type of chronic inflammatory arthritis that is associated with inflammatory bowel disease.
Polymyalgia rheumatica,
which mostly occurs in people over 50 years old. This is the result of the immune system causing muscle pain and stiffness particularly in the shoulders and hips.
What are the symptoms of arthritis?
Because there are several types of arthritis, different people will experience different symptoms.
However, below is a list of the most common symptoms associated with arthritis. You should speak to your doctor if any of the following issues are bothering you. This will allow your symptoms to be diagnosed accurately and as soon as possible:
Pain, tenderness, or stiffness in the joints
Inflammation in and around the joints
The skin over the joint is warm and red
Restricted movement in the joints
Muscle wasting and weakness
What medication is available for those with arthritis?
Currently, there is no cure for arthritis. However, there are various medications that can help with the pain and inflammation.
Naproxen is very commonly prescribed for arthritis pain. It can be prescribed to treat both osteoarthritis and rheumatoid arthritis, as well as for the likes of gout, juvenile arthritis and ankylosing spondylitis. As a treatment for arthritis, this nonsteroidal anti-inflammatory drug (NSAID) is only available to buy on prescription. It can be bought from our online pharmacy after you have completed our confidential online consultation questionnaire, which will make sure that naproxen is a suitable medication for your arthritis symptoms.
Naproxen works by stopping a substance called prostaglandin from being produced, which is a hormone-like substance that is responsible for inflammation in painful conditions. It is the most prescribed NSAID in the UK, accounting for 58% of all NSAID prescriptions.
To learn more about Naproxen and how it works, read our helpful medical guide to Naproxen.
Ponstan is another NSAID medication that can be taken to treat arthritis symptoms. This medicine contains the active ingredient celecoxib, which is a COX-2 inhibitor that works by stopping the production of COX-2 enzymes that cause prostaglandins.
Ibuprofen is also an option. Also a nonsteroidal anti-inflammatory drug, this medicine is widely prescribed to treat arthritis. Additionally, it can be used to treat the likes of dental pain and migraines.
It is also common to combine certain NSAID drugs such as Naproxen and Ibuprofen with Paracetamol to treat pain. However, it is important to never take two NSAID's at the same time
All of the medicines mentioned here are available to buy from Medicine Direct after you have completed a confidential online consultation questionnaire. This will ensure the medication you require is safe for you.
Additional advice to help manage arthritis
Aside from medication, there are also practical steps you can take to keep your arthritis symptoms under control.
Hot and cold therapies have been shown to help with arthritis pain. Heat treatments can be done at home and can be as simple as taking a long warm bath or shower each morning. This can ease stiffness and reduce pain. Cold treatments can be just as simple, such as wrapping an ice pack around the aching joints
Staying at a healthy weight can help to alleviate arthritic pain. Being overweight puts extra pressure on your joints, particularly your knees, hips and feet. Losing excess weight can help your mobility and also relieve pressure on your joints, easing arthritis pain. Also, taking regular exercise can help you to lose weight and also keep your joints flexible, which strengthens the muscles around the joints and provides more support.
Furthermore, eating a healthy diet can work to improve arthritis. Making sure you eat plenty of fresh fruit and vegetables, as well as the likes of fatty fish, can help to boost the immune system and also act as antioxidants to relieve inflammation by eliminating free radicals.
Can you make arthritis go away?
There is no outright cure for arthritis. However, there are various things you can do to reduce the symptoms of arthritis and improve your condition. This includes making healthy lifestyle choices and, in some cases, using medication to relieve pain and inflammation caused by arthritis.
What foods make arthritis worse?
Certain types of food can make arthritis worse. You should watch your sugar intake anyway, but if you have arthritis you should avoid foods that contain added sugars, such as sugary drinks. These products can significantly increase your risk of arthritis. Check the sugar content in less obvious places, such as in cereals and bottles of condiments.
Processed red meats should also be avoided as they have been linked to inflammation in some research. Foods which are highly processed in general, such as fast food and baked goods, also contain added sugar and preservatives, both of which can cause inflammation. They can also contribute towards obesity, which can make your arthritis worse.
Can you prevent arthritis?
There is no certain way to prevent arthritis. This condition can be genetic and is more common in women than in men. However, there are some steps you can take to lessen the risk that you may develop this condition.
Staying at a healthy weight can help to prevent osteoarthritis. Stopping smoking or never starting can help to prevent rheumatoid arthritis.
You should take plenty of exercise to keep your ligaments flexible, right down to the smallest ligaments in the body. Move your hands and feet as well as your legs, arms and neck. If your job requires you to sit down all day, make sure you take regular breaks to stand up and walk around a little. If you are required to type as part of your job, practice good posture and, if needed, invest in a cushion or pad for your wrist.
References
https://www.nhs.uk/conditions/arthritis/
https://www.healthline.com/health/chronic-pain/managing-arthritis-pain
https://www.nhs.uk/conditions/osteoarthritis/
https://www.nhs.uk/conditions/rheumatoid-arthritis/
https://www.healthline.com/health/osteoarthritis/arthritis-natural-relief
https://www.ncbi.nlm.nih.gov/books/NBK525965/#:~:text=The%20liver%20extensively%20metabolizes%20Naproxen,of%2012%20to%2017%20hours.
https://patient.info/medicine/mefenamic-acid-for-pain-and-inflammation-ponstan
https://www.healthline.com/health/osteoarthritis/preventing-arthritis-in-the-hands#Diagnosing-arthritis
What are the different types of arthritis? What are the symptoms and what medicine is needed to help treat them?
Doctor Notes
There are many different types of arthritis, all of which have different symptoms and are treated using different medications. Sometimes medication is needed to help treat the pain and inflammation of arthritis, however; it should be used in conjunction with making healthy lifestyle and diet changes to help reduce the threat of arthritis even more.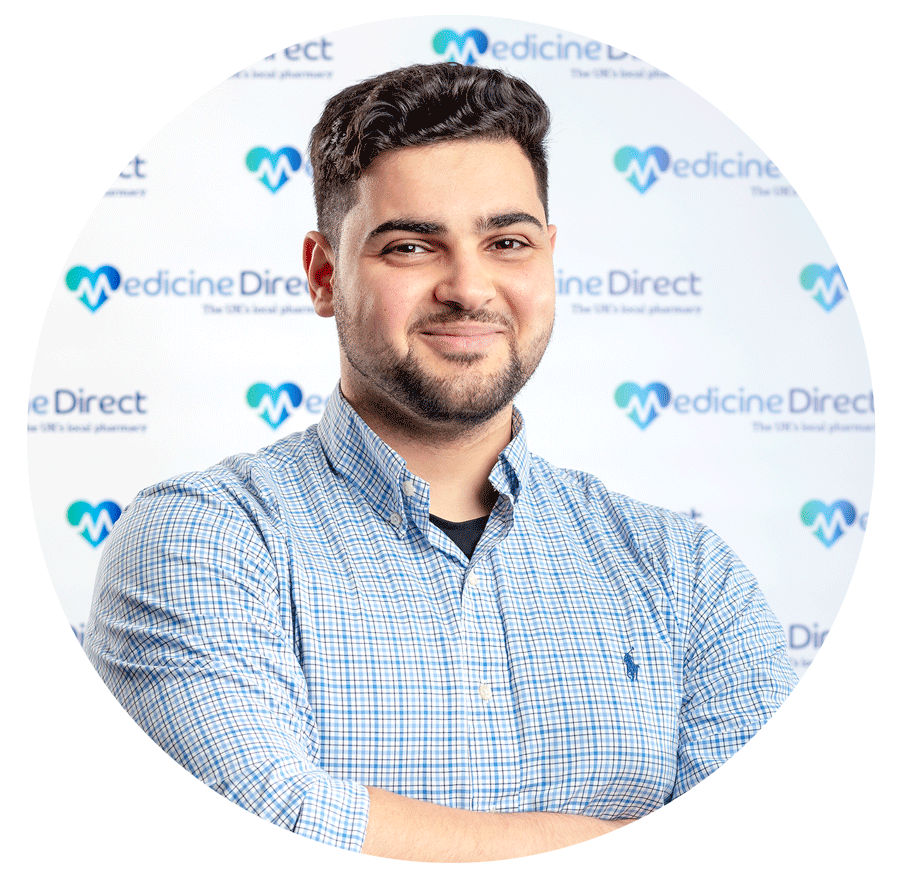 Hussain Abdeh
MPharm: 2211840
Superintendent Pharmacist
This content has been written by our Superintendent Pharmacist Hussain Abdeh and has been medically reviewed by our Pharmacist Sonia Khan
View Profile