Written by: Hussain Abdeh MPharm: 2211840
Published on: 05/05/2021
Updated on: 05/05/2021
In this Guide
Asthma reliever inhalers are prescribed to sufferers of all ages. They provide swift and effective relief from the symptoms of asthma when they flare up. One of the most common reliever inhaler brands is Ventolin. Ventolin inhalers contain a medicine called salbutamol, which is a short-acting beta 2 agonists that gets to work within minutes and continues to work for around five hours.
However, there are also various other brands and types of asthma inhalers which work to effectively relieve and prevent asthma symptoms. This article will explore the similarities and differences between Ventolin and other leading brands of asthma inhalers. We will also be looking at the different types of inhalers produced by Ventolin and comparing how they work and how they are used.
What is the difference between Ventolin and Salbutamol?
Ventolin and salbutamol are basically the same. Salbutamol is the generic name for the medicine while Ventolin is a brand name. Ventolin contains salbutamol as the active ingredient; the inhalers are designed to give asthma sufferers a 100 mcg dose of salbutamol per inhalation. Any other product that also gives a 100 mcg dose of salbutamol is essentially the same as Ventolin.
In America, the medicine salbutamol is known as "albuterol". Albuterol is the same medicine as salbutamol, possessing the same properties and working in the same way.
Salamol vs Ventolin
Essentially, these are both the same medicines but under separate brand names. Like Ventolin, Salamol also contains salbutamol as the active ingredient and gets to work in the same way.
What is the difference between Ventolin and Salamol?
Both Salamol and Ventolin inhalers contain the same active ingredient, Salbutamol. Most importantly, in a recent study, salbutamol was found to be just as effective as Ventolin. The study concluded that both inhalers were found to offer the same bronchodilator response.
Bricanyl vs Ventolin
Bricanyl inhalers work to provide relief from breathing problems just like Ventolin inhalers do. However, Bricanyl Turbohalers are used differently and contain a different active ingredient to Ventolin.
Whereas Ventolin contains salbutamol, Bricanyl inhalers contain terbutaline as their active ingredient. Terbutaline belongs to a group of medicines called beta-agonists. However, this medicine works in a similar way to salbutamol, by relaxing the muscles in the airways, allowing the airways in the lungs to open up. This helps you to breathe normally again.
Bricanyl is a multi-dose, dry powder inhaler. You do not need to press down on a canister to release the medicine like you do with Ventolin. Instead, you shake the inhaler, twist the bottom grip and take a deep breath.
Like Ventolin, Bricanyl reliever inhalers also provide effective relief from asthma for up to six hours.
The maximum dose for Bricanyl is four inhalations in 24 hours. With Ventolin Evohalers, you can take up to eight inhalations in 24 hours. The maximum dose for Ventolin Accuhalers is four inhalations in 24 hours.
Proventil vs Ventolin
Ventolin and Proventil are both reliever inhalers which should be taken when you feel your asthma symptoms starting to flare up. They can also be taken before exercising or coming into contact with something that can trigger your asthma, such as dust or pollen. This will help to prevent you from suffering an asthma attack.
Proventil inhalers contain a higher dosage at 120 mcg compared to Ventolin's 100 mcg. Proventil inhalers have been discontinued, but Ventolin inhalers work in the same way. Both Proventil and Ventolin inhalers contain salbutamol, which relaxes the muscles in the airways to relieve breathing difficulties.
The difference between Ventolin Accuhalers and Evohalers
Ventolin comes in two different forms of inhaler: Accuhalers and Evohalers. Both contain the active ingredient salbutamol, and both work to relieve asthma symptoms in sufferers of all ages. They can also both be used to prevent asthma symptoms from occurring before exercise or coming into contact with a trigger. However, they contain different doses and should be used differently.
Ventolin reliever evohalers are blue and look like many other asthma inhalers, with the medicine being contained in a metal canister. To use an Evohaler, you should shake the inhaler, place the mouthpiece inside your mouth and press down on the canister as you breathe in through your mouth. This will release a spray of salbutamol into your airways. Hold your breath for a few seconds after inhaling the medicine.
The maximum dose from a Ventolin Evohaler for both adults and children is 8 puffs in 24 hours. Each canister contains 100 mcg of salbutamol and provides 200 doses.
In contrast, a Ventolin Accuhaler contains the medicine as a powder, meaning there is no canister. Ventolin Accuhalers are considered by many to be slightly easier to use than Ventolin Evohalers. This is because you do not need to coordinate your breathing with pressing down on a canister to inhale the medicine.
When using a Ventolin Accuhaler, you should open the mouthpiece, then slide the lever to release a dose of the medicine into the mouthpiece. You should then put the mouthpiece to your lips and breathe in deeply and steadily through your mouth. After this, hold your breath for about 10 seconds, then breathe out slowly.
Before using your inhaler you should always read the step by step guide on how to use ventolin. If you still feel that you are not using the correct inhaler technique, you should walk into your local pharmacy to get your technique assessed by a qualified pharmcist.
Because of the less complicated instructions, Accuhalers are often prescribed for children.
One inhalation of Ventolin Accuhaler provides 200 mcg of salbutamol, compared to Ventolin Evohaler's 100 mcg per dose. Because of this, the maximum dose for a Ventolin Accuhaler is only four inhalations in 24 hours.
Read our guide for more information on what ventolin is and what is it used for.
Other alternatives
Aside from the brands listed above, there are various different alternatives that can be bought to effectively relieve asthma symptoms.
Airomir is another asthma inhaler that contains salbutamol as its active ingredient. To use the autohaler version of this product, you should prime the inhaler and then breathe in through your mouth as you inhale from the mouthpiece. This will release a measured dose of the medicine to relieve your symptoms.
The aerosol version of the Airomir inhaler contains a metal canister just like the Ventolin Evohaler. To release this medicine, you should press down on the canister as you breathe in. Many people find that the autohaler form of this inhaler is easier to use as you only need to breathe in through the mouthpiece to receive the medicine.
The Salamol Easi-Breathe inhaler is also widely prescribed for people who suffer from asthma. Salamol Easi-Breathe inhalers also contain 100 mcg of salbutamol as the active ingredient, making them very similar to Ventolin Evohalers. They can relieve symptoms when they occur and also be used to prevent breathing problems if taken before exercising or coming into contact with a trigger.
The maximum dose of Salamol is also eight puffs in 24 hours. You should leave at least four hours between each dose. Like Ventolin Evohalers, Salamol Easi-Breathe contains salbutamol and can be used by both adults and children.
Levalbuterol (sold under the brand name Xopenex) is another alternative that is sometimes prescribed to relieve asthma. While levalbuterol works in the same way as salbutamol, it belongs to a class of drugs called short-acting bronchodilators, which relax the airways' muscles to allow air to flow in and out of the lungs easily. It can be used as a treatment for asthma in adults and children who are at least 4 years of age.
Whichever reliever inhaler you are prescribed, it is vital that you carry it with you at all times. Asthma attacks can occur at any time, often with no prior warning. Therefore, having a reliever inhaler close at hand could save your life.
It is even more beneficial if you have a spare reliever inhaler. This lets you keep one inhaler in a safe place at home, so you always know where a spare is if you need it, while also carrying one around with you. We at Medicine Direct have recognised the enormous benefit of having more than one reliever inhaler. That is why we offer a significant discount if you buy two inhalers from us at once. This allows you to save money on your order, while also having a backup version of this essential medication.
Furthermore, ordering from our online pharmacy means that you do not need to make an appointment to see your doctor, or queue in a pharmacy. Just complete our online questionnaire and one of our registered prescribers can approve the sale of your medication in next to no time. Place your order with our online pharmacy by 2pm and we can also provide next day delivery, meaning your inhalers will be with you almost immediately.
References
https://pubmed.ncbi.nlm.nih.gov/18157200/
https://www.nhs.uk/medicines/salbutamol-inhaler/
https://www.medicines.org.uk/emc/files/pil.869.pdf
https://www.medicines.org.uk/emc/files/pil.849.pdf
https://www.medicines.org.uk/emc/files/pil.850.pdf
https://www.medicines.org.uk/emc/files/pil.2070.pdf
Salbutamol is one of the most common ingredients found in reliever inhalers, particularly Ventolin. However, salbutamol is also available under a number of different brands. In this guide we compare other common salbutamol reliever inhalers with Ventolin.
Doctor Notes
There are many different types of reliever inhalers that contain the same active ingredient as Ventolin. Salbutamol provides effective and instant relief from asthma symptoms. Your doctor may choose to prescribe you with a different brand of salbutamol. If you have a particular brand of salbutamol that you wish to try, it is worth mentioning this to your doctor.
Which brand on salbutamol you are prescribed will not impact how well your asthma is managed as all brands are similarly effective.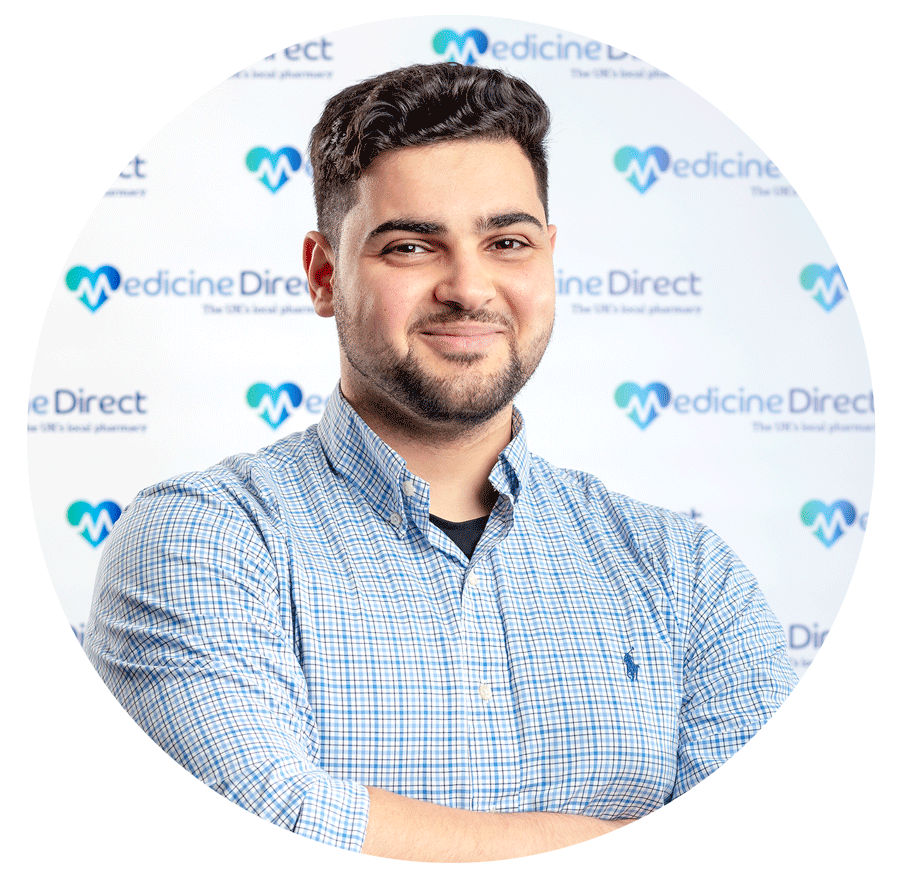 Hussain Abdeh
MPharm: 2211840
Superintendent Pharmacist
This content has been written by our Superintendent Pharmacist Hussain Abdeh and has been medically reviewed by our Pharmacist Sonia Khan
View Profile