Taking Propranolol for High Blood Pressure
Written by: Hussain Abdeh MPharm: 2211840
Published on: 04/05/2021
Updated on: 04/05/2021
Propranolol is a type of prescription only beta-blocker and can be used to treat a wide range of conditions. Most commonly it is prescribed to treat high blood pressure (hypertension), anxiety and migraines.
In this article, we will be looking at how propranolol is used to treat high blood pressure and its effectiveness in doing so. As with all medicine, propranolol may cause several side effects if taken incorrectly, we will also be touching on what side effects to look out for when taking propranolol for high blood pressure.
What is high blood pressure (Hypertension)?
Blood pressure is the exact reading and measurement of force that your heart uses when pumping blood around your body. Blood pressure is measured in millimetres of mercury (mmHg) using two figures/numbers, often referred to as a top number and a bottom number.
The top number relates to Systolic Blood Pressure which is the pressure and force your heart uses when pumping blood around your body.
The bottom number relates to Diastolic blood pressure which is the blood pressure reading when your heart rests in between beats.
You are considered to have a high blood pressure with a reading in the region of 140/90mmHg or higher. To put this into perspective, a normal blood pressure reading is 90/60mmhg.
Typically, high blood pressure means that your heart needs to use more force to pump blood around your body.
High blood pressure is usually the result of an unhealthy lifestyle, and can be caused by smoking, eating fatty foods, being overweight, consuming too much alcohol and not getting enough exercise. However, it can also be genetic with individuals of Caribbean or African descent being more likely to develop high blood pressure, among others.
How does Propranolol help people with High Blood Pressure?
Propranolol belongs to the beta-blocker family of drugs.
As a beta blocker, propranolol works by blocking the beta-adrenergic receptor, which is responsible for responding to adrenaline, the body's natural stress hormone. Adrenaline increases the rate at which the heart beats and makes it beat harder, as a result directly increases blood pressure.
Propranolol gets to work by blocking messages sent to your heart by various nerves around the body. Your heart receives those messages in a tiny area called the beta-adrenergic receptor which then processes those messages and increases your heart rate. By blocking the beta-adrenergic receptor, the messages sent to your heart are also blocked, this slows the heart rate and the force of its contractions with every heartbeat.
Blood pressure is reduced with the heart beating at a reduced rate, contracting with less force, and pumping smaller amounts of blood around the body with each beat.
Propranolol is used to treat high blood pressure mainly in patients that have previously suffered heart complications such as a heart attack or heart failure. Although propranolol lowers blood pressure, it is not necessarily recommended as the first line treatment for uncomplicated blood pressure. This means that if you just have high blood pressure, with no other complications, an alternative high blood pressure medicine such as a thiazide diuretic or ACE inhibitor may be a better suited alternative.
Why is propranolol not a first line treatment for High Blood Pressure?
Propranolol is typically prescribed to treat complicated blood pressure in individuals who have previously suffered with other heart conditions such as a heart attack or heart failure. When treating uncomplicated blood pressure, propranolol has a relatively weak effect when compared to other treatment options in reducing some of the other complications that can develop due to high blood pressure such as stroke or coronary artery disease.
As a result, first line treatments for high blood pressure include calcium channel blockers and thiazide diuretics which are more effective in treating high blood pressure complications.
Propranolol 10/40mg tablets and other beta-blockers are a first line treatment option when treating complicated high blood pressure.
How quickly does propranolol work for high blood pressure?
Propranolol gets to work within just a few hours, however it can take anywhere from a few days to several weeks to successfully lower high blood pressure.
Propranolol reduces blood pressure at a slower rate than other high blood pressure medicines due to its staggered prescribing guidelines when treating hypertension.
When treating high blood pressure with propranolol, a dosage of 80mg twice daily will initially be prescribed and increased weekly until a maintenance dosage of 160mg - 32mg daily is reached.
Side Effects
As with all medicine, propranolol can cause several different side effects, however; most people will only experience very few or minor side effects. Side effects are often worse when taking a medicine for the first time, over time your body will learn how to cope with the side effects the more frequently that you take a certain medicine.
Common side effects include:
Tiredness, lethargic, lightheaded or dizziness
Nausea
Difficulty sleeping
Cold fingertips or toes (blood supply to your fingers and toes may be affected when taking propranolol
Serious side effects
In the rare occurrence that you experience any side effects that are serious you should call a doctor straight away if:
You experience shortness of breath when carrying out simple tasks such as walking up the stairs or uphill. Wheezing and tightening of the chest
You start to experience chest pain or an irregular heartbeat, this could indicate an underlying heart problem
Yellow tint to the whites of your eyes or skin, this can indicate an underlying liver problem
For a full and extensive list of the side effects please read our medical guide on propranolol side effects.
What is the Propranolol dose for High Blood Pressure?
The dose for treating high blood pressure with propranolol is 1 x 80mg tablet twice daily. Once propranolol has successfully lowered your blood pressure, the dose may be increased to 160mg - 320mg daily to help regulate your blood pressure.
When is the best time to take propranolol?
For high blood pressure, you will typically be instructed to take your dose of propranolol twice a day. Propranolol can make you feel sleepy and dizzy when you first take it, for this reason it is recommended taking your first dose before bed. Once your body gets used to propranolol you can then begin to take your doses in the morning and evening as normal.
How much does Propranolol lower blood pressure?
How much propranolol lowers your blood pressure will be dependent on your condition and severity of your high blood pressure. 
Recent studies have concluded that propranolol can significantly reduce blood pressure and was well tolerated in the 434 patients that took part in the trial.
How long will I need to take propranolol for?
if you are taking propranolol for high blood pressure, it is likely that you will need to use this medicine for the rest of your life.
High blood pressure is a long-term condition that usually requires long term management with medicine.
Is it safe to take Propranolol for a long time?
Yes, when taken correctly propranolol is a safe drug to take long term. Propranolol does not cause any long-lasting side effects. For some conditions such as high blood pressure, Propranolol will be prescribed for long term use.
Will my blood pressure increase if I stop taking propranolol?
If your blood pressure is successfully managed by propranolol, it is likely you will need to continue taking it for the rest of your life. If you stop taking this medicine, even if your blood pressure has been lowered, it may cause it to increase again.
Can I drink alcohol when taking propranolol?
Drinking alcohol with propranolol may cause an increase in certain side effects such as dizziness. 
At the start of your treatment plan, it is recommended to avoid alcohol as your body adapts to the treatment.
If you are planning on drinking alcohol when taking propranolol, you are advised to do so in moderation.
Summary
The key takeaway from this article is that propranolol is an effective treatment for high blood pressure, however there are some instances and complications that may mean propranolol is not the best fit for you.
Propranolol is better suited to treat complicated high blood pressure in individuals who have experienced heart complications. Propranolol is particularly effective for individuals who have suffered a heart attack, its beta-blocker properties help to regulate heart rate and reduce pressure on the heart. As a result, blood pressure is also reduced with the heart using less force per contraction and beating at a more regular rate.
You should always ensure that you are purchasing propranolol or any other beta blocker from a fully regulated pharmacy or online pharmacy such as Medicine Direct. By doing so, our team of qualified pharmacists and prescribers will ensure that you are prescribed the correct dosage to treat your specific condition.
References
Propranolol patient information leaflet - https://www.medicines.org.uk/emc/files/pil.2903.pdf
https://www.nhs.uk/common-health-questions/lifestyle/what-is-blood-pressure/
http://www.bloodpressureuk.org/your-blood-pressure/understanding-your-blood-pressure/what-do-the-numbers-mean/
https://www.health.harvard.edu/newsletter_article/a-second-look-at-beta-blockers-and-blood-pressure
https://patient.info/medicine/propranolol-a-beta-blocker-angilol-bedranol-beta-prograne
https://pubmed.ncbi.nlm.nih.gov/20451690/
Is propranolol the most suitable treatment option for High Blood Pressure? We explain how propranolol helps treat high blood pressure, how quickly it treats it and any potential side effects that may appear.
Doctor Notes
Propranolol can provide treatment for a wide range of conditions; however, it may not be the first line treatment option for your specific condition. If you are looking to purchase propranolol to treat a specific condition, please complete our online consultation with as much information as possible.
Our UK based prescribers will then be able to prescribe the most suitable medicine to treat your condition.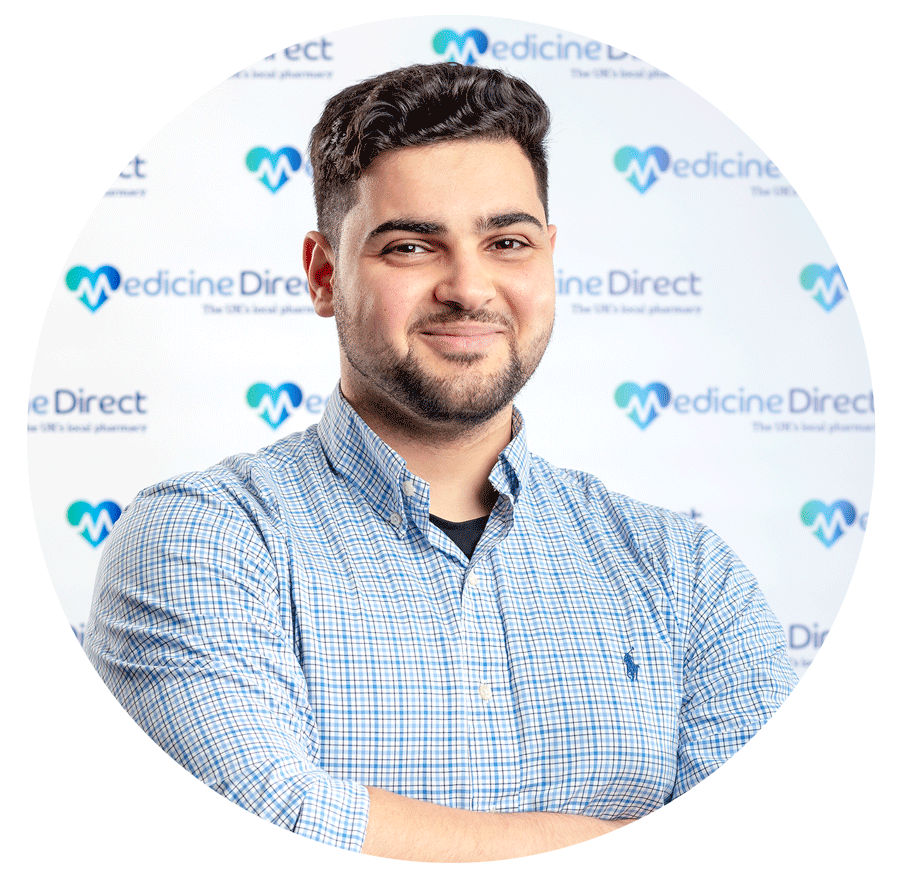 Hussain Abdeh
MPharm: 2211840
Superintendent Pharmacist
This content has been written by our Superintendent Pharmacist Hussain Abdeh and has been medically reviewed by our Pharmacist Sonia Khan
View Profile