Written by: Hussain Abdeh MPharm: 2211840
Published on: 27/05/2021
Updated on: 27/05/2021
Propranolol tablets are an an effective prescription medicine for the likes of anxiety, heart conditions, high blood pressure and migraines. However, like all medication, it can cause side effects in some people.
This article will be taking a deeper look at the potential side effects of propranolol, ranging from the common to the very rare. We will also be detailing what you should do if you experience any of these side effects, as well as listing the medicines that are known to interact with propranolol.
What is propranolol used for?
Propranolol belongs to a class of drugs known as beta blockers. It comes in the form of tablets, capsules, or a liquid that you swallow.
This medication is used to treat heart problems such as high blood pressure, irregular heartbeats, and angina pain. It can also be taken to prevent future heart attacks or strokes.
Additionally, propranolol is used to treat anxiety and migraines.
Propranolol works by slowing down how fast your heart beats. This makes it easier for your heart to pump blood around the body, which effectively helps to lower blood pressure and regulate the heart so it can beat at a steadier pace. Slowing down the heart rate can also help to alleviate physical symptoms of anxiety, such as shaking or sweating.
Propranolol can be taken by both adults and children, but it is a prescription-only medicine (POM).
Propranolol side effects
Some of the side effects caused by this medicine will resolve themselves as your course of treatment goes on, but others may require medical attention to be put right.
Common side effects
The common side effects of propranolol will affect more than 1 in 100 people who take it.
Nausea/Sickness
Nausea is one of these common side effects. If you experience nausea while taking propranolol, try taking the medicine after you have eaten. It may also help to avoid meals that are spicy or rich.
Disturbed sleep/nightmares
Some people also report sleeping problems or nightmares. If these bother you, try to take your medication in the morning. Talk to your doctor if you need to take propranolol more than once a day.
Dizzy, light-headed or fatigue
Propranolol can also cause some people to feel dizzy, light-headed, or tired. These may be signs of a slow heart rate. If you suffer from dizziness or light-headedness, sit, or lie down until the feeling subsides. These side effects should go away on their own as your body gets used to taking this medicine. Do not drink alcohol if you experience any of these reactions, as this may exacerbate the problem.
Cold fingertips or toes
Cold fingers or toes have also been reported, due to propranolol affecting the blood supply to the hands and feet. If this affects you, massage your fingers and toes and keep them moving by wiggling them about. Placing them under warm running water can also help. You should not smoke or drink caffeinated beverages as this makes the blood vessels narrower, restricting blood flow. Do not wear tight jewellery around your ankles or wrists but try to keep your hands and feet warm by wearing gloves and thermal socks.
Vomiting or diarrhoea
Less common side effects include vomiting and diarrhoea. Sip small amounts of water at regular intervals if you suffer either of these problems.
If any of these side effects become uncontrollable or do not resolve themselves in a few days, you should speak to your doctor
Serious side effects
Although the following side effects are rare, you should talk to your doctor straight away if you get any of them:
You feel short of breath, accompanied by a cough that is made worse with exercise, swollen legs or ankles, chest pain, or an irregular heartbeat (these may be symptoms of a heart problem)
Your skin or whites of your eyes start to turn yellow (these may be signs of liver problems)
You feel short of breath, tightness in your chest or you are wheezing (these may be symptoms of a lung problem)
Signs of an allergic reaction
It is possible to suffer an allergic reaction to all medicines, and propranolol is no exception.
You should seek medical attention immediately if you get any of the below symptoms. If you notice any of these, you should call 999 or go to the nearest A&E straight away:
You are wheezing
You get a skin rash that is red, swollen or itching
You have swelling in your mouth, face, lips, tongue or throat
You have chest pain or tightness in your throat or chest
You are finding it hard to breathe, swallow or speak
Your skin is blistering or peeling
You may need to be treated in hospital immediately.
If you experience any side effects that are not mentioned in this article or in the patient information leaflet, you can report them to the Medicines and Healthcare products Regulatory Agency (MHRA) using their Yellow Card Scheme.
Taking too much propranolol
If you have taken an overdose of propranolol, you should call 111 or go to your local Accident and Emergency department as soon as you can.
Taking more propranolol than you were supposed to can slow down your heart rate to a dangerous level and make it harder to breathe. If you have taken too much, you may also experience trembling or dizziness.
The amount of propranolol that constitutes an overdose varies from person to person. That is why it is essential that you take this medicine in accordance with your doctor's instructions.
You should always take propranolol 10mg and 40mg tablets exactly as directed by your doctor.
Propranolol and other medicines
Propranolol may interact with other medicines if you take them at the same time. Some medicines can have an impact on the effectiveness of propranolol, while propranolol can also interfere with how well certain other medicines work.
Before you start to take propranolol, you must be sure to tell your doctor or pharmacist if you are already taking any other form of medication, or if you have recently taken any. This includes medicines that can be bought without needing a prescription, such as vitamins, supplements, and herbal remedies.
The following medicines may cause problems when taken at the same time as propranolol:
Adrenaline
Cimetidine
Hydralazine
Ergotamine, dihydroergotamine, rizatriptan
Insulin
Disopyramide, quinidine, amiodarone, propafenone
Digitalis glycosides
Verapamil, diltiazem, nifedipine, nisoldipine, nicardipine, isradipine, lacidipine and dihydropyridine
Lidocaine
Clonidine
This list is not exhaustive, for more information on propranolol drug interactions, we recommend reading BNF publications.
Does propranolol cause weight gain?
Weight gain has been reported by some people who take propranolol. This is most reported in the first few months of treatment. However, this is not considered a common side effect and there is currently not sufficient information to explain why propranolol makes some people gain weight.
One explanation is that propranolol makes some people feel fatigued, meaning they do less physical activity than before they started to take it. Propranolol may also have an impact on how your body uses energy.
The best thing you can do if you are concerned about weight gain is to talk to your doctor.
Does propranolol affect your sex drive?
A reduced sex drive has been reported by some people taking propranolol. Some men have also experienced impotence. A study reported inconclusive results to prove that these issues are the result of taking propranolol, and they are not considered common side effects.
If you start taking propranolol and experience any problems with your sex life, consult your doctor.
Is propranolol safe to take for a long time?
In most cases, propranolol is safe to take for a long time. In fact, it is most effective when taken in the long-term for heart conditions and migraines.
Taking propranolol long-term for anxiety is not known to cause any adverse effects, although you should not take it for longer than required. If you do take it for a long time to treat anxiety or migraines, you should make sure you get your blood pressure checked frequently.
Is propranolol addictive?
Beta blockers are not classed as addictive medicines. If you are worried about addiction, please talk to your doctor before you start to take propranolol.
Will I get withdrawal symptoms if I stop taking it?
Stopping propranolol suddenly before you have completed your course can increase the risk of symptoms returning and the risk of side effects. If you are taking propranolol long term, you may need to gradually reduce your dose in order to prevent withdrawal symptoms.
Can I take Propranolol with Alcohol?
Drinking alcohol whilst taking propranolol is generally not recommended, the reason for this is the blood pressure lowering properties that both alcohol and propranolol possess. When alcohol and propranolol are combined, it can cause your blood pressure to drop too much.
As a general rule, if you are taking propranolol and choose to drink alcohol, you should keep your alcohol intake to a minimum.
How long do Propranolol side effects last?
If you experience any side effects when taking propranolol, they can typically last for a few hours to a few days. Side effects may seem worse at the start of your treatment, however as your body gets used to the medicine the side effects should become less noticeable. 
Summary
While some of the milder side effects of propranolol will resolve themselves in most cases, it is important that you are wary of the more serious adverse reactions it is possible to experience.
Whether you are using propranolol to treat high blood pressure, or to treat a pre-existing heart condition; the side effects of propranolol can vary from each individual. If you are taking propranolol, you should take it exactly as prescribed by your doctor. Taking any medicine exactly as prescribed should also reduce your risks of experiencing any side effects. All of our doctors and pharmacists follow NICE guidelines when prescribing Propranolol.
As is the case with any new medicine, you should familiarise yourself with all the known side effects by reading the patient information leaflet that comes with your medication. Here, you will find comprehensive details of the known adverse reactions, as well as instructions on what to do if you get any of them.
References:
Propranolol Patient information leaflet - https://www.medicines.org.uk/emc/files/pil.5853.pdf
https://www.nhs.uk/medicines/propranolol/
https://www.addictiongroup.org/drugs/other/propranolol/#Is_Propranolol_Addictive
What are the side effects when taking Propranolol? Our helpful guide explains the common, serious and adverse side effects of Propranolol.
Doctor Notes
Before you start your course of Propranolol, it is important that you familiarise yourself with any potential side effects that may arise. In the event that you do experience any side effects whilst taking Propranolol, you will be better suited to cope with them and also identify any serious side effects.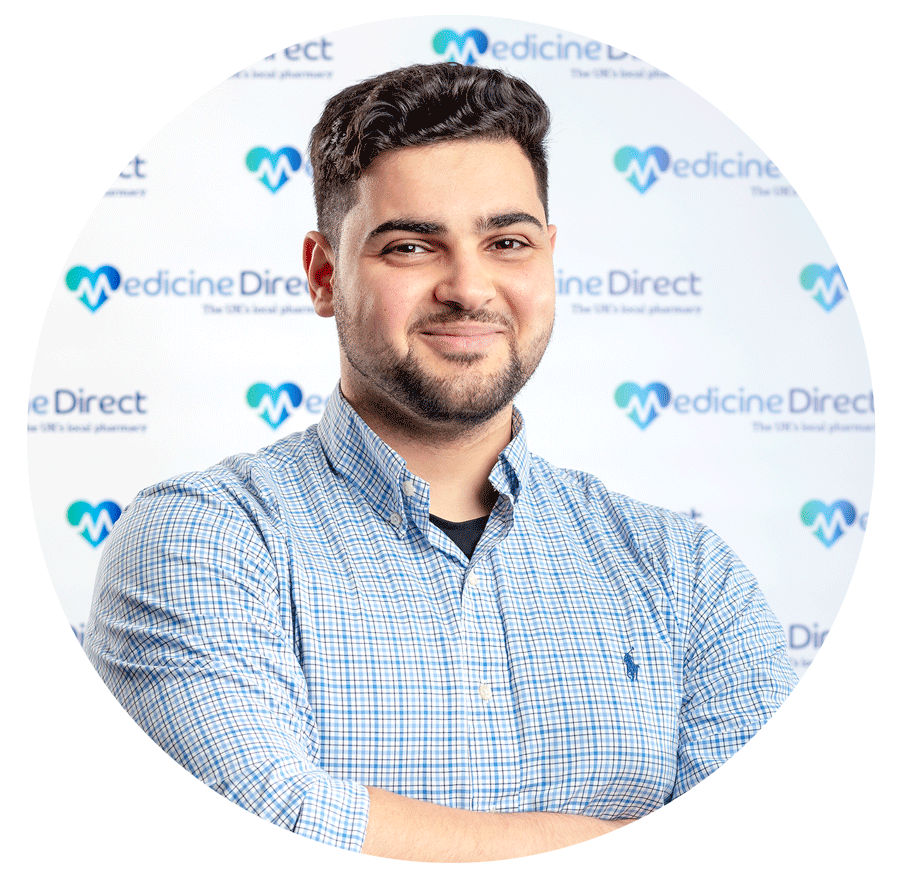 Hussain Abdeh
MPharm: 2211840
Superintendent Pharmacist
This content has been written by our Superintendent Pharmacist Hussain Abdeh and has been medically reviewed by our Pharmacist Sonia Khan
View Profile