Prochlorperazine Side Effects
Prochlorperazine is an anti-sickness medicine that is renowned for treating the symptoms of nausea and vomiting within just 30 minutes. Furthermore, this medicine can be used by adults and children over the age of 1 year old, making it a very popular medication for nausea. 
However, like all medicines, prochlorperazine can cause side effects. This article will look at the side effects of this medicine, ranging from the mild to the very serious. It will also explore how you can cope with them and the alternative medicines available if prochlorperazine is unsuitable for you.
Before you buy Prochlorperazine 5mg tablets or the well-known branded version Stemetil 5mg tablets, we recommend familiarising yourself with some of the common and more serious side effects detailed within this guide.
To learn more about what Prochlorperazine is used to treat, read our helpful guide.
Common side effects
The common side effects of prochlorperazine are not usually serious. The NHS states that the common side effects will affect more than 1 in 100 people who take it and will normally go away on their own after a few days.
The most common side effects include:
Dry mouth
Headache
Stuffy nose
Blurred vision
Sleepiness or drowsiness
If any of the above side effects persist or become serious, you should talk to your doctor.
Serious side effects
Prochlorperazine is not likely to cause serious side effects; they will affect less than 1 in 10,000 people who take it. However, if you get any of the side effects listed below, you should seek medical attention straight away:
Heart palpitations or an irregular heartbeat
Breast soreness (this can affect men and women)
An infection or high temperature that comes on very quickly
Muscle stiffness, shaking, or face or tongue movements you cannot control
Your skin or whites of the eyes turn yellow
Serious allergic reaction
Go to A&E or call 999 immediately if you develop any of the symptoms listed below. You may be experiencing a severe allergic reaction that requires treatment in hospital straight away:
You have any breathing problems
You are wheezing
You have swelling in your mouth, lips, tongue, throat or face
Your chest or throat feels tight
You get a skin rash that may be red, swollen, itchy, blistered or peeling
Are there any long term side effects?
There are no known long term side effects associated with prochlorperazine.
It is safe to take prochlorperazine for a long time, although you should only take it for the shortest time required, at the lowest effective dose.
If you suddenly stop taking prochlorperazine after taking it for a long time, you may experience withdrawal symptoms like sleeping problems or vomiting. If you do wish to stop taking prochlorperazine after a long time, talk to your doctor about how to best come off this medication.
How to cope with side effects
If you experience a blocked nose, a menthol decongestant should be able to help. Inhaling some steam, such as having a hot shower, may help to shift the mucus too. Talk to your pharmacist if these remedies do not help.
If you have blurred vision after taking prochlorperazine, do not drive, cycle or use any machines until it goes away. If you still have blurred vision after two days, tell your doctor.
A dry mouth can normally be resolved by drinking enough water and either chewing sugar-free gum or sucking on sugar-free sweets.
To remedy headaches, make sure you drink the recommended amount of water each day, and get plenty of rest. An over-the-counter painkiller like ibuprofen should be able to reduce this problem. If you still have a headache after a week, or it feels serious, talk to your doctor for advice.
If you experience drowsiness, this will normally occur at the start of taking prochlorperazine as your body gets used to the medicine. If you do experience drowsiness, do not drink alcohol as this may make it worse. You should also not drive, use machines or cycle until it wears off. If it has not worn off after a week, speak to your doctor.
How safe is prochlorperazine?
Overall, prochlorperazine is considered to be a safe medicine for adults and children to take.
Certain side effects may be more serious or likely to occur if you take prochlorperazine in higher doses. They may also be more likely to affect some people who have certain pre-existing health problems.
Some other medicines can interact with prochlorperazine and should not be taken at the same time. These include:
Medicines that cause dry mouth
Medicines that can cause drowsiness
Medicines that can affect the heart
You should always tell your doctor or pharmacist if you have any existing health conditions, or if you are already taking any other medicine.
Who can't take prochlorperazine?
Prochlorperazine is suitable for the majority of adults and children over the age of 1 year old. However, it is not suitable for everyone to take.
You should not take prochlorperazine without talking to your doctor first if any of the below apply to you:
You have glaucoma
You have a history of blood clots or are at a risk of developing blood clots
You have phaeochromocytoma
You have ever had an allergic reaction to any medicine, including prochlorperazine
You have any conditions that can cause a bowel blockage, such as Crohn's disease or colon cancer
You have any liver problems
You have high blood pressure
You have heart failure
You have any condition that causes seizures, such as epilepsy
Prochlorperazine can be prescribed for pregnant women to treat morning sickness, as there is no evidence to show it is harmful to unborn babies.
However, it may not be the primary medicine prescribed for women who are breastfeeding, as small amounts of prochlorperazine will pass into the breast milk.
Are there any other anti-sickness medicines?
There are various anti-sickness medicines that can also provide effective relief from nausea if prochlorperazine is not suitable for you.
One of the most widely renowned medicines for treating nausea is cyclizine 50mg tablets. This antihistamine medicine can be taken by adults and children aged 6 years and above. It works to block the brain's vomiting centre receptors, which stops them from reacting to feelings of nausea. Like prochlorperazine, cyclizine also gets to work in around 30 minutes and will normally make you feel better after an hour or two.
Domperidone can be taken by adults and children over 12 years old. Getting to work after between 30 and 60 minutes, domperidone is an antiemetic drug that also blocks the messages sent from the digestive system to the brain, making it less likely you will want to be sick.
Prochlorperazine is available to buy in many different strengths and forms such as:
Summary
In summary, prochlorperazine is considered to be a safe and effective medicine to take for nausea. Like any medicine, it can cause side effects, although the most common of these are most likely to go away on their own and should not cause any major problems.
If you are prescribed prochlorperazine tablets, you should always read the patient information leaflet, which will come with the medication, for a comprehensive list of potential side effects.
To avoid the further risk of side effects, make sure your doctor or pharmacist knows if you are already taking any other medicine, or if you have any health problems.
Prochlorperazine is one of the most commonly used medicines to treat nausea, however like all medicines, it may cause some side effects. Our guide details the common and more serious side effects that you may experience.
Doctor Notes
Although Prochlorperazine is considered to be a safe anti-nausea medicine, there is still the possibility of experiencing certain side effects when taking it. Before taking Prochlorperazine or the branded version Stemetil, we recommend reading our guide that details any side effects you may face when taking it.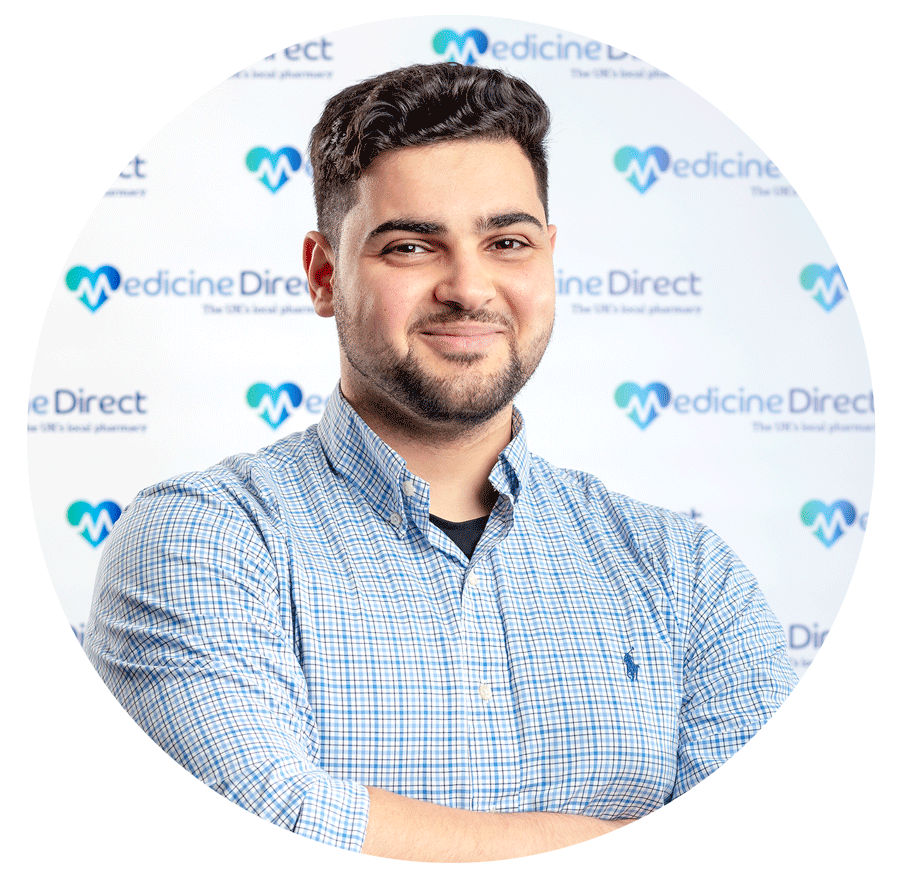 Hussain Abdeh
MPharm: 2211840
Superintendent Pharmacist
This content has been written by our Superintendent Pharmacist Hussain Abdeh and has been medically reviewed by our Pharmacist Sonia Khan
View Profile