Medically reviewed and updated by: Hussain Abdeh MPharm: 2211840
Updated on: 17/06/2021
Is there any such thing as Seasonal Asthma?
Asthma is a chronic condition that can flare up at any time of the year. However, certain times of the year can cause the symptoms of asthma to be more severe for some people. The cold weather can exacerbate some people's asthma, while others find that the summer months cause breathing problems.
In this article, we will look at how different weather can trigger seasonal asthma symptoms, as well as what you can do to minimise the risk of an attack.
Asthma triggers in the summer
There are many asthma triggers that can affect you during the summer. These include:
Pollen
Pollen is an allergen that travels through the air. Pollen levels are often much higher in the summer, due to larger numbers of flowers in bloom. Pollen triggers hay fever symptoms, which can range from stinging eyes to a runny nose and frequent sneezing. In some cases, pollen triggers asthma symptoms including wheezing, coughing, a tight chest and shortness of breath.
Why does Pollen affect my asthma?
When the pollen irritates your body, it leads to the production of histamine. If you're asthmatic, this can cause your airways to swell. It may lead to asthma symptoms including breathlessness, a tight chest, wheezing and coughing.

Many people have hay fever, or a pollen allergy, and suffer symptoms including a runny nose, watery eyes, irritation and sneezing. The problem comes when this allergy combines with an asthmatic response, potentially leading to a full asthma attack.
Thunderstorm asthma
During a thunderstorm, asthma symptoms can flare-up. A thunderstorm is a dangerous mix of asthma triggers, which may lead to breathlessness, a tight chest, coughing or wheezing.

The humid air, and raindrops, are part of the problem. The falling raindrops break down pollen particles, which are allergens, and make them spread more easily. During a thunderstorm, tiny pollen particles are blown around and can lead to allergic reactions. Hay fever symptoms can develop into asthma attacks as a result of pollen getting into your airways, whilst the heavy humid air might make it even harder to breathe.

Your body is designed to keep out as many irritants as possible. Tiny hairs in your nose can usually block pollen particles. But, during a thunderstorm, these broken-down particles of pollen become small enough to pass through your defences.
Pollution
During warm weather, and when the air is often stiller, pollution does not dissipate as freely. It can hover around, making you more likely to breathe in the fumes of vehicles and other pollutants. These can irritate your airways and lungs, leading to increasing asthma symptoms.
Warm air
The warm air can be dry. It may dry your airways, making them more susceptible to irritants in the summer.
How to avoid asthma attacks in the summer
By taking preventative action, you can reduce the risk of an asthma attack in the summer. Use your preventer inhaler daily and always carry a pack of antihistamine tablets.

If you are going outdoors, and particularly if you plan to take part in outdoor exercise, it is best to do this early in the day. Air quality is better before all the cars are on the road, and before the flowers open in sunlight.

At home, you can reduce allergens by keeping your doors and windows closed. Use home air conditioning if you are struggling with asthma symptoms. Pollen and other pollutants will attach themselves to fabrics, so it is especially important to vacuum carpets, wash your bedding and keep soft furnishings clean. In the car, use recirculated air and your air conditioning rather than letting air in from outside.

If you are doing laundry, it is best to dry your clothes indoors, on a clothes hanger or even in a tumble dryer. While this uses more energy, it is better than allowing your clothes to blow in the wind and collect all the airborne pollen.

To avoid high levels of pollen on your body, you should wash your hands and face regularly. Change clothes when coming indoors and consider washing your hair to clear any pollen trapped inside.
This will help to reduce the likelihood of developing allergy induced asthma symptoms.
Treating asthma in the summer
Antihistamines and over-the-counter allergy medications can be very helpful throughout the summer. They will support your body by reducing allergic reactions to pollen and other allergens.
By being aware of your summer asthma triggers, you can reduce the risk of symptoms and enjoy the warm summer weather.
Asthma triggers in winter
Cold air can irritate the airways. When cold air passes through them, your airways can become swollen. Cold air can also cause the airways to produce a hormone called histamine. Histamine is the hormone that is produced during allergic reactions; it triggers asthma symptoms like wheezing.

Cold air is often very dry. As it flows through your airways, it dries them out and makes it harder to breathe. Furthermore, it can cause your body to create more mucus, which can also worsen your symptoms.
Winter Asthma symptoms
In winter, you might find that you are having more asthma flare-ups. Winter asthma symptoms include:
Shortness of breath
Increased coughing
Wheezing
A tight feeling in the chest
If you feel that you're having asthma symptoms, you should follow your own asthma action plan and use your reliever inhaler.
What else can trigger my asthma in the cold weather?
There are several winter asthma triggers that can cause your asthma to flare up.
Household heating
The cruel twist of fate for many asthma sufferers is that, while the cold air outside can trigger your symptoms, so can staying indoors where it is warm for too long. During winter, we tend to spend more time inside than we do in the warmer months. The likes of central heating, wood burning stoves and open fires can serve to make your symptoms worse.
Open fires and wood burning stoves in particular give off pollutants, which may exacerbate your symptoms. If you have an old boiler, your central heating may also be releasing pollutants.
Chest infections
We are more susceptible to chest infections in the winter, particularly people who have asthma. Additionally, because chest infections inflame the airways, they can make your asthmas symptoms more severe.
Colds and flu
Two of the biggest triggers for asthma symptoms in winter are colds and flu; 75% of asthma sufferers say that these conditions make their symptoms worse.
Dust
Dust mites can be inhaled very easily and work to irritate the airways, making it harder for you to breathe. It is not possible for anyone to eliminate dust mites from their home, but by dusting and vacuuming regularly, as well as changing your bed covers frequently, you can reduce how much they affect you.
Mould and damp
An allergy to mould can also trigger asthma symptoms. Mould and damp are particularly prevalent in houses during the winter months, so taking precautions (such as not drying your clothes indoors and using extractor fans) can help to prevent them from forming.
Cold air:
The cold induced asthma can irritate your lungs and airways. Winter air is often an irritant, leading airways to become swollen.
In some cases, the cold air makes your body release histamine. Histamine is the same substance that is released in people with allergies. Taking antihistamine medications may help. The cold air can trigger asthma as it is usually drier and can irritate your airways.
How to avoid asthma attacks in the cold
If you're in a cold environment, you can reduce your risk of an asthma attack by breathing through a light scarf. Use your scarf to protect your neck and warm up your airways.

If you are experiencing asthma symptoms, an antihistamine medication may help. These can be purchased over the counter as allergy medication.

If you use a preventer inhaler, make sure that you are using it regularly. Many people forget their preventer when they are not experiencing symptoms, but it needs to be consistently used. The preventer inhaler builds up your strength over time, so using it only occasionally will not give you the proper protection.
Preventer inhalers
Preventer inhalers are used to prevent the symptoms of asthma from flaring up. If your doctor prescribes you a preventer inhaler, it should be taken every day and used in accordance with their instructions. These inhalers can help to prevent your asthma from flaring up at any time of the year.
They contain a low dose of steroid medicine, which will help to prevent inflammation and swelling in the airways, allowing you to breathe easily. This makes you less vulnerable to asthma triggers, such as cold air, allowing you to lead an active life.
You will also be prescribed a 'reliever inhaler', which you should always carry with you. While preventer inhalers can effectively lessen the risk that you will have an asthma attack, they should not be used in the event of one. In these cases, you will need to use your reliever inhaler, which will provide fast-acting relief from your symptoms and help you to breathe normally again.
There are various types of preventer inhalers available, including:
Reliever inhalers
You should always carry your reliever inhaler on you, particularly when going outside if the weather is cold or the pollen count is high.
Despite using your preventer inhaler on a regular basis, as asthma attack can appear at any given time. In the event of an asthma attack, you must use your reliever inhaler for instant relief when suffering an asthma attack.
You can buy a number of reliever inhalers online from medicine direct such as Ventolin (salbutamol) and Salamol following an online consultation with one of our UK based prescribers.
Understanding and treating your asthma weather triggers
Winter and asthma can be a notorious pairing as there are more asthma triggers during winter than any other time of the year. If you notice a pattern of asthma flare-ups during the cold weather, then it is important to take precautions. Exercising in cold weather can make asthma worse, so you may want to exercise indoors if temperatures outside are low.

Nobody can completely avoid being outdoors in cold weather, and you should not do this either. Even for asthmatics, fresh air is very important. For this reason, you should understand and recognise your asthma triggers. If the cold weather makes you cough more, then consider antihistamine medication. If it makes your throat feel dry, consider breathing through a light, thin scarf to warm and moisten the air.

If you start to experience asthma in cold weather, follow any existing asthma action plan. Your reliever inhaler should ease the symptoms and might need to be used more frequently during the colder seasons.

Consider heading indoors if your asthma symptoms have increased in cold weather. The sudden change from cold air to warm air may result in an increase in coughing but should slowly make your breathing more comfortable.

Try to drink more water or hot drinks in the cold weather. This extra hydration can thin any mucus that is building up naturally and make it easier for your body to move it.

You should also be careful with cleanliness around the home. As cold weather forces many people to spend more time indoors, it is especially important to remove indoor triggers of asthma like dust and mould. Keep your house ventilated where possible and make sure to vacuum and wash your soft furnishings frequently.

We cannot avoid cold weather, but by taking precautions and recognising cold air as an asthma trigger, you will be able to minimise the risk of a flare-up.
Are asthma symptoms different with each season?
Regardless of the season or the time of year, your asthma symptoms will remain relatively similar. However, you may find that certain seasons trigger your symptoms more harshly or frequently than others.
The symptoms of seasonal asthma include:
Breathlessness
Coughing
Wheezing
Chest tightness
Is asthma worse in the winter or summer?
Many people find that they asthma is worse in the winter, this is because there are naturally more asthma triggers around during winter than summer. 
Common asthma symptoms in winter include:
Common colds and flu
Household heating
Chest infections
Dust
Mould and damp
Cold air
References
https://www.nhs.uk/conditions/asthma/treatment/
Pollen, thunderstorms, warm and cold air are all seasonal asthma triggers that can increase the risk of experiencing an asthma attack.
Doctor Notes
Knowing how your asthma reacts to certain weather and seasons can help you better prepare for a sudden asthma attack. Seasonal triggers such as pollen, warm air and cold air can all cause asthma symptoms to occur quickly. Avoiding those triggers, or simply knowing how to deal with them can massively help to decrease the risks of experiencing an asthma attack.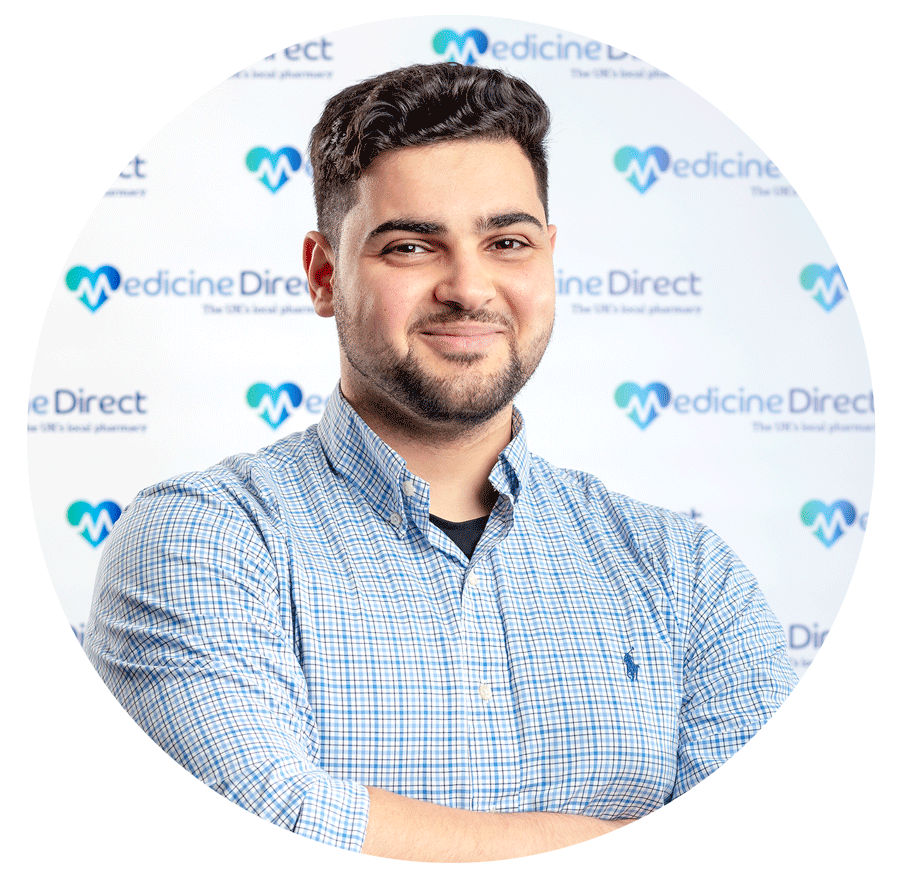 Hussain Abdeh
MPharm: 2211840
Superintendent Pharmacist
This content has been written by our Superintendent Pharmacist Hussain Abdeh and has been medically reviewed by our Pharmacist Sonia Khan
View Profile