Taking Propranolol for Anxiety
Written by: Hussain Abdeh MPharm: 2211840
Published on: 04/05/2021
Updated on: 10/05/2021
Propranolol is a prescription only drug that belongs to a group of medicines called beta blockers. Propranolol has many different uses and is used to treat a variety of heart problems, migraines, high blood pressure and anxiety.
In this article we will be detailing how Propranolol is used to treat anxiety, its effectiveness in treating anxiety and what people should expect when taking propranolol to treat their anxiety disorder.
What is an anxiety disorder?
Anxiety is a feeling of emotional distress which can be triggered by events, certain situations, painful thoughts/experiences, or the thought of things to come. Additionally, anxiety symptoms can be caused by foods, most commonly alcohol, caffeine and processed fatty foods along with other lifestyle factors such as lack of exercise and the use of substances or drugs.
Although an emotional condition, anxiety can also cause physical symptoms such as nausea, stomach upset, dizziness, dry mouth, high blood pressure and trembling.
Social or Situational Anxiety Disorder
Situational Anxiety is an overwhelming fear and excessive self-consciousness in normal everyday social situations.
Although there are many different types of anxiety that are triggered by a range of different things, the symptoms remain similar.
Physical symptoms of anxiety include:
Nausea
Increased heart rate
Faster breathing
Short attention span
Nightmares
Feeling faint or dizzy
Anxiety symptoms will differ from person to person, whilst some will exert physical signs of anxiety, for many it is purely emotional and will affect them mentally more than physically.
Propranolol can help to treat the physical symptoms that appear as a result of situational anxiety.
How does propranolol help with anxiety?
Propranolol is most effective at treating short term anxiety, for example if you have a specific upcoming event that is making you feel anxious.
Propranolol will not cure the underlying psychological triggers of your anxiety; however, it will help your body cope with some of the physical symptoms of anxiety, in particular an increased heart rate and high blood pressure. 
Propranolol is a beta blocker; it is used to treat several heart conditions and is very effective at treating anxiety. Propranolol slows down your heart rate and ensures that it beats at a more regular rate. This also eases the pressure on the heart and makes it easier to pump blood around your body. If you are new to propranolol, our guide to beta blockers provides information on what conditions they are used to treat and how they work.
Propranolol is effective at treating anxiety as it helps to prevent one of the first and main symptoms of anxiety, increased heart rate. Propranolol blocks the body's natural adrenaline/stress messages being sent to the heart. Both adrenaline and stress increase the body's heart rate and cause the heart to pump harder and faster and also increases blood pressure.
During an anxiety attack, those same messages will be sent to your heart by the body in turn increasing your heart rate and blood pressure. With those adrenaline/stress messages being blocked, propranolol can help with high blood pressure, although it is not a recommended first line treatment.
Propranolol ensures the heart continues to beat at a regular rate and can prevent one of the most noticeable symptoms of anxiety from occurring. 
In summary, propranolol helps with anxiety by:
Blocking natural stress signals sent by your body to your heart
Prevents those stress signals increasing your heart rate
Ensures that you heart beats at a regular pace
Reduces pressure on the heart and allows it to pump blood around your body more freely
In 2016, a study was conducted to assess the efficacy of propranolol for anxiety disorders, the conclusion of the study provided insufficient evidence as to how effective Propranolol was for anxiety. Nonetheless, Propranolol is still widely prescribed for the treatment of Anxiety.
How quickly does propranolol work for anxiety?
Propranolol will typically get to work within 1 hour of taking it.
Doctors will usually prescribe propranolol if the trigger of your anxiety is known. For example, it is commonly prescribed for public speaking such as wedding speeches, presentations, and job interviews. Propranolol is a very fast acting medicine, getting to work within just a couple of hours. It is recommended to take propranolol 1 hour before you encounter your known anxiety trigger and usually reaches its full effect within 2 hours.
If you do not know your exact anxiety triggers, you may be advised to take a beta-blocker on a regular basis, however it is likely your doctor will also insist that you combine the medicine with cognitive behavioural therapy to try and pinpoint the underlying trigger of your anxiety. Propranolol is most effective at treating short term anxiety, it is not recommended to be used on a long-term basis.
What is the propranolol dose for anxiety?
The dose you are prescribed by your doctor will be dependent on the severity of your anxiety and whether you have previously been prescribed it. Propranolol comes in oral tablet form and in a variety of strengths ranging from 10mg to 40mg.
Propranolol 40mg once daily is the typical starting dose when treating anxiety, although your doctor may prescribe a lower dose to start. Alternatively, your doctor may also choose to increase your dose once they have monitored how your body reacts to the initial starting dose.
Always take propranolol directly as prescribed by your doctor.
Side Effects
Propranolol is a relatively low risk medicine and comes with very few serious side effects. There are several common side effects that people can experience when taking propranolol, particularly if it is your first time taking the medicine.
Common side effects include:
Tiredness
Lethargic
Light-headedness or dizziness
Nausea
Difficulty sleeping
Cold fingertips or toes
In the rare occurrence that you experience any of the below side effects, we recommend contacting your doctor immediately.
Serious side effects include:
Shortness of breath
Wheezing and/or tightening of the chest
Chest pain
Irregular heartbeat
Yellow tint to the whites of your eyes or skin
If you have any of the above serious side effects, you could be experiencing a serious allergic reaction that will require immediate hospital attention.
This is not an exhaustive list of side effects. For a full and complete list of the side effects of propranolol, please read our helpful medical guide.
We always recommend keeping a record of any side effects that you experience. If you experience any side effects that are not documented within your patient information leaflet you can report this to the Medicines and Healthcare products Regulatory Agency (MHRA) using their yellow card safety scheme.
Reducing your propranolol doses
It is recommended to complete your full course of propranolol exactly as prescribed by your doctor. Even if you feel better and propranolol has helped with your anxiety, to ensure that you are getting the best long term affects you should always finish the full course of medicine.
Stopping propranolol suddenly may make your anxiety or condition worse and may cause a number of side effects such as an irregular/increased heart rate, sweating and trembling.
If you want to stop taking propranolol due to the side effects, you may be prescribed an alternative medicine or a lower dosage such as propranolol 10mg tablets.
After completing your full course as prescribed by your doctor, propranolol will remain in your system within 1 to 2 days.
How much propranolol can I take for anxiety?
The typical starting dose for anxiety when treating anxiety is 40mg once daily. The dose you are prescribed by your doctor will also depend on the severity of your condition.
Does propranolol work for anxiety?
Yes, propranolol helps to prevent one of the main symptoms of anxiety, an increased heart rate. It also helps to reduce high blood pressure caused by anxiety and stress.
When is the best time to take propranolol for anxiety?
If you have been prescribed propranolol for a particular event, it is best to take it 1 hour before. If you have been prescribed propranolol daily, it is recommended to take your prescribed dose before bed.
How to stop taking propranolol for anxiety
Stopping a course of propranolol suddenly may cause side effects such as irregular heartbeat, sweating and shaking. Always discuss stopping medicine with your doctor, they will likely prescribe an alternative, or a lower dose.
Does propranolol calm you down?
Propranolol helps to keep you feeling calm by keeping your heart beating at a regular rate and preventing it from increasing when you are feeling stressed or anxious.
How long does propranolol last?
Propranolol has a half-life of 3 to 6 hours; this means that half of the active ingredient will still be present in your body. As your body starts to remove the active ingredient, the effect of propranolol will start to reduce with it. 
As a result, the effects of propranolol can be felt for between 3 to 4 hours.
Will propranolol affect my sleep?
Propranolol has been linked to an increase in disturbed sleep and even nightmares. Although these side effects don't tend to be long term, they have been reported as a short-term side effect.
Resources
https://www.nhs.uk/medicines/propranolol/
https://www.mayoclinic.org/diseases-conditions/anxiety/symptoms-causes/syc-20350961
https://bnf.nice.org.uk/drug/propranolol-hydrochloride.html
Propranolol patient information leaflet - https://www.medicines.org.uk/emc/files/pil.2903.pdf
https://pubmed.ncbi.nlm.nih.gov/2865152/
Propranolol is one of the most prescribed treatments for anxiety. Not only does it help reduce the mental side effects of anxiety, but it can also help treat the physical symptoms of anxiety from a fast heart rate to high blood pressure.
Doctor Notes
Although propranolol has many different uses, it is by far most effective when treating short term anxiety, in particular anxiety that is caused by an upcoming event. Not only can propranolol help with the mental aspect of anxiety, but it also helps to reduce the physical symptoms of anxiety such as a rapid heart rate and high blood pressure.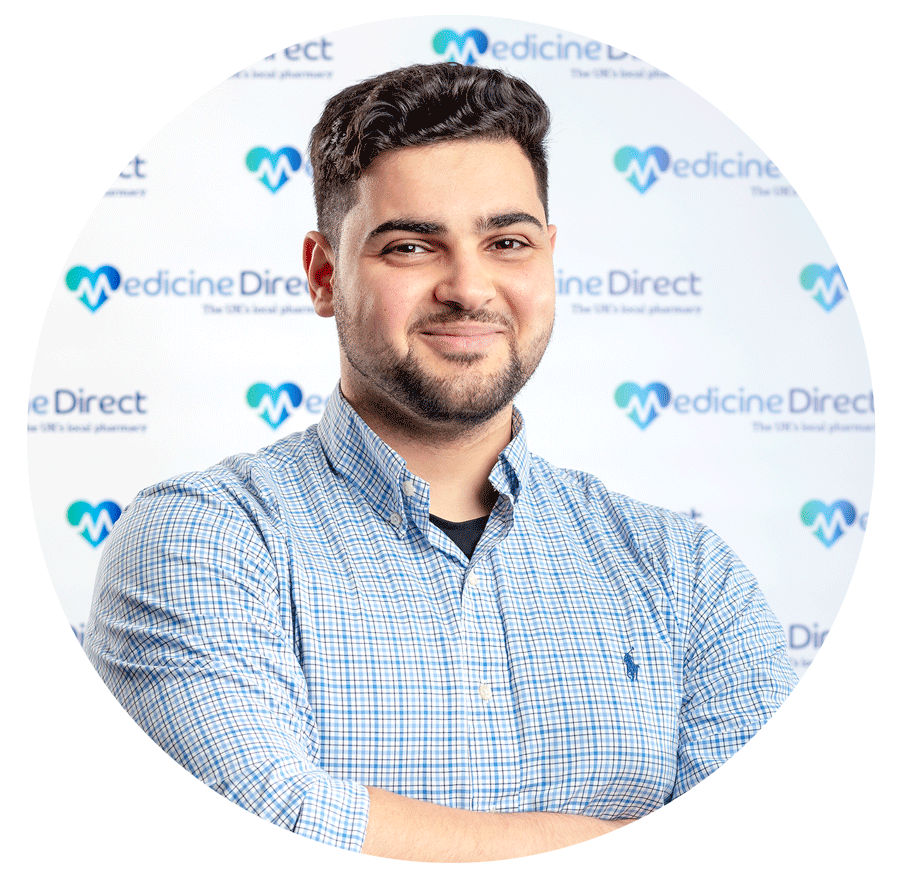 Hussain Abdeh
MPharm: 2211840
Superintendent Pharmacist
This content has been written by our Superintendent Pharmacist Hussain Abdeh and has been medically reviewed by our Pharmacist Sonia Khan
View Profile