Written by: Hussain Abdeh MPharm: 2211840
Published on: 12/05/2021
Updated on: 12/05/2021
Pain is the most unpleasant physical feeling there is and it can be very difficult to cope with. It can affect all areas of the body and can sometimes be a chronic problem. Thankfully, there are many varieties of pain relief medicines available to buy, which can effectively alleviate the pain that comes with a wide range of conditions. Many of these can be bought over the counter without needing a prescription.
In this article, we will be looking at the various forms of pain relief that are available. We will also advise on the types of pain that are best managed with pain relief medication and other methods you can use to relieve pain.
What does pain relief mean?
Pain relief is used for conditions that cause painful symptoms. There are many different versions of pain relief medicines available, and the most suitable one for you will depend on the condition you are suffering with, how severe the pain is and how long you are likely to need pain relief. For instance, some medicines also have anti-inflammatory properties, which make them more suitable for conditions like arthritis, where a reduction of inflammation is also required.
Some conditions cause chronic pain, so require pain relief medication regularly to manage the symptoms. In these instances, people will be prescribed medication that is safe to be taken in the long-term. This may mean that they are prescribed a lower dose or told to take it differently than they would for short-term conditions.
On the other hand, there are also conditions such as toothache, period pain, headaches or physical injuries, which will still require effective and long lasting pain relief, but for a shorter period of time.
What methods of managing pain relief are there?
Various medication is available to help you to manage pain, whether it is chronic or short-term. If you are suffering with problems like toothache or period pain, you can buy painkillers like paracetamol, Naproxen or ibuprofen over the counter from a pharmacy. This medicine should be used in the lowest effective dose and for the shortest time possible.
If you want to learn more about taking naproxen for pain relief and how it helps, read our helpful medical guide.
In cases of chronic pain, you may be prescribed a painkiller that cannot be bought over the counter. These medicines may be safer to use over a longer period of time.
Aside from medication, certain therapies can help to manage and/or alleviate pain in certain conditions. Physical therapy uses various techniques to improve movement and ease disability. The likes of stretches and pain relief techniques can be used to help people with arthritis and also those who have sustained a physical injury, such as a broken bone.
Psychological treatment can also be used, which helps sufferers to find ways of being mentally able to cope with pain. Pain can often cause feelings like depression or anxiety, so learning how to cope with pain using a calm and measured approach can go a long way towards improving a person's mental health. This helps them to deal with the pain, alleviating unnecessary pressure on the body.
Additionally, exercise can be a great help when it comes to pain relief. Short periods of resting can help to ease pain, but too much rest can also exacerbate the problem; in fact, it can increase the risk of becoming injured when you try to exercise again. For this reason, you should aim to exercise regularly, even when you are in pain. Depending on the reason for your pain, different forms of exercise may be more suitable. However, the likes of walking, swimming, yoga and rowing all have their own unique benefits and can all help to alleviate pain.
Research has shown that exercise can improve muscle tone, strength and flexibility. This helps to relieve pain. Furthermore, exercising causes your body to release feel-good hormones called endorphins, which also act as natural painkillers in the body.
When should I consider medication for pain relief?
If alternative pain relief therapies such as execrcise, psychological treatment or rehabilitation have failed to relieve the pain, over the counter or low dosage medicine is recommended to treat the condition.
Certain types of conditions may be better managed with pain relief medication. If you suffer with a chronic condition, such as arthritis, you may need to take pain relief medicine to help manage your symptoms in order to be able to cope with the problem. Arthritis causes pain and inflammation in the joints, so it is very likely that your doctor will prescribe you a medicine that belongs to a class of drugs called nonsteroidal anti-inflammatory drugs (NSAIDs). These can include the likes of naproxen and ibuprofen.
Nonsteroidal anti-inflammatory drugs work by stopping COX-2 enzymes from producing hormone-like chemicals called prostaglandins, which cause inflammation in the body. By inhibiting the COX-2 enzymes at the site of inflammation, swelling and pain is reduced. NSAIDs can also provide effective pain relief from conditions like period pain, backache, sprains and strains and other injuries.
Conditions like toothache can also be chronic until you can see a dentist. Because this type of pain occurs close to many nerve endings, it can be especially uncomfortable and debilitating. For this reason, it is wise to take a painkiller to dull the pain until you can have the issue resolved properly. Over the counter painkillers such as paracetamol and ibuprofen can work to relieve the pain caused by toothache. Ibuprofen is an NSAID, so if your mouth is swollen, it can also work to relieve the swelling.
Migraines and headaches can also be eased by taking pain relief medicines like aspirin or paracetamol. If taken at the first sign of a migraine attack, these medicines are generally more effective than if you take them later on. If your migraine or headache is the result of a cold or flu, many cold and flu remedies contain paracetamol, which not only works to ease the pain, but can also help to lower your temperature if you have a fever.
To find out more about taking pain relief medicine such as Naproxen, paracetamol and Ibuprofen together and what the risks are, have a read of our helpful medical guide.
Advice on long-term pain management
Suffering with a long-term condition can be painful and difficult. However, instead of just relying on painkiller medicine to deal with the pain, there may be certain changes you can make to reduce discomfort. For instance, if you are suffering with arthritis, it is important that you maintain a healthy weight. Being overweight puts extra and unnecessary pressure on the muscles and joints, which can make the pain and inflammation even worse.
Exercising regularly can help to keep the weight off and also work to keep your joints flexible and strong. This works to equip your body to deal with arthritic pain properly. Eating a healthy diet that includes plenty of anti-inflammatory foods can also help to reduce the pain and inflammation. Staying active in general is important when dealing with arthritis. Not getting enough exercise can make the inflammation worse and also make you more vulnerable to injuries.
If you are suffering with depression due to your chronic condition, addressing this problem can help you to take a fresh perspective and cope with the problem much easier. Fortunately, there are many avenues you can explore to help with depression, from counselling to meditation at home.
Conditions like back pain can also be chronic. Lifestyle modifications can help with this problem, too. Although you should still exercise regularly, it may be more important to pace yourself and learn what your limitations are. In some cases, surgery may also be suggested to help you cope with the pain.
Making these lifestyle changes does not mean that you will never need to take medication to relieve pain, but they can really help your body to function without needing medicinal pain relief as regularly.
Additional questions
How do you manage severe pain?
Many cases of severe pain can be managed with an effective painkiller medicine, such as paracetamol or ibuprofen. You can buy pain relief medicines from pharmacies without needing a prescription. If your pain is unmanageable and cannot be controlled with over the counter painkillers, your doctor may prescribe you a prescription-strength medication to cope with your pain.
What do pain management doctors do for you?
Pain management doctors specialise in helping people to cope with pain. They evaluate your symptoms and condition and recommend a combination of medication and medical treatments/therapies/procedures, all of which are aimed at reducing your pain and helping you to find ways to live with chronic pain on a daily basis.
References
https://www.webmd.com/pain-management/guide/pain-management-treatment-overview
https://www.nhs.uk/live-well/healthy-body/ways-to-manage-chronic-pain/
https://www.webmd.com/arthritis/features/pain-relief-how-nsaids-work?print=true
https://www.nhsinform.scot/illnesses-and-conditions/brain-nerves-and-spinal-cord/chronic-pain
https://www.arthritis.org/health-wellness/healthy-living/managing-pain/pain-relief-solutions/4-tips-for-managing-chronic-pain
https://www.treatingpain.com/news-updates/2019/july/what-to-expect-from-your-pain-management-special/
28 million adults in the UK are living with chronic pain. Our pain relief guide explains how to deal with chronic pain and what options may be available to you.
Doctor Notes
More than 28 million adults in the UK are living with chronic pain. Knowing how to manage your pain and the options available to you are essential to be able to carry out your normal everyday life. Most pain conditions can always be treated, whether that is with medicine or a specific rehabilitation plan, there is always a treatment option available to you.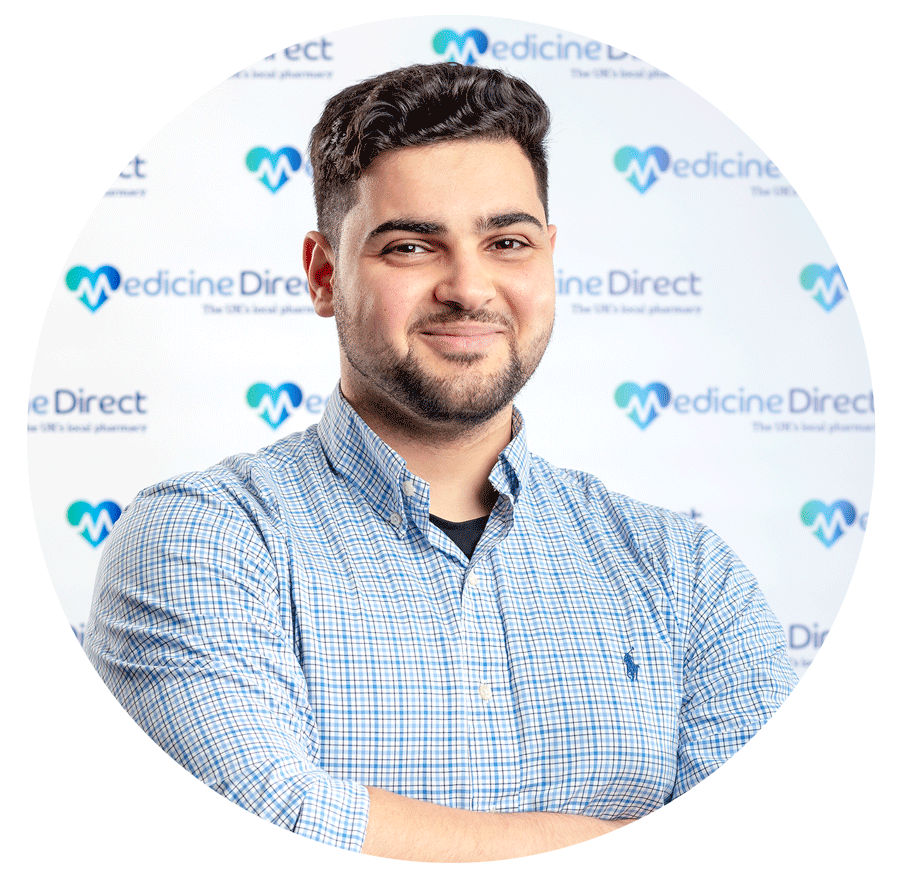 Hussain Abdeh
MPharm: 2211840
Superintendent Pharmacist
This content has been written by our Superintendent Pharmacist Hussain Abdeh and has been medically reviewed by our Pharmacist Sonia Khan
View Profile