Taking naproxen for pain relief
Written by: Hussain Abdeh MPharm: 2211840
Published on: 12/10/2020
Updated on: 07/05/2021
Pain is associated with countless conditions, some of which may only last a day or two, while others can be chronic, lifelong problems. Pain can be a debilitating and at times unbearable feeling to live with, so finding the most effective pain relief medication to help you to cope, is essential for leading a normal life.
One of the most widely prescribed medicines to relieve pain is naproxen. This nonsteroidal anti-inflammatory drug (NSAID) provides effective relief from a wide range of painful conditions, from period pain to arthritis.
Here, we will look at how naproxen works to relieve pain in various conditions, when it should be taken and the potential side effects of this medicine. Further information can be found in our pain relief guide.
How does naproxen help manage pain?
Naproxen is a nonsteroidal anti-inflammatory drug (NSAID), which means that it effectively relieves pain and inflammation caused by various issues. This medicine blocks COX-2 enzymes in the body from producing a hormone-like chemical called prostaglandin, which is responsible for causing inflammation. This relieves pain and reduces inflammation in the joints and muscles.
Naproxen can be taken as a pain reliever for the likes of toothache, period pain, backache, arthritis, strains and sprains and headaches. In most cases, you will need a prescription to buy this medicine, although it can be bought without a prescription for period pain, from a pharmacy.
Naproxen has a half life of between 12 and 17 hours. The pain relief effects of naproxen generally last for between 8 and 12 hours. This is longer than ibuprofen (another NSAID), which will last for between 4 and 6 hours.
For more information on Naproxen and what it is used for, read our helpful medicial guide to Naproxen.
When should I take naproxen for pain relief?
Naproxen should only be used as your doctor or pharmacist has instructed you. Children can take naproxen, but only if a doctor has prescribed it for them specifically. If it is prescribed for children, the appropriate dosage of naproxen will be decided upon by the doctor.
The dosage required depends on the ailment you are taking naproxen for. The typical dosage to treat conditions like osteoarthritis, ankylosing spondylitis and rheumatoid arthritis in adults is 500mg-1,000 mg, to be taken over two doses each day.
To learn more about Arthritis, read our helpful medical guide to Arthritis and how medicine can help manage arthritis symptoms.
For period pain, adults over 18 years of age should take an initial dose of 500 mg. This should be followed by 250 mg every 6 to 8 hours as required. Do not exceed 1,000 mg a day.
As a treatment for gout pain and inflammation, the dose for adults is 750 mg, followed by 250 mg every 8 hours until the attack has ended.
Naproxen can be taken to relieve the pain associated with headaches and migraines, although other NSAIDs may be more effective at relieving this kind of pain. The dosage is normally 500mg every 12 hours.
Always take the dose your doctor has told you to take. All of our doctors and pharmacists follow the NICE guidelines when prescribing Naproxen.
How quickly does naproxen work for pain relief?
Most people who take naproxen at the recommended dosage should start to feel better after around one hour of taking the medicine.
However, if you take naproxen regularly twice a day, it may take up to three days for the medicine to reach its full effect. If you do not feel like naproxen is providing you with sufficient pain relief, do not alter your dose yourself. Talk to your doctor, who may alter your dose or recommend that you try a different painkiller medicine altogether.
Side Effects
Naproxen, like any medicine, can cause side effects in some people. However, not everyone who takes it will get side effects.
When you buy naproxen, you will receive a patient information leaflet with the tablets. This leaflet will provide you with a comprehensive rundown of all the known side effects of this medicine, as well as what to do if you get them. You should always read this to familiarise yourself with all of the potential side effects before you start to take naproxen.
If you get any side effects that are not listed here or in the patient information leaflet, you can report them to the Medicines and Healthcare products Regulatory Agency (MHRA), using their Yellow Card Safety Scheme.
Common side effects
The common side effects of naproxen occur in more than 1 in 10 people. Tell your doctor if any of the below reactions become serious or do not go away on their own:
Dizziness
Rash
Confusion
Headaches
Changes in vision
Ringing in the ears
Feeling tired and sleepy
Serious side effects
Contact your doctor straight away if you have any of the below side effects:
Symptoms of stomach or gut inflammation: heartburn, pains in the stomach, nausea and/or vomiting, severe indigestion, diarrhoea
Symptoms of bleeding and perforation in the stomach or gut: blood in your faeces, black, tarry stools, vomiting blood or dark particles that resemble coffee grounds
Symptoms of aseptic meningitis: nausea and/or vomiting, headache, neck stiffness, sensitivity to light, confusion
Symptoms of agranulocytosis: nose bleeds, infections, a frequent sore throat
Symptoms of kidney damage or infections: blood in your urine, nausea and/or vomiting, urinating less
Symptoms of liver inflammation or jaundice: yellow skin or the whites of your eyes turn yellow
Symptoms of anaemia: chest pain, feeling breathless, fainting
Allergic reaction symptoms
You must go to your nearest A&E department or call 999 straight away if you develop any of the following symptoms. These could be signs of a serious allergic reaction that may need to be treated in hospital, immediately:
You are finding it hard to breathe or speak
You get a skin rash that may be swollen, itchy or red
Your skin starts to blister or peel
You are wheezing
You have chest pain or your chest or throat feels tight
Your mouth, face, tongue, throat or lips start to swell
The above list is not exhaustive, for more information regarding Naproxen side effects, you should read the patient information leaflet. Alternatively, you can also read our guide on the side effects of Naproxen.
Advice on reducing your naproxen doses
You should not suddenly stop taking naproxen without talking to your doctor. Suddenly stopping your course of medication could lead to withdrawal symptoms if you have taken naproxen on a long-term basis. It can also cause you to experience even more pain and inflammation than usual. This may also lead you to experience anxiety symptoms.
Your doctor will be able to advise you on how to gradually reduce your doses, so that when you do finally come off the medicine, you should not experience any withdrawal issues.
Additional questions
Are there alternative pain management techniques?
There are various techniques available to help people cope with chronic pain. Physical therapy has been proven to help people suffering from arthritis, broken bones and other injuries; stretches, massage and other techniques can help to keep the affected areas flexible and strong.
Some people find that talking therapy can also help them to deal with pain. This is a way of identifying coping strategies for when pain strikes, as well as developing a positive mental attitude, which can help to reduce the severity of the pain.
Regular exercise has also been found to be useful in helping people manage their pain. If you suffer from a physical ailment like arthritis, exercising will help to strengthen the muscles and tissues, making your body stronger and more capable of dealing with the inflammation.
How to relieve pain without medication?
Mindful techniques such as yoga have been found to help people manage pain. Techniques such as yoga and meditation help you to centre yourself and find ways to positively cope with pain, so that it is less debilitating to live with.
Physical therapy and also talking therapies have proven to be usefulfor people who suffer with chronic pain. Physical therapy can be highly beneficial for people with arthritis or broken bones. Speaking to a therapist can help you to identify your own coping mechanisms for dealing with pain.
Certain foods can also help to relieve pain. Turmeric has antioxidant properties which work to protect your body from free radicals that damage tissue and cells. Berries can also work in a similar way and are highly recommended for people who suffer from arthritis.
References
https://www.nhs.uk/medicines/naproxen/
https://www.drugs.com/medical-answers/how-long-does-naproxen-stay-in-system-394694/
https://www.healthline.com/health/pain-relief/ibuprofen-vs-naproxen
https://www.healthline.com/health/naproxen-oral-tablet
https://www.arthritis.org/health-wellness/healthy-living/nutrition/healthy-eating/best-fruits-for-arthritis
https://www.healthline.com/health/pain-relief/surprising-natural-pain-killers
How effective is Naproxen for pain relief? What are the side effects when taking Naproxen for pain relief? We explain everything you need to know.
Doctor Notes
When pain cannot be managed by lifestyle changes and other methods, Naproxen is absolutely one of the most popular choices. Naproxen is commonly prescribed for pain relief due to its anti-inflammatory properties that act fast to relieve pain. It comes with relatively few side effects and allows most people that use it the ability to carry on with their everyday lives.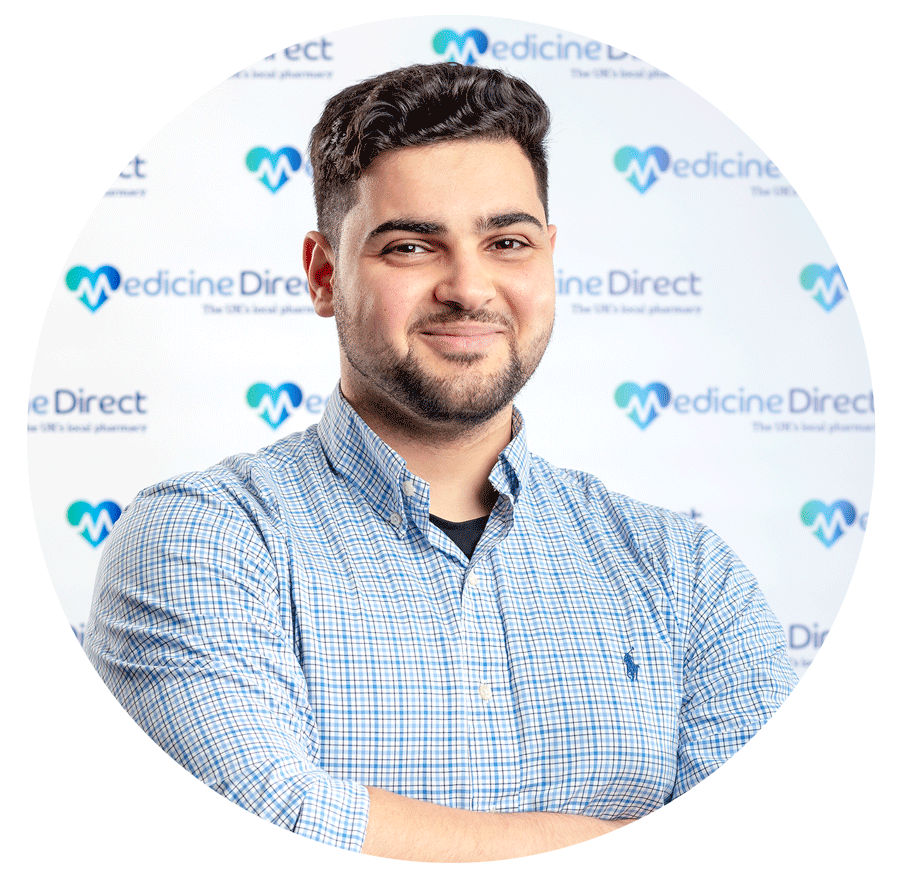 Hussain Abdeh
MPharm: 2211840
Superintendent Pharmacist
This content has been written by our Superintendent Pharmacist Hussain Abdeh and has been medically reviewed by our Pharmacist Sonia Khan
View Profile