Lansoprazole Side Effects
Written by: Hussain Abdeh MPharm: 2211840
Published on: 10/05/2021
Updated on: 10/05/2021
When you are taking any medicine, you will always run the risk of potential side effects. Lansoprazole is considered to be a safe medicine and is clinically proven to ease the suffering associated with a number of conditions.
However, it also comes with the possibility of a number of different side effects. Some of these side effects are mild and will normally resolve themselves after a day or two. However, there are also some side effects that are more serious and may need to be treated by a doctor.
What does Lansoprazole do?
For a more detailed overview, read our guide to Lansoprazole which explains everything you need to know.
Lansoprazole is a prescription-only medicine (POM) that is used to treat the symptoms of conditions like acid reflux, gastro-oesophageal reflux disease (GORD), indigestion and heartburn.
It can also be prescribed to treat a rare condition called Zollinger-Ellison syndrome, which is the result of a tumour in the gut or pancreas.
This medicine is classed as a proton pump inhibitor (PPI), which means that it works by reducing how much acid is produced in your stomach. This helps to alleviate discomfort that comes with problems caused by excessive stomach acid.
Lansoprazole 30mg and 15mg can be bought as tablets, capsules and orodispersible tablets which dissolve on the tongue.
Side effects of Lansoprazole
For a fully comprehensive list of Lansoprazole side effects, we always recommend reading the patient information leaflet enclosed in your medicine box before taking this medicine.
The side effects of lansoprazole are split into common side effects, serious side effects and allergic/adverse reactions. 
It is important that you familiarise yourself with the different categories of side effects before taking this medicine so you can identify any potential serious side effects.
Taking a medicine incorrectly can also increase your chances of experiencing side effects. We recommend reading our how to take Lansoprazole guide which provided step by step instructions you should follow when taking lansoprazole.
Common side effects of lansoprazole
The common side effects of lansoprazole can affect more than 1 in 100 people who take it.
Most of the common side effects of lansoprazole are mild and will go away on their own. You should talk to your doctor if any of them become serious or do not go away after a few days.
| | |
| --- | --- |
| Common Side Effect | What can i do to help? |
| Headaches | Rest and drinking plenty of water. Do not drink alcohol and try taking a painkiller such as paracetamol. Headaches normally go away on their own after taking this medicine for the first week. If the pain is unbearable or does not go away after a week, please speak to your doctor. |
| Stomach Pain | Eating slower, more frequent meals may help to ease the discomfort, as can placing a covered hot water bottle or heating pad on your stomach. Talk to your doctor if you are in serious pain. |
| Dry mouth or throat | You can usually resolve this by drinking water and chewing sugar-free gum. Sucking on sugar-free sweets can also help. |
| Nausea | Drink water and avoid any rich or spicy foods. Sickness will usually go on it's own as your body gets used to the medicine. |
| Vomiting and Diarrhoea | You should regularly take small sips of water to avoid the risk of becoming dehydrated if you are sick or get diarrhoea. If you become dehydrated, you will be urinating less frequently; your urine may also smell stronger than usual. |
| Constipation | Eat plenty of high-fibre foods (like fruit and vegetables) and also make sure you drink a lot of water. Exercising can also help to ease constipation, such as going for a walk each day. If you are still constipated after trying these tactics, talk to your doctor. |
| Wind | If this side effect bothers you, try to eat smaller meals at more frequent intervals. You should also avoid eating any foods that cause wind, such as beans or onions. |
| Tiredness/dizziness | Stop what you are doing and sit or lie down until these feelings subside. You should not drive, cycle or operate any machines if you feel dizzy or tired. You should also avoid alcohol as this can make the symptoms even worse. |
| Itchy/skin rash | Antihistamine will usually stop the symptoms of a skin rash fairly quickly.  |
Serious side effects of lansoprazole
Fortunately, the serious side effects of lansoprazole are very rare and less than 1 in 1,000 people will get them.
Nonetheless, it is important that you call 111 or contact your doctor as soon as possible if you notice any of the following:
Joint pain that is accompanied by a skin rash, particularly on parts of the body that are exposed to the sun, such as the arms or cheeks. These may be symptoms of subacute cutaneous lupus erythematosus. Even if you have been taking lansoprazole for a long time, you can still experience this problem.
Stomach pain that seems to get worse. This may be a sign that your liver or pancreas is inflamed.
Serious allergic reactions
Serious allergic reactions can occur in almost all medicines, including lansoprazole.
In rare cases, you may need to be treated in hospital straight away if you have an allergic reaction. If you get any of these symptoms, you need to call 999 or go to the nearest A&E department immediately:
You get a skin rash that may be red, itchy or swollen
You are having any breathing problems or are finding it hard to swallow or speak
Your mouth, face, throat, tongue or lips start to swell
You are wheezing
You have any chest pain or your chest or throat feels tight
Your skin starts to peel or blister
Lansoprazole long term side effects
Lansoprazole is sometimes prescribed for long-term use. Long term use of this medication or any other Proton Pump Inhibitors can cause Hypomagnesaemia, which is where the magnesium levels in your blood fall. When you have low magnesium, you may experience side effects like tiredness, dizziness, confusion and muscle twitches. Shaking and an irregular heartbeat can also occur. You should speak to your doctor if you notice any of these side effects after taking lansoprazole for a long time.
If you take lansoprazole for longer than one year, you will need to see your doctor regularly to make sure it is still safe for you to take. This is because taking lansoprazole for longer than a year may increase the risk of the following side effects:
Vitamin B12 deficiency
Gut infections
Fractured bones
There is no evidence to show that lansoprazole becomes less effective the longer you take it. However, you should speak to your doctor if you believe that it is not as effective as it used to be.
Lansoprazole and Liver Side Effects
A 2017 study found that individuals using acid suppressing medication such as Lansoprazole and Omeprazole can increase the risk of chronic liver disease.
Whilst the use of acid supressing medicines, particularly proton pump inhibitors is needed for many gastrointestinal diseases, the use of them should only be indicated in individuals where there is a strong medical need.
Overdose side effects
Never exceed the dosage your doctor has told you to take for any medicine. This can be dangerous and lead to unpleasant side effects.
An extra dose or two of lansoprazole in an isolated incident is unlikely to be a real cause for concern. However, if you have taken too much it may cause side effects. Contact your doctor or call 111 straight away if you get:
Blurred vision
You feel agitated or confused
Sleepiness
A fast heartbeat
You feel sweaty
Flushed skin
Lansoprazole and other medicines
Always tell your doctor if you are already taking any other medicine, or if you plan to start taking another medicine alongside lansoprazole. Some medicines may interact with lansoprazole and hinder it from working effectively. Similarly, lansoprazole can increase or decrease the effects of some other medications.
Methotrexate, which is used to treat certain types of cancer and rheumatoid arthritis, can interact with lansoprazole.
Do not take any medicines that contain dexlansoprazole at the same time as taking lansoprazole. This is because they both work in very similar ways.
There are also certain medicines that require stomach acid in order to be absorbed properly. These include nelfinavir, pazopanib, atazanavir, antifungal medicines, ampicillin and erlotinib.
Lansoprazole can also interfere with the results of certain laboratory tests. Before you have any tests done, you should tell the medical professional carrying it out that you are taking lansoprazole.
Can I take antihistamine with Lansoprazole?
Antihistamine can be taken with Lansoprazole to help reduce the itching side effects. Over the counter antihistamines should help to reduce any itching and skin rash.
Does Lansoprazole cause wind?
Wind is completely normal and is a common side effect when taking Lansoprazole. To help ease the symptoms of wind it is recommended eating smaller and more frequent meals to relieve the side effects and bloating that wind may cause. Trying to identify what foods seem to be causing an increase in wind and removing them from your diet can also be beneficial at easing those symptoms.
Does Lansoprazole cause weight gain?
Weight gain is not a reported side effect when taking Lansoprazole. If you experience sudden weight gain when taking Lansoprazole, this is unlikely to have been caused by your treatment. We recommend contacting your doctor as soon as possible as this could indicate a separate condition altogether.
Summary
Generally, lansoprazole is a safe medicine to take. It effectively reduces stomach acid and provides fast-acting relief from a number of problems. However, as with any medicine, it always pays to be aware of the potential side effects.
When you buy lansoprazole, the packet of medicine will come with a patient information leaflet; this will contain a comprehensive list of known side effects. It will also include a full list of medicines that may interact with lansoprazole. You should always read the patient information leaflet before you start to take a new medicine.
If you get any side effects that are not detailed in this guide or in the leaflet, you can report them to the Medicines and Healthcare products Regulatory Agency (MHRA) via their Yellow Card Safety Scheme.
References
https://www.nhs.uk/medicines/lansoprazole/
https://www.medicines.org.uk/emc/files/pil.4164.pdf
https://www.webmd.com/drugs/2/drug-11450-9143/lansoprazole-oral/lansoprazole-delayed-release-capsule-oral/details
https://www.healthline.com/health/lansoprazole-oral-capsule-sprinkles#side-effects
What are the common and more serious side effects you should look out for when taking Lansoprazole? Our guide covers everything you need to know.
Doctor Notes
Before taking lansoprazole it is important that you thoroughly read the patient information leaflet to familiarise yourself with any potential side effects that may arise. This will also help you to identify any possible serious side effects that may occur.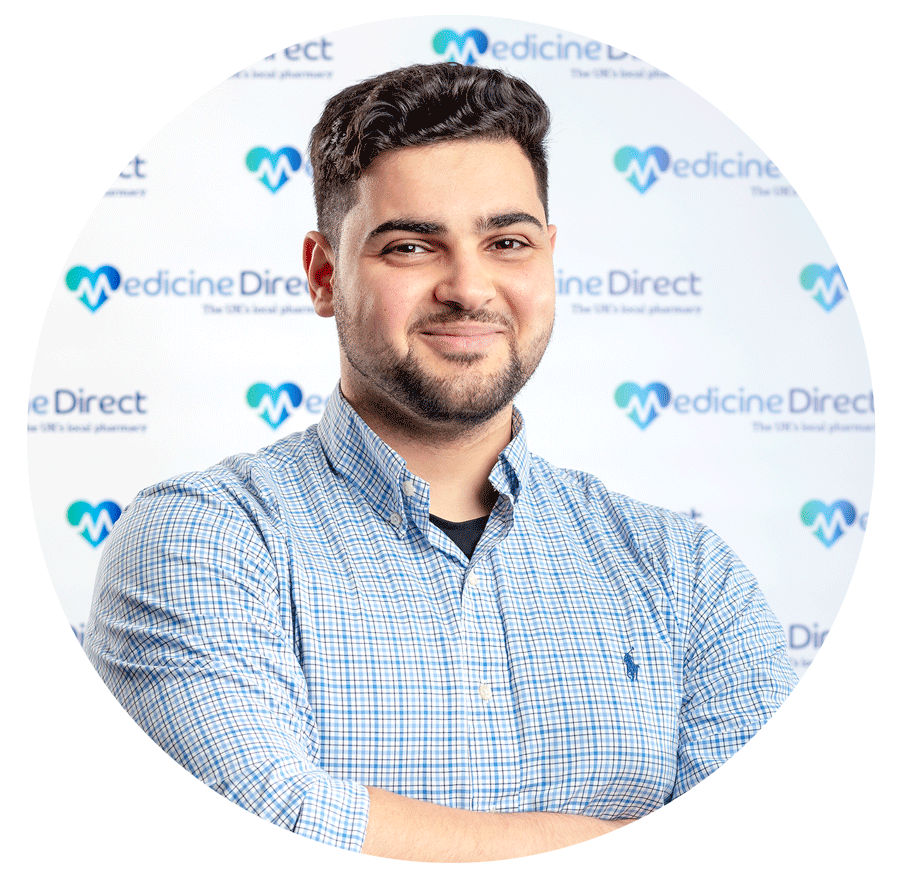 Hussain Abdeh
MPharm: 2211840
Superintendent Pharmacist
This content has been written by our Superintendent Pharmacist Hussain Abdeh and has been medically reviewed by our Pharmacist Sonia Khan
View Profile