Written by: Hussain Abdeh MPharm: 2211840
Published on: 10/05/2021
Updated on: 10/05/2021
Lansoprazole is one of the most effective medicines available for treating acid reflux, indigestion, heartburn, and others. It comes in different forms and can be used by both adults and children.
This guide will take you through what lansoprazole is, how it works, who can use it and what it should be used for. Furthermore, we will look at some alternative medicines.
What is lansoprazole?
Lansoprazole is a prescription-only medicine (POM), which belongs to a group of drugs called proton pump inhibitors (PPIs).
It can be taken by both adults and children, but only when it has been prescribed by a doctor.
Lansoprazole 15mg and 30mg capsules can also be bought as orodispersible tablets, which dissolve on the tongue and allow the medicine to be swallowed with saliva. These are ideal for people who have trouble swallowing whole tablets.
What is lansoprazole used to treat?
Lansoprazole is used in the treatment of conditions like heartburn and acid reflux, gastro-oesophageal reflux disease (GORD), and in the treatment and prevention of stomach ulcers.
It is sometimes also prescribed to treat a rare illness called Zollinger-Ellison syndrome, which is caused by a tumour in the pancreas or gut.
You should start to notice an improvement in your symptoms after just a couple of days. However, lansoprazole may need up to four weeks before it has taken full effect, so you may still continue to experience acid symptoms for the first month. In the meantime, lansoprazole can be taken alongside over the counter painkillers like paracetamol if you require additional pain relief.
How does lansoprazole work?
Proton pump inhibitors (PPIs) like lansoprazole work by stopping the proton pumps in your stomach lining from functioning properly. Proton pumps help the stomach to produce acid so that food can be digested properly.
By inhibiting this function, your stomach produces less acid, helping to alleviate the symptoms of acid reflux, GORD and heartburn.
Who can take lansoprazole?
Lansoprazole is not suitable for everyone.
Do not take this medicine if you know that you are allergic to lansoprazole or any of the other ingredients it contains.
You should talk to your doctor before you start to take lansoprazole if any of the following apply to you:
You have any liver problems
You have ever had an allergic reaction to any other medicines in the past
You are currently pregnant or breastfeeding, or if you are trying to get pregnant or think you may be pregnant
Lansoprazole can hide certain problems that an endoscopy would normally be able to detect. If you are due to have an endoscopy, make sure your doctor is aware of this. They may instruct you to stop taking lansoprazole a few weeks beforehand.
This medication is not normally prescribed for women who are pregnant or breastfeeding.
Lansoprazole is also not recommended for children under the age of 1 year, due to the risk of serious side effects.
Common side effects
Like any medicine, lansoprazole can cause side effects in some people who take it.
Below is a list of the most common adverse effects associated with this medicine. If any of these become serious or do not resolve themselves after a few days, please talk to your doctor:
Constipation
Diarrhoea or vomiting
Headaches
Feeling tired
Feeling dizzy
A dry mouth or throat
Wind
Nausea
Stomach pain
An itchy skin rash
Please note that this list is not exhaustive. Lansoprazole will come with a patient information leaflet in the box, which will include a comprehensive list of known side effects. You should read this leaflet before you start to take it.
If you get any side effects not listed in the leaflet, you can report them to the Medicines and Healthcare products Regulatory Agency (MHRA), using their Yellow Card Scheme.
You can also read more about the side effects of lansoprazole in our guide.
Alternatives to lansoprazole
There are several other proton pump inhibitor medicines, which work in the same way as lansoprazole but which may be more suitable for you to take.
Omeprazole is one of the most widely prescribed medicines to treat conditions caused by excessive acid in the stomach. This PPI is also a prescription-only medicine (POM) for the most part. However, it can also be purchased from pharmacies in low doses for heartburn and acid reflux. It can be taken by adults and children, too. Omeprazole is usually the medicine that is prescribed for women who are pregnant or breastfeeding, as it is safe for them to take.
To learn more about Lansoprazole and Omeprazole and other alternatives, read our medical guide.
Another alternative is pantoprazole, which is available as either a tablet or a liquid that you swallow. Lower doses of this medicine can be bought without a prescription, too, although you should see a doctor if you have been taking it for two weeks and not noticed any improvement. This medicine is not recommended for pregnant or breastfeeding women.
Esomeprazole comes as a capsule, which can be opened so the contents can be mixed in a glass of water and swallowed. This makes it a good alternative for people who find it hard to swallow.
This PPI is not recommended for women who are pregnant or breastfeeding; instead, omeprazole will likely be prescribed. The lowest dose of esomeprazole (20mg) can be bought from a pharmacy without a prescription.
Is it safe to take lansoprazole for a long time?
Taking lansoprazole for longer than 3 months can cause your blood's magnesium levels to fall. This can cause side effects like tiredness, dizziness and confusion. It may also result in muscle twitches, an irregular heartbeat and shakiness. Speak to your doctor if you get any of these side effects while taking lansoprazole in the long-term.
If you need to take lansoprazole for longer than a year, your doctor will need to monitor your health at regular intervals to make sure it is safe. Taking lansoprazole for longer than one year can increase the risk of developing bone fractures, vitamin B12 deficiency and gut infections.
There is no evidence to suggest that lansoprazole becomes less effective as a medicine if you take it for a long time. However, if you feel that it is no longer as effective as it used to be, please consult your doctor.
What happens if I stop taking lansoprazole?
In most cases, you should be able to stop taking lansoprazole without needing to reduce your dose. Nonetheless, you should ask your doctor about coming off lansoprazole if you have been taking it for a long time.
Suddenly stopping taking this medicine after taking it for a long time may cause the stomach to produce an excessive amount of acid; this could make your problem come back. To prevent this from happening, your doctor may advise you to gradually reduce your dose.
Knowing exactly how to take lansoprazole will increase the chances of the medicine being able to successfully treat your symptoms. For more information on how to take lansoprazole, read our medical guide.
Can lifestyle changes help with stomach acid?
Yes, making certain healthy lifestyle alterations can help to relieve problems caused by stomach acid. These include maintaining a healthy weight, cutting down on alcohol and caffeinated drinks and giving up smoking.
Avoiding foods that can trigger acid reflux, such as tomatoes, spicy foods, citrus fruits and carbonated drinks, can also make a major difference.
For more information on foods that can help and trigger acid reflux symptoms, take a read of our helpful guide "acid reflux diet".
How long does Lansoprazole take to work?
Lansoprazole's inhibitory effects can be felt within just 1 hour. Lansoprazole will get to work quicker if you take it on an empty stomach, this is because it is able to be absorbed by the body quicker.
How effective is Lansoprazole?
Lansoprazole is very effective at treating the underlying cause that triggers symptoms of acid reflux. Lansoprazole along with other Proton Pump Inhibitors such as Omeprazole and Pantoprazole are the recommended treatment option for the symptoms of acid reflux.
Summary
Lansoprazole is a safe, clinically proven medication for treating a range of conditions caused by excessive acid production. It can be taken by most people and will deliver fast-acting results.
If you feel that you are in need of a medical treatment for GORD, acid reflux, heartburn or stomach ulcers, this prescription medicine may be suitable for you to take. Why not complete our confidential online consultation today? One of our registered prescribers will check to make sure that this is the most appropriate medicine for your condition.
References
Lansoprazole Patient Information Leaflet - https://www.medicines.org.uk/emc/files/pil.4164.pdf
https://www.healthline.com/health/lansoprazole-oral-capsule-sprinkles
https://www.webmd.com/drugs/2/drug-11450-9143/lansoprazole-oral/lansoprazole-delayed-release-capsule-oral/details
https://www.healthline.com/health/gerd/proton-pump-inhibitors
What is Lansoprazole and what is it used to treat? Our helpful guide explains everything you need to know.
Doctor Notes
Lansoprazole helps to relieve the symptoms associated with heartburn, indigestion and acid reflux. All of our Doctors and Pharmacists prescribe Lansoprazole using NICE guidelines.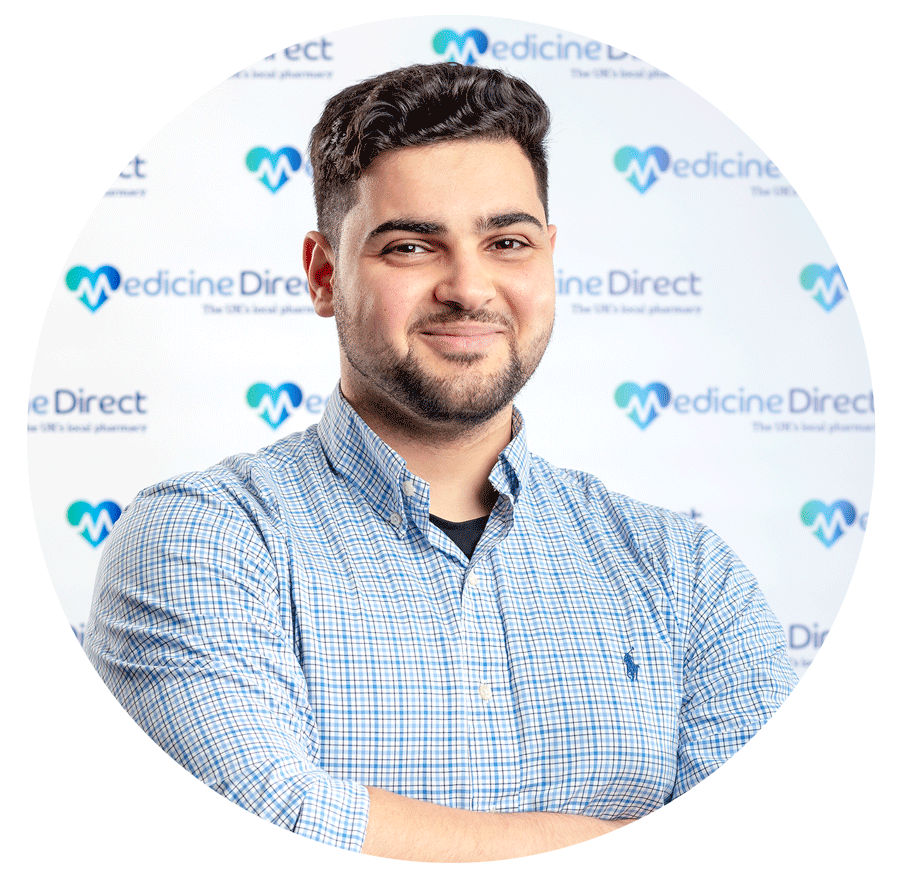 Hussain Abdeh
MPharm: 2211840
Superintendent Pharmacist
This content has been written by our Superintendent Pharmacist Hussain Abdeh and has been medically reviewed by our Pharmacist Sonia Khan
View Profile