Written by: Hussain Abdeh MPharm: 2211840
Published on: 04/05/2021
Updated on: 04/05/2021
Propranolol is one of the most prescribed medicines for a range of conditions, including high blood pressure, heart problems and anxiety.
This prescription-only medicine is available either as a tablet, capsule, or liquid.
In this article, we will be taking a closer look at what propranolol is, how it works, what it can be used for and the side effects that can occur in some users. We will also be looking into who should not take it.
What is Propranolol?
Propranolol belongs to a group of medicines known as beta blockers. Beta blockers are only available to buy on prescription and work to lower blood pressure, protect against recurrent heart attacks and ease the symptoms of anxiety. They can also be taken to help people who suffer from heart failure to live longer lives. To understand more about what they are and what they treat, you can read our what are beta blockers guide.
Propranolol works to help the heart beat slower and at a steadier rate. This effect helps to improve and control a number of serious health conditions.
Statistics show that propranolol is the third-most-popular beta blocker sold in the United Kingdom.
What is propranolol used to treat?
Propranolol is a fairly diverse medicine and can be used to treat a number of conditions.
Propranolol is used to treat:
Migraines
Irregular heartbeat (Arrhythmia)
High blood pressure
Angina
Situational Anxiety
Protects against future heart attacks and strokes
Overactive thyroid
How does propranolol work?
Propranolol works to block the beta-adrenergic receptor, which releases the body's natural stress hormone, adrenaline. This hormone makes your heartbeat faster, so when it is blocked your heart rate is slowed down, which means that blood is pumped around your body with less force. This makes it a lot easier for your heart to pump blood around your body without stress.
High Blood Pressure
By lowering how fast your heart beats, your blood pressure is lowered, and your heart needs to contract less with each beat. As a result, it does not need to work as hard. Although doctors will not usually prescribe propranolol for high blood pressure as a first line treatment, it is still commonly used for this reason, particularly for complicated high blood pressure. 
Anxiety
An increased heart rate is one of the main symptoms of anxiety, so by taking a beta blocker such as propranolol, anxiety sufferers should find that they feel more at ease and less anxious. This medicine will not act as a cure for any underlying psychological triggers of anxiety, but it can be taken to provide short-term relief. Taking propranolol for anxiety can be beneficial in situations that require you to be calm and level-headed, such as before a job interview or a presentation.
You can buy Propranolol tablets to treat anxiety online at Medicine Direct.
Migraine prophylaxis
Recurrent migraines can drastically impact quality of life. Although propranolol will not help to ease the symptoms of a migraine during a migraine attack, it can be used as a preventative method, we call this Migraine prophylaxis.
The purpose of propranolol as a migraine prophylaxis treatment is to reduce the frequency, severity and duration of the migraine attacks.
The dosage for this medicine differs depending on your age and what you have been prescribed propranolol as a treatment for.
Who can take propranolol?
While propranolol is safe to be taken by both adults and children, it has not been approved for treating children under 12 who suffer from high blood pressure.
You should also make sure that your doctor is aware if any of the following apply to you, before you are prescribed propranolol:
You have ever had an allergic reaction to propranolol or any other medication in the past
You suffer from asthma or lung disease
You suffer from heart failure that is getting worse
You have low blood pressure or a slow heart rate
You have a condition called metabolic acidosis, where there is an excessive amount of acid in your blood
You have any severe blood circulation problems in the limbs, such as Raynaud's phenomenon
You are currently pregnant, think you might be pregnant, or are trying to get pregnant
You are breastfeeding
You are on a strict fasting diet
You have high blood pressure due to a tumour near your kidneys (untreated pheochromocytoma)
You suffer from diabetes
You have any liver or kidney problems
You have thyrotoxicosis
You should always read the patient information leaflet, which will come with your medicine. In this leaflet, you will find comprehensive lists of why this medication may not be suitable for you to take.
Please talk to your doctor or pharmacist if you have any doubts about your suitability for this medicine.
Side Effects
All medicines come with the risk of side effects, and propranolol is no exception. Fortunately, most people who suffer side effects will only experience minor ones; the majority of people who take propranolol do not get any side effects at all.
Common side effects
The side effects listed below are relatively common, occurring in more than 1 in 100 people:
Feeling sick
Sleeping difficulties and/or nightmares
Feeling dizzy, light-headed, tired (these may be symptoms of a slow heart rate)
Cold fingers or toes (propranolol may affect the blood supply to your hands and feet)
Please talk to your doctor or pharmacist if any of these side effects bother you or do not go away.
Serious side effects
Although they only occur rarely, you should talk to your doctor as soon as possible if you get any of the following serious side effects:
Yellow skin or whites of the eyes (these could be symptoms of a liver problem)
Wheezing, feeling short of breath or a tightness in the chest (these could be symptoms of lung problems)
Shortness of breath with a cough that gets worse while exercising, swollen legs or ankles, chest pain or an irregular heartbeat (these could be symptoms of a heart problem)
More information can be found in our propranolol side effects medical guide.
Propranolol dose
All of our prescribers follow NICE clinical guidelines when prescribing propranolol.
At Medicine Direct, we offer propranolol in the following doses:
The dose of propranolol you are prescribed will depend on the severity of your condition. Typically, there are some conditions that require a slightly higher starting dose than others. For example, the starting dose of propranolol for anxiety in 40mg once daily whereas the starting dose of propranolol for migraine prophylaxis is 80mg daily.
Alternatives to Propranolol
If you have previously been prescribed propranolol 10mg or 40mg tablets, it is likely that your doctor or prescriber will be able to prescribe an alternative medicine if they deem it necessary.
Bisoprolol is another beta blocker medicine that is available to buy from our online pharmacy. This medicine contains the active ingredient bisoprolol fumarate, which also works to slow down your heart rate so that blood can be pumped around your body more efficiently. This is also a prescription-only medicine, so you will still need to complete our online consultation questionnaire before you can order it.
Atenolol is also a commonly prescribed beta blocker, although unlike propranolol, it's primary use is to treat heart related conditions such as high blood pressure, angina and arrythmia.
Taking propranolol with other medicines
High blood pressure treatments
Do not take propranolol with other blood pressure medicine. Propranolol when combined with other blood pressure medicine could cause your blood pressure to drop too much. A low blood pressure can make you feel dizzy, faint, nauseous, lethargic, and confused.
Painkillers
It is advised against taking propranolol at the same time as any medicines that belong to a class of drugs called nonsteroidal anti-inflammatory drugs (NSAIDs). These medicines include over the counter painkillers like ibuprofen and naproxen. NSAIDs (non-steroidal anti-inflammatory medicines) such as these may counteract the effect that propranolol has at lowering blood pressure, particularly if you take them regularly while using propranolol long-term.
However, it is safe to take paracetamol when using propranolol.
What happens if you stop taking propranolol suddenly?
You should always talk to your doctor if you wish to discontinue your course of medication. If you stop taking this medicine suddenly, your health problem may become worse. Stopping your course of treatment suddenly after taking propranolol for a long time may cause your body to react badly.
If you wish to stop taking propranolol because you are being bothered by side effects, you should still speak to your doctor first. They may be able to prescribe an alternative form of treatment. It will take approximately 1 to 2 days for the medicine to leave your system completely if you do stop taking it. However, side effects may continue for up to a week afterwards. Please talk to your doctor if you are still suffering from side effects after one week.
Can I drink alcohol when taking propranolol?
Drinking alcohol with propranolol is not recommended due to the blood pressure lowering properties that both possess.
Propranolol, is an effective high blood pressure treatments and lowers your blood pressure by slowing your heart rate down.
Alcohol can also lower your blood pressure, when combined wiht propranolol it can cause your blood pressure to drop below normal levels. 
How long should I take propranolol for?
For heart and blood pressure related conditions, you may be required to take propranolol for the rest of your life as it is a condition that will require long term management with medicine.
For anxiety, the treatment length can be a mixture of short term and long term. For example, if you are taking propranolol for a one-off event such as a wedding, the treatment plan will be short term. However, for those with recurring anxiety triggers, particularly daily, weekly or monthly, the treatment plan may be long term.
References
https://www.statista.com/statistics/378306/top-ten-dispensed-beta-adrenoceptor-blocking-drugs-by-item-in-england/
https://www.bhf.org.uk/informationsupport/heart-matters-magazine/medical/drug-cabinet/beta-blockers
https://www.nhs.uk/medicines/propranolol/
https://www.medicalnewstoday.com/articles/316061
https://www.netdoctor.co.uk/medicines/heart-blood/a27653/propranolol-with-other-medicines/#:~:text=Propranolol%20and%20painkillers,are%20taking%20propranolol%20long%2Dterm.
https://www.medicines.org.uk/emc/files/pil.5853.pdf
This guide will detail what propranolol is and what it is used to treat. Is there anyone who should not take propranolol and what are the side effects for people who do take it?
Doctor Notes
Propranolol is a relatively low risk medicine that does not present many serious side effects. However, in some circumstances, individuals may experience side effects particularly if you suffer from any of the interacting conditions listed above. Always let your doctor know about any other medicines you are currently taking or any other conditions that you have or have previously suffered from.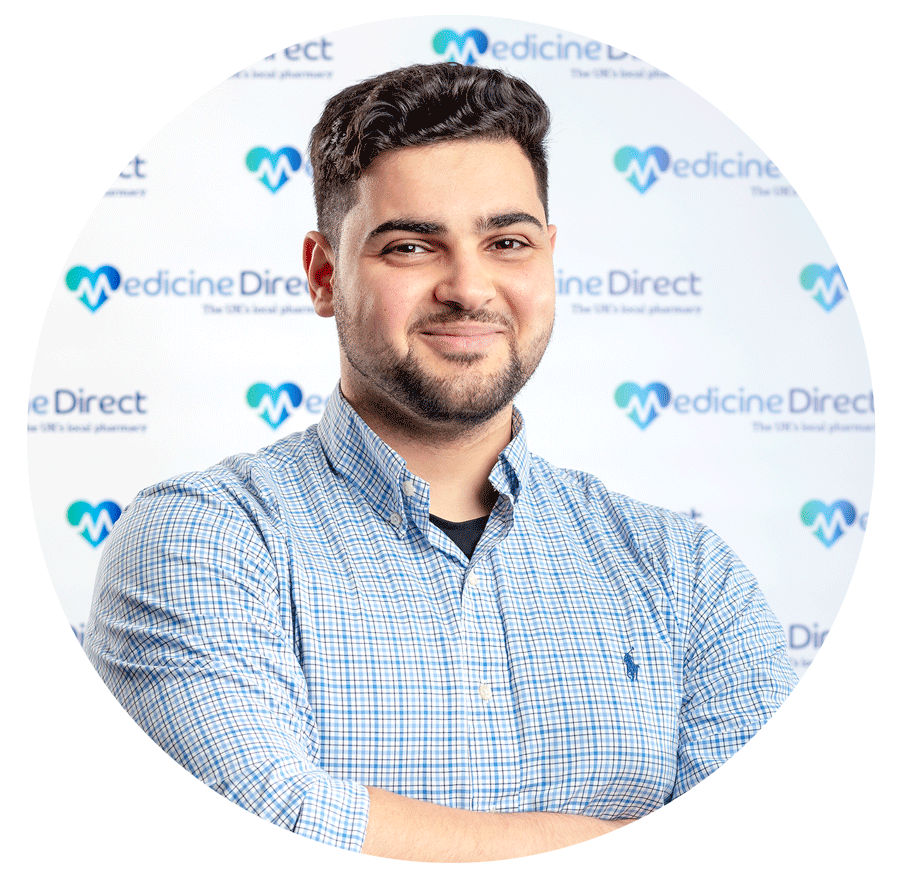 Hussain Abdeh
MPharm: 2211840
Superintendent Pharmacist
This content has been written by our Superintendent Pharmacist Hussain Abdeh and has been medically reviewed by our Pharmacist Sonia Khan
View Profile