Written by: Hussain Abdeh MPharm: 2211840
Published on: 20/05/2021
Updated on: 20/05/2021
Omeprazole is a popular choice of medicine for people who frequently suffer from problems like indigestion, heartburn, and acid reflux.
This article will take a deeper look at what omeprazole is, how it works and who can take it. It will also discuss how quickly Omeprazole will help relieve your symptoms after taking it, as well as any potential side effects.
What is omeprazole?
Drug Type
Proton Pump Inhibitor (PPIs)
Available Doses
10mg, 20mg, 40mg
Indications

Acid Reflux

H. pylori Infections

Benign Gastric Ulceration

Zollinger Ellison Syndrome

Dyspepsia (Indigestion)

Mechanism of Action

Within 1 hour of Administration

Maximum effects after 2 hours

Effects last for 72 hours

Administration
Oral (tablet/capsule)
Half Life
Less than 1 hour
Omeprazole belongs to a class of drugs known as proton pump inhibitors (PPIs). It can be used to treat a range of stomach and oesophagus problems, including gastric ulcers, acid reflux, indigestion, heartburn, and gastro-oesophageal reflux disease (GORD).
If taken for longer than three months, this medicine can cause the magnesium levels in your blood to fall; this can lead to unpleasant side effects. If you need to take omeprazole for extended periods of time, this should only be on your doctor's recommendation, and they will need to monitor your health regularly to make sure you should still be taking it.
If you are looking to buy Omeprazole online from medicine direct, it is important that you disclose your diagnosis, previous doses of omeprazole and the date you were last assessed by your doctor.
What is Omeprazole used for?
Omeprazole works by reducing how much acid is produced by your stomach, which makes it a very effective medication for stomach problems like ulcers and acid reflux.
Different doses of omeprazole are available to treat different problems. Over the counter doses are normally 10mg or 20mg, and are normally used to relieve symptoms like heartburn, swallowing difficulties or a persistent cough.
For more information on the different Omeprazole doses, read our helpful medical guide.
Aside from reducing the amount of stomach acid your body produces, omeprazole can also help to heal the damage caused to the stomach and oesophagus by acid. Furthermore, it can work to prevent ulcers and may also be able to help oesophageal cancer.
It can take up to four days for omeprazole to take full effect, so you may not notice your heartburn symptoms disappearing straight away. You should take the dosage as instructed; do not take more than the recommended dose if you do not start to feel better straight away.
Who can take omeprazole?
Omeprazole is safe to be taken by most adults, including women who are pregnant, trying to get pregnant or breastfeeding.
Children and babies can also take omeprazole, but only when they have been prescribed it by a doctor.
You should not take omeprazole if you know that you are allergic to this medicine, or to any other medicines that are classed as proton pump inhibitors (PPIs). Medicines similar to omeprazole include the likes of lansoprazole, esomeprazole and pantoprazole.
You should also make sure that omeprazole is safe for you by telling your doctor if any of the below apply to you:
You have any liver problems
You are due to have an endoscopy
You have ever had an allergic reaction to omeprazole or any other medication
Omeprazole can hide certain issues that an endoscopy can detect. If you are due to have an endoscopy, your doctor may recommend that you stop taking omeprazole a few weeks before the appointment.
When to take Omeprazole
Like most medicines, it is best to take Omeprazole with a glass of water, this makes it easier to swallow the tablet with the water.
Omeprazole should be taken 30-60 minutes before meals. If you have been prescribed Omeprazole twice daily, it is recommended to take the first dose before breakfast and the second dose before dinner.
You should always take Omeprazole as prescribed by your doctor, never increase your dose or double up on doses.
Side Effects
Like all medicines, omeprazole can cause side effects. However, not everyone who takes this medication will be affected by them.
When you get your medication, you will also receive a patient information leaflet. It is very important that you read this leaflet before you start to take omeprazole. Here, you will find comprehensive details on side effects, along with guidance on what to do if you experience them. If you get any side effects that are not listed here or in the patient information leaflet, you can report them to the Medicines and Healthcare products Regulatory Agency (MHRA) using their Yellow Card Scheme.
Common side effects
The following side effects are common and occur in more than 1 in 100 people who take omeprazole:
Headaches
Constipation
Nausea
Vomiting and diarrhoea
Wind
For more information on side effects, you can also find information in our Omeprazole Side Effects guide.
How long does Omeprazole take to work?
Omeprazole blocks the production of stomach acid within 1 hour, with the maximum effect being felt within 2 hours. Omeprazole should provide you with mild pain relief within 1 hour and will continue to inhibit the production of stomach acid for a further 72 hours.
Omeprazole alternatives
Omeprazole is just 1 of many Proton Pump Inhibitors (PPI's) that are available. Other common PPI's include Lansoprazole and Pantoprazole.
Our helpful medical guide explains the difference between Omeprazole and alternatives in more detail.
Omeprazole is also available in a branded version and is sold under the brand name Losec MUPS.
Other Omeprazole alternatives that your doctor may advise you on, include lifestyle changes. Making changes to your lifestyle can help to tackle the root cause of your acid reflux, for example fatty foods, alcohol and smoking can all trigger excessive stomach acid.
For more information on what foods are good for acid reflux and what foods can trigger acid reflux symptoms read our helpful guide "acid reflux diet".
By knowing your triggers and cutting them out of your lifestyle you will reduce your dependence on PPI's such as Omeprazole.
References
https://www.drugs.com/omeprazole.html
https://www.webmd.com/drugs/2/drug-3766-2250/omeprazole-oral/omeprazole-delayed-release-tablet-oral/details
https://www.nhs.uk/medicines/omeprazole/
https://www.ncbi.nlm.nih.gov/books/NBK539786/
https://pubmed.ncbi.nlm.nih.gov/2690330/#:~:text=The%20half%2Dlife%20is%20less,completely%20metabolized%20in%20the%20liver.
https://bnf.nice.org.uk/drug/omeprazole.html
https://www.health.harvard.edu/diseases-and-conditions/proton-pump-inhibitors
This guide covers everything you need to know about Omeprazole.
Doctor Notes
Omeprazole provides effective relief from acid reflux symptoms in just 1 hour. It is a commonly used medicine to treat acid reflux and comes with relatively few side effects. We follow the NICE guidelines when prescribing Omeprazole.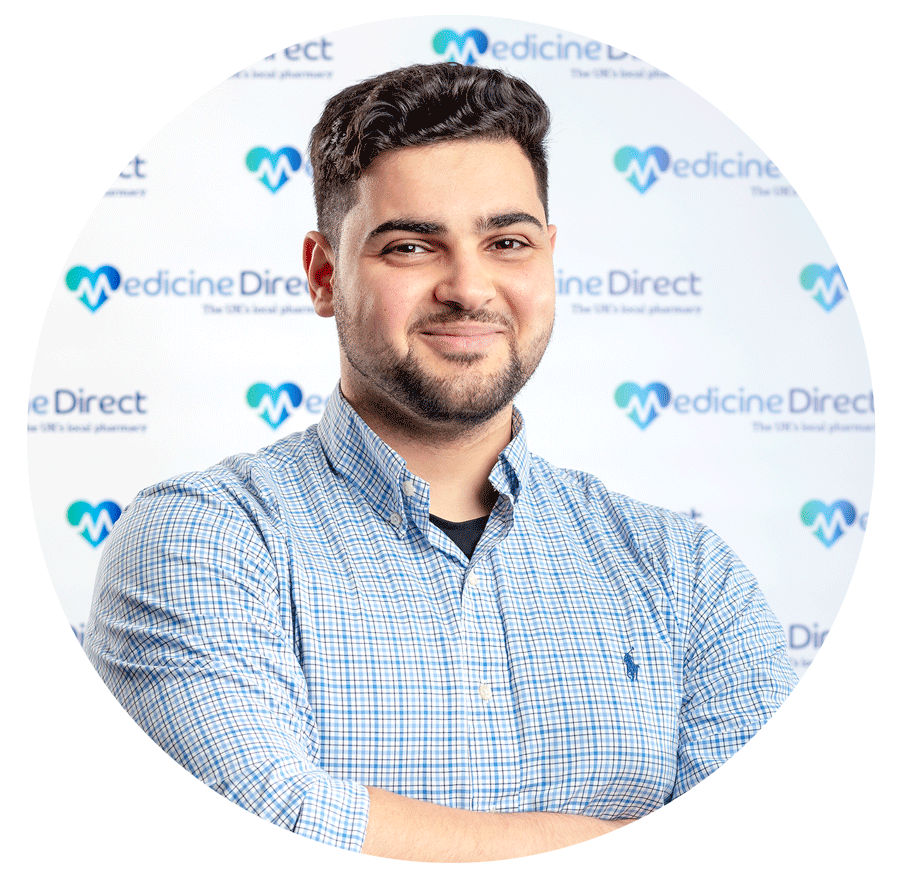 Hussain Abdeh
MPharm: 2211840
Superintendent Pharmacist
This content has been written by our Superintendent Pharmacist Hussain Abdeh and has been medically reviewed by our Pharmacist Sonia Khan
View Profile