Written by: Hussain Abdeh MPharm: 2211840
Published on: 21/05/2021
Updated on: 21/05/2021
Omeprazole can be taken to treat a range of different conditions, including gastro-oesophageal reflux disease (GORD), indigestion and acid reflux. It is also effective at both easing and preventing stomach ulcers.
However, depending on your problem, how much of this medicine you need and how it should be taken will differ. Taking any medicine incorrectly can be dangerous, so it is vital that you follow your doctor or pharmacist's instructions.
In this article, we will be looking at how omeprazole should typically be taken, as well as what to do if you miss a dose or have taken more than you were supposed to. We will also explore the things you can do to receive the maximum benefits from your medicine.
What is omeprazole?
Omeprazole belongs to a class of drugs called proton pump inhibitors (PPIs). It works by inhibiting the production of acid in the stomach. Because of this action, it is an ideal treatment for common problems like heartburn, acid reflux and indigestion.
Most commonly, omeprazole is a prescription-only medicine (POM). This medicine can be prescribed to treat and prevent stomach ulcers, as well as to provide treatment for conditions like gastro-oesophageal reflux disease (GORD) and Zollinger-Ellison syndrome.
Prescription-strength doses are generally higher than those which can be bought over the counter. You can buy Omeprazole 10mg to 40mg capsules from Medicine Direct are generally higher than those which can be bought over the counter.
To learn more about Omeprazole, read our helpful medical guide, What is Omeprazole?
How to take omeprazole
Omeprazole tablets will come with a patient information leaflet, which will lay out comprehensive details of how this medicine should be taken. You should always read the patient information leaflet before you start to take any new medication. This leaflet will also explain who should not use omeprazole and list the possible side effects associated with it.
If you have been prescribed omeprazole, it is important that you take the medicine exactly as your doctor has told you. Information on the typical doses of omeprazole for each condition can be found in our medical guide.
Omeprazole capsules and tablets contain pellets that are coated to ensure your body can properly absorb the medicine. You must swallow the tablets/capsules whole with a drink of water. Do not open, crush or chew them.
Omeprazole will not cause an upset stomach, so this medicine can be taken with or without food. If you experience nausea as a side effect of omeprazole, try taking the medicine with or after a meal.
There are certain types of omeprazole that can be mixed with water or juice, which are ideal for people who have problems swallowing tablets. You will need to tell your doctor if you have any swallowing difficulties, so that they can prescribe this soluble alternative for you.
If you take too much omeprazole
If you have accidentally taken an extra dose or two of omeprazole, this is not likely to cause any problems.
However, some people who have taken a higher dose than required may experience certain side effects. If you have taken more omeprazole than instructed and notice any of these reactions, you should call 111 or speak to your doctor for guidance as soon as possible:
Blurred vision
You feel confused or agitated
Sleepiness
Flushed skin
A fast heartbeat
You feel sweaty
To learn more about Omeprazole side effects, read our detailed medical guide.
If you forget to take omeprazole
If you normally take omeprazole once a day and miss a dose, take it as soon as you remember. If it is within 12 hours of your next scheduled dose, just skip the dose you missed and continue taking the medicine as normal.
If you normally take it twice a day, take the dose you missed as soon as you remember, as long as it is at least 4 hours before your next dose. If it is within 4 hours of the next scheduled dose, skip the missed dose and just take the next dose at your usual time.
You must never take a double dose of medicine to try and make up for missing an earlier one. This can be dangerous and will not mean that your symptoms are relieved any faster.
If you regularly forget to take your medication, it may be useful if you try to take it at the same time each day. This will help you to get into a routine of taking it. Some people also find that setting an alarm for the time they are due to take their medicine can be a helpful reminder.
Getting the most out of omeprazole
To get the most out of your treatment with omeprazole, there are certain precautions you can take.
Firstly, if you are taking this medicine in the long-term, your doctor will need to monitor your health at regular intervals. This is to make sure that omeprazole is still safe for you to take. For this reason, you will need to keep regular appointments with your GP.
Secondly, there are certain types of food which can aggravate conditions like heartburn. If you know that particular foods are making your heartburn worse, avoiding them can help to minimise your symptoms in general. To keep your symptoms to a minimum, you should avoid food triggers such as:
Peppermint
Tomatoes
Alcohol (red wine in particular)
Citrus fruits and products containing them (such as orange juice, lemons and grapefruit)
Caffeinated drinks such as tea and coffee
Raw onions, garlic and other spicy foods
Chocolate
These foods can all be substituted with healthy alternatives that will not exacerbate acid reflux. Maintaining a healthy weight also feeds into reducing acid reflux symptoms. Being overweight means added pressure on your stomach, which makes the symptoms worse.
You should also try to avoid eating large or fatty meals, especially late at night. Try to have five or six smaller meals throughout the day.
Our helpful guide "acid reflux diet" provides more information on how changing your diet can help with Acid reflux symptoms.
If you smoke, giving up this habit may also help to ease acid reflux, as smoking increases how much acid your stomach produces. This may act to make your symptoms worse.
Some people may find that certain alternatives to Omeprazole may work better. In this case, we recommend speaking to your doctor if you have previously tried an alternative to better effect. Your doctor may then choose to prescribe you with an alternative or increase your initial dose.
How long does it take for omeprazole to work?
One of the benefits of omeprazole is that it gets to work very quickly after you have taken it.
After taking an oral dose of omeprazole, it will get to work within one hour. If you have taken this medication to treat acid reflux, you should notice the effects after a few hours. The effects of inhibiting the production of stomach acid can last for up to 72 hours.
However, if you have a more severe condition, you may need to take omeprazole for up to 4 weeks before you notice its full effects.
How long does omeprazole last?
The half-life of a medicine is the length of time it takes for the medicine's active ingredient to reduce itself by half in your body. Knowing the half-life of a drug is important to know for when it is time for you to stop taking the medication.
Omeprazole's half-life is less than one hour, which is quite short compared to many medicines. Omeprazole is almost completely cleared from the body's plasma within 3-4 hours. The medicine will be entirely metabolised in the liver.
Can I eat after taking Omeprazole?
You can eat after taking Omeprazole however it is generally recommended taking Omeprazole 30 minutes before you eat. Food can sometimes slow down how quickly Omeprazole is absorbed by your body, taking your capsules 30 minutes before you eat will allow Omeprazole to be absorbed into the body quickly.
How to stop taking Omeprazole
Omeprazole can be stopped immediately without having to reduce the dose or frequency gradually. However, if you have taken Omeprazole for a long time, you may need to slowly reduce your frequency or dose before completely stopping.
Is Omeprazole more effective when taken on an empty stomach?
If you are taking Omeprazole on a full stomach, the food in your belly will delay how quickly omeprazole is absorbed by the body. Taking omeprazole on an empty stomach will ensure that Omeprazole is absorbed into the body quicker.
When taking Omeprazole on an empty stomach, its inhibitory effects can be felt in less than one hour.
Can I take Omeprazole every day?
If you have been prescribed a course of Omeprazole, you will typically be instructed by your doctor to take Omeprazole every day for the duration of your treatment course. You should ensure you complete your course of treatment exactly as instructed by your doctor, do not skip any doses even if your symptoms have cleared.
Can I take Omeprazole at night?
It is usually recommended taking your dose of Omeprazole in the morning. However for patient that experience nocturnal symptoms of acid relux, omeprazole can be taken 1-2 hours before bedtime.
A study found that when taken before bed, Omeprazole provides superior relief of acid reflux symptoms during the night when compared to Lansoprazole.
Can I take Omeprazole after eating food?
Food can delay how quickly omeprazole is absorbed by the body and can delay the inhibitory effects that help to ease acid reflux symptoms.
It is completely fine to take Omeprazole after eating, however this may impact how effectively it is able to treat your symptoms.
When is the best time to take Omeprazole?
You should take Omeprazole in the morning at least 30 minutes before eating. If you have been prescribed a double dose of Omeprazole you should take one dose in the morning and another in the evening, approximately 1-2 hours before bedtime.
Can I drink alcohol when taking Omeprazole?
It is safe to drink alcohol when taking Omeprazole, however alcohol is one of the main causes of acid reflux symptoms so you may find that drinking alcohol whilst taking Omeprazole may make your symptoms worse.
Summary
Whether you have been prescribed omeprazole or bought it over the counter, following your doctor or pharmacist's instructions is essential for making sure you are using this medication in a safe and effective way.
You should always read the patient information leaflet before you start to take any new medicine and speak to your doctor or pharmacist if you need any further guidance after doing this.
Providing you have taken the correct dose of omeprazole, and you are consistent with your doses, your medication should get to work very quickly and provide effective relief from your symptoms.
References:
https://pubmed.ncbi.nlm.nih.gov/2690330/
https://druggenius.com/half-life/omeprazole/
https://www.webmd.com/heartburn-gerd/triggers
https://patient.info/medicine/omeprazole-to-reduce-stomach-acid-losec-mepradec-prilosec#nav-2
https://www.nhs.uk/medicines/omeprazole/                
https://bnf.nice.org.uk/drug/omeprazole.html
https://www.medicinenet.com/proton-pump_inhibitors/article.htm
How should you take Omeprazole to ensure you are getting the most from it? Our guide explains all!
Doctor Notes
Knowing exactly how to take a medicine can be the difference between a medicine helping your condition or not. Incorrect usage of any medicine can cause side effects and also be ineffective when it comes to treating your specific condition.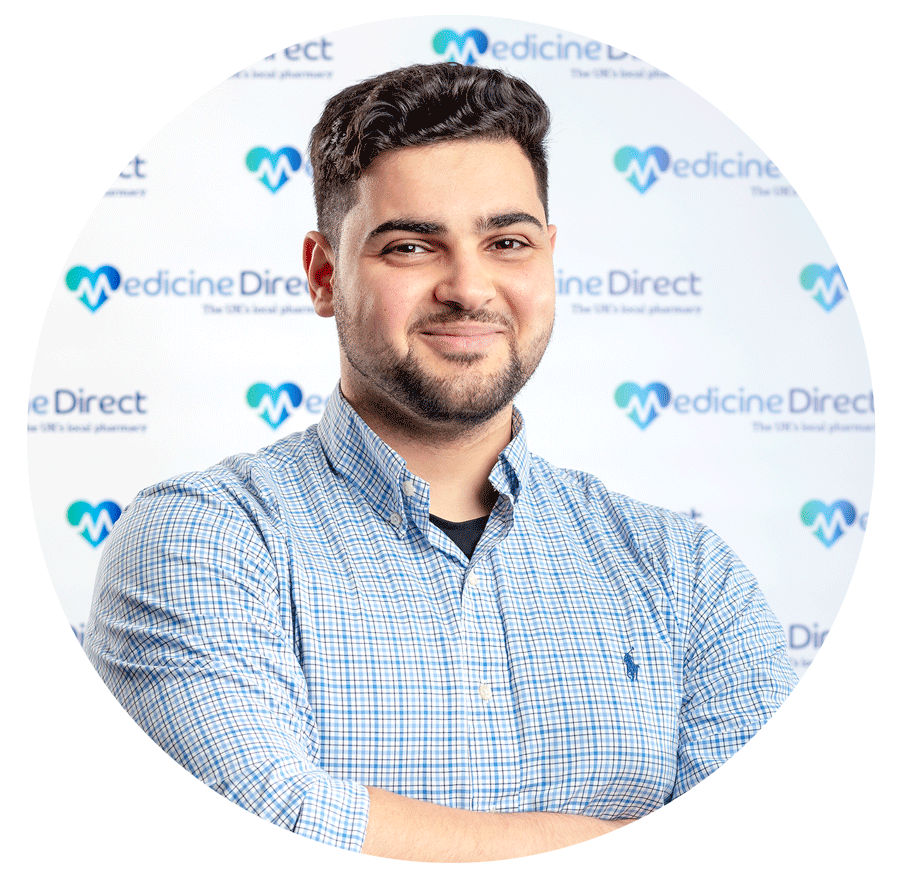 Hussain Abdeh
MPharm: 2211840
Superintendent Pharmacist
This content has been written by our Superintendent Pharmacist Hussain Abdeh and has been medically reviewed by our Pharmacist Sonia Khan
View Profile