Written by: Hussain Abdeh MPharm: 2211840
Published on: 10/05/2021
Updated on: 10/05/2021
Omeprazole belongs to a group of medicines called Proton Pump Inhibitors (PPI's). It is commonly prescribed to treat the symptoms of gastroesophageal reflux disease (GERD), or more commonly referred to as 'acid reflux' and several other complications resulting from excessive stomach acid.
Omeprazole is a relatively low risk medicine, however as with all other types of medicines, from time-to-time various side effects may arise. In this guide, we take a closer look at some of the side effects that may occur as a result of taking omeprazole.
We will also be detailing common and serious side effects, what you should do to cope with the side effects and what warning signs to look out for when taking omeprazole. 
What is Omeprazole and what is it used to treat?
Omeprazole belongs to the Proton Pump Inhibitor (PPI's) class of drugs responsible for reducing the amount of acid the stomach makes. Omeprazole is widely used in the treatment for acid reflux, heartburn, indigestion and to prevent and treat stomach ulcers.
It is a prescription only medicine available in 10mg, 20mg and 40mg doses, although the dose you are prescribed will depend on the severity of the condition. Omeprazole is also available in several different forms from capsules, tablets, and as a liquid.
To learn more about Omeprazole, how it works and what it is used to treat, read our helpful guide what is Omeprazole.
Omeprazole Side Effects
Omeprazole is a relatively low risk medicine that causes very few side effects when taken exactly as prescribed by your doctor. However, as with all medicines, there are a few instances in which side effects may present themselves whilst taking Omeprazole.
There are several things that can increase your risk of getting side effects, from using other medicines that may interact with Omeprazole or drinking alcohol whilst taking Omeprazole. Using Omeprazole for the first time may also increase your risk of experiencing side effects.
Your risk of experiencing side effects may also increase if taking a higher dose, however your doctor is likely to prescribe a lower dose of Omeprazole to see how your body reacts before prescribing a higher dose.
Learn more about taking the correct Omeprazole Dose in our helpful medical guide.
Not everyone will experience side effects when taking Omeprazole, however it is a good idea to familiarise yourself with the potential side effects and their severity for your own safety and wellbeing.
Common side effects of Omeprazole:
Nausea/sickness
Stomach ache
Abdominal pain
Diarrhoea
Headache
Wind (Gas)
Dizziness
Light-headedness
Faint
Acid Reflux (also includes heartburn/indigestion)
Constipation
Skin rash
Cough
Common side effects are experienced by more than 1 in every 100 people, usually the side effects will subside within a few hours. However, if you find that the side effects persist over a few days, you should talk to your doctor or pharmacist.
Common side effects are usually heightened in first time users, for example, if you are using Omeprazole for the first time, you may experience more of the common side effects than someone who has already it. Over time your body will build a tolerance to the side effects a quickly fight back against them making the side effects more prevalent the more you use the medicine.
Uncommon side effects of Omeprazole
Swelling of the feet or ankles
Insomnia or disturbed sleep
Pins and needles
Feeling lethargic/sleepy
Vertigo
Itchy rash/skin hives
Feeling unwell/fever
Changes in blood test results
Rare Side Effects
Reduced white blood cell count. This can cause weakness and easy bruising
Swelling of the lips, tongue, or throat, this may indicate an allergic reation
Fever
Wheezing
Decrease in sodium levels in the blood
Confusion, depression, and agitation
Change to taste
Blurred vision
Shortness of breath/wheezing
Dry mouth
Inflammation/tenderness on the inside of the mouth
Thrush
Liver problems, jaundice which can cause yellow skin
Hair loss (alopecia
Skin rash, sensitivity to sun exposure
Joint paints and muscle cramps
Increased sweating
Rare side effects may affect up to 1 in every 1,000 people, although they are rare, they can happen to some users without any explanation. If you experience any side effects that are listed in the above list, we recommend contacting your doctor immediately.
Serious allergic reaction
In very rare cases it is possible to suffer a serious allergic reaction to Omeprazole. If you experience any of the below symptoms you must call 999 or go immediately to A&E
Blistering or peeling of the skin
Wheezing
Tight chest or throat
Difficulty breathing
Swelling of the face, lips, tongue, or throat
In very rare cases it is possible to have a serious allergic reaction (anaphylaxis) to omeprazole that will likely require immediate attention.
Please note that the above side effects is not an exhaustive list, before using omeprazole we recommend thoroughly reading the patient information leaflet to familiarise yourself with the different side effects and their severity.
Are there long-term side effects of Omeprazole?
Omeprazole treats several chronic conditions, which means people may need to take omeprazole indefinitely to manage the symptoms of their condition.
A concern with long term use of Omeprazole is that it can mask the symptoms of other illnesses such as gastric cancer. Not only is there a concern that it may mask the symptoms of an underlying illness, but a recent report also concluded that long term use of PPIS may increase the risk of stomach cancer, also known as Gastric Cancer.
However, with that said, chronic Gastroesophageal Reflux Disease (GERD), when left untreated; can increase the risk of oesophageal cancer which makes the long-term use of Omeprazole necessary in certain chronic conditions.
Long term use of Omeprazole will be subject to a risk assessment by your doctor in which they will look at the risks and rewards of long-term omeprazole treatment.
Omeprazole should always be used exactly as prescribed; a typical course of Omeprazole should last for 14 days. Do not use Omeprazole for longer than indicated by your doctor.
How to cope with the side effects of Omeprazole
Many of the common side effects of Omeprazole will disappear on their own without the need for any intervention. As your body builds up a tolerance to Omeprazole, the side effects will become less noticeable as your body will know how to deal with them.
Headaches
To help cope with potential headaches, it is recommended to stay hydrated and drink plenty of fluids. If you find that your headaches are persistent since starting your course of Omeprazole it is recommended talking to your doctor or pharmacist about a recommended painkiller. It is important to speak to your doctor regarding this as some painkillers may interact with how Omeprazole works.
Sickness/Nausea
Try taking your dose with a meal or food. The effects of Omeprazole may be heightened if taking it on an empty stomach. This may also help if Omeprazole is causing you to be physically sick.
Stomach ache/Cramps
Try eating smaller and more frequent meals, this will put less pressure on your stomach when digesting food. If the pain does not subside, try putting a heat pad or a hot water bottle on the affected area.
Constipation/wind
Increase your fibre intake by eating more fruit and veg. You can also eat certain cereals that have a high fibre intake. Drinking water and exercising daily has also been shown to help the signs of constipation.
The best way to cope with side effects from occurring is to massively reduce the risk of them happening by taking Omeprazole exactly as prescribed by your doctor. Knowing exactly how to take a certain medicine can be the difference in your medicine helping to treat your condition or not. Incorrect use of any medicine can also increase the risk of side effects. Before using Omeprazole, we recommend reading our guide on how to take Omeprazole which includes best practices and instructions on how to take your medicine.
If you find that the side effects of Omeprazole are too much to cope with, we recommend discussing Omeprazole alternatives with your doctor. You may find that an alternative will result in less side effects and will be better suited to treat your condition.
Omeprazole warnings, precautions, and interactions
You should not take this medicine if you are allergic to Omeprazole or have had an allergic reaction to any ingredients contained within Omeprazole. 
Other commonly used PPI's such as Lansoprazole must not be used with Omeprazole as this may lead to overdose.
Certain drugs can interact with Omeprazole and cause other side effects, it is important to always disclose with your doctor about other medicines that you are currently taking. If you are currently taking any other drugs that interact with Omeprazole your doctor may choose to prescribe an alternative to Omeprazole.
How to stop taking Omeprazole
If you find that the side effects of omeprazole are outweighing the benefits you should speak to your doctor before discontinuing treatment.
Omeprazole can usually be stopped without having to reduce the dosage and frequency first. However, if you have taken Omeprazole for a long time, stopping taking it suddenly can trigger your symptoms again.
Slowly reducing the dose and frequency is the most effective way to stop taking Omeprazole and will reduce the risk of your symptoms appearing again.
FAQ's
Is weight gain a side effect of Omeprazole?
If used on a short-term basis and taken as prescribed, Omeprazole is unlikely to cause weight gain. If you experience sudden weight gain, this could indicate an allergy to the medicine or may be a separate condition altogether.
Can Omeprazole cause anxiety?
Anxiety is a very rare side effects when taking Omeprazole. However, some individuals have reported an increase in anxiety whilst taking Omeprazole.
A recent study has found that a lack of essential bacteria produced by the gut can lead to an increase in Anxiety. The study found that certain bacteria in our gut can alter trigger an emotional response by the brain.
Summary
As with all medicines, Omeprazole can cause its fair share of side effects. Although most of those side effects are harmless and will subside with a few hours or days. It is highly important that any individual taking Omeprazole is clear on what the common and serious side effects are. By understanding the different side effects and the severity of them, individuals taking Omeprazole can identify the severity of their own side effects if they experience any.
The most common side effects of taking omeprazole include, headaches, nausea, vomiting, stomach pain, constipation, and wind. All these side effects can be easily treated however they should also pass naturally within a few hours.
To further reduce the likelihood of experiencing side effects when taking Omeprazole, it is important to take it exactly as prescribed by your doctor.
https://www.drugwatch.com/proton-pump-inhibitors/prilosec/
https://www.nhs.uk/medicines/omeprazole/
https://www.medicines.org.uk/emc/files/pil.3490.pdf
What are the side effects when taking Omeprazole and how do you cope with them? Our guide explains everything.
Doctor Notes
It is always recommended to read the patient information leaflet on any medicine before taking it. By doing this you are familiarising yourself with the common and more serious side effects and will know exactly what to do if you experience either. Omeprazole is a relatively low risk medicine with most people only experiencing common side effects that usually subside within a few hours.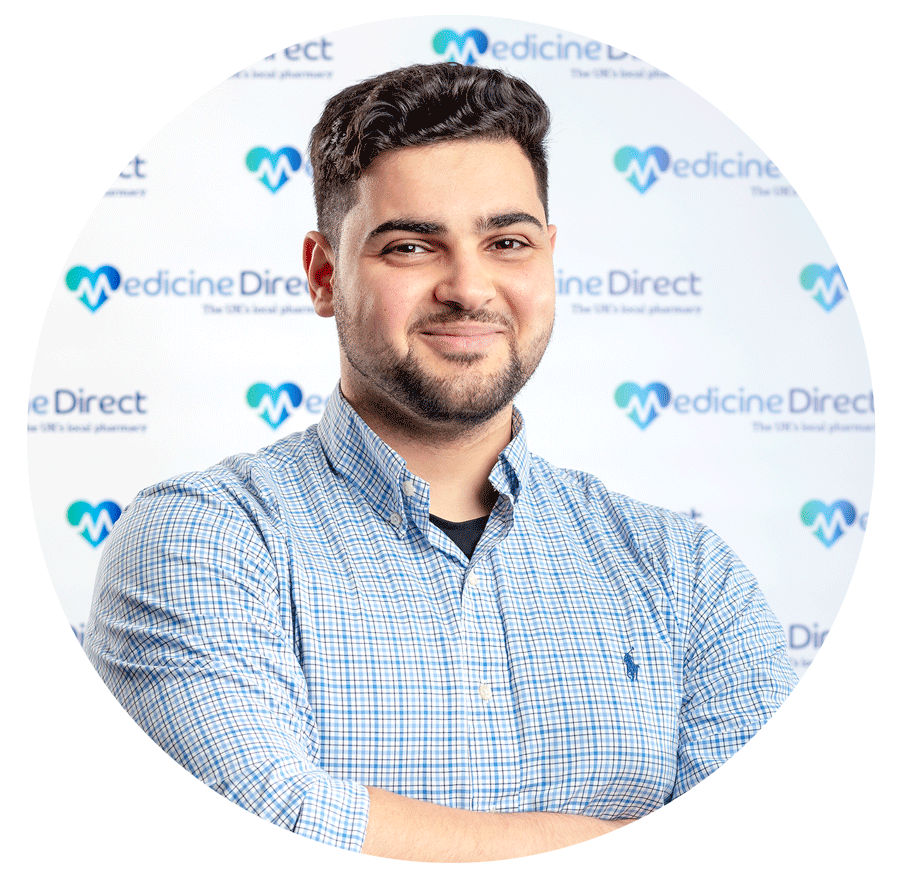 Hussain Abdeh
MPharm: 2211840
Superintendent Pharmacist
This content has been written by our Superintendent Pharmacist Hussain Abdeh and has been medically reviewed by our Pharmacist Sonia Khan
View Profile