Omeprazole Dose: What are your options?
Written by: Hussain Abdeh MPharm: 2211840
Published on: 19/05/2021
Updated on: 19/05/2021
Omeprazole is a Proton Pump Inhibitor (PPI's) and is prescribed to treat excessive stomach acid, acid reflux and the symptoms of heartburn/indigestion.
Omeprazole is typically a prescription only medicine (POM), however it is available over the counter in lower doses. Omeprazole is available in many different doses, however, which dose you are prescribed will always depend on the severity of your condition.
In this guide we will be talking you through the different variations of Omeprazole doses and when they are prescribed to treat certain conditions.
What is Omeprazole
Omeprazole is one of the most widely used treatments for excessive stomach acid related conditions such as acid reflux, heartburn, indigestion, and gastritis. It can also be used to prevent stomach ulcers and can help to heal the stomach from the damage caused by excessive stomach acid.
Omeprazole is available in capsules, tablets and in some instances, liquid form. It is most prescribed in its generic form; however, it is also available as a branded version, Losec MUPS.
Learn more about what it is in our helpful medical guide, what is Omeprazole?
Omeprazole dose
Omeprazole doses are available in 10mg, 20mg and 40mg, the dose you are prescribed will be dependent on your condition and the severity of your condition.
All our Doctors and Pharmacists will follow NICE guidelines when prescribing Omeprazole, you can find the prescribing guidelines for the most common uses of Omeprazole below.
| | |
| --- | --- |
| Condition | Omeprazole Indications and Dose |
| Helicobacter Pylori Infection (H. pylori) | Omeprazole 20-40mg twice daily for 7 days |
| Benign Gastric Ulceration | Omeprazole 20mg once daily for 8 weeks. If needed, increase to 40mg once daily |
| Zollinger-Ellison Syndrome | 60mg once daily starting dose, doses in excess of 80mg should be given in 2 equal doses daily |
| Gastro-oesophageal Reflux Disease | 20mg once daily, treatment length is 4 to 8 weeks |
| Long term management of Acid Reflux disease | Initially 10mg once daily |
| Dyspepsia (Indigestion) | 10-20mg once daily for 4 weeks |
Omeprazole 10mg
Omeprazole 10mg is the typical starting dose for Omeprazole. You may be prescribed Omeprazole 10mg if it is your first-time using Omeprazole, this gives your body time to get used to the medicine and will also result in less side effects. Once your body can get used to the 10mg dose, this may be increased.
Your doctor may choose to increase your dose of Omeprazole if you body reacts positive to the medicine, you do not experience many side effects, or the lower dose is unable to relieve your symptoms.
Omeprazole 10mg is typically prescribed to treat mild acid reflux, indigestion and is also used in the long-term management of Acid Reflux.
We recommend reading the Omeprazole 10mg Patient Information Leaflet before taking this medicine.
Omeprazole 20mg
Omeprazole 20mg is used to treat moderate pain caused by a variety of stomach acid related conditions. It is unlikely that you will be prescribed Omeprazole 20mg particularly if you have not previously been prescribed Omeprazole before.
Your doctor may choose to increase your initial dose of 10mg to 20mg if you do not experience and side effects, or it fails to reduce any of the symptoms related to your condition.
We recommend reading the Patient Information Leaflet for Omeprazole 20mg Capsules.
Omeprazole 40mg
Omeprazole 40mg is the highest available dose of Omeprazole and is prescribed to treat rare and severe conditions such as Helicobacter Pylori Infections and Zollinger-Ellison Syndrome.
We recommend reading the Patient Information Leaflet for Omeprazole 40mg Capsules.
How to take Omeprazole
You should take Omeprazole exactly as prescribed by your doctor. Like most medicines, it is recommended to take Omeprazole with a drink of water, this makes it easier to swallow the capsule. Omeprazole does not upset your stomach and comes with relatively few side effects, so it does not matter if you decide to take this medicine on an empty stomach or with food.
If you are prescribed Omeprazole twice a day, you should take the tablets in equal intervals, for example one in the morning and one in the evening.
If you forget to take a dose, you should take it as soon as you remember, unless it is close to the time that you are scheduled to take your second dose, in this case you should simply miss out the forgotten dose. You should never double dose on Omeprazole if you forget to take one.
You can find much more detailed information on how to take Omeprazole in our helpful medical guide.
What are the side effects of Omeprazole?
Omeprazole is a relatively low risk medicine that will cause very few side effects. However, individuals that are using Omeprazole for the first time may be more susceptible to experiencing side effects.
The common side effects of Omeprazole are:
Headaches
Stomach ache
Nausea
Vomiting
Wind
Diarrhoea
Constipation
Acid Reflux
Dizziness
To learn more read our helpful medical guide on Omeprazole Side effects
Omeprazole Contraindications
Omeprazole can be taken during pregnancy and is commonly used by pregnant women. Acid reflux is very common in pregnancy and can cause discomfort, using Omeprazole can massively help to relieve symptoms of this. We recommend notifying your doctor if you are using Omeprazole and plan on becoming pregnant, are pregnant or breastfeeding.
You should not take Omeprazole if:
You are allergic to Omeprazole or any of its ingredients
Have liver problems
If you are due to undergo an endoscopy. Omeprazole may hide some of the issues or symptoms that an endoscopy may pick up on. We recommend speaking to your doctor if you are currently taking Omeprazole and are due an endoscopy.
Why is it important to get the dosage right?
Taking an incorrect dosage can result in your symptoms not being properly treated or can increase the risk of side effects.
If you take a dose that is not high enough, this can result in your condition not being properly treated as your body is not getting enough of the medicine to effectively treat the condition.
Likewise, if you take a dose that is too high, this can increase your risks of experiencing side effects.
Are there any Omeprazole alternatives?
There are a number of Proton Pump Inhibitor alternatives that you may be prescribed, some of the more common ones include, Lansoprazole 15mg and 30mg capsules and Pantoprazole.
Omeprazole is also available in a branded version, under the brand name Losec MUPS. The branded version of Omeprazole contains the same active ingredient however may be slightly more expensive in price.
Aside from medicine alternatives, acid reflux is mainly triggered by diet and lifestyle choices such as eating fatty foods, drinking, or smoking. The best alternative is to cut out the foods that may trigger your acid reflux symptoms.
For more information on Omeprazole alternatives, read our detailed medical guide.
Should I take Omeprazole before or after my meal?
Omeprazole will not upset your stomach, so taking it before or after a meal is fine.
Some medicines can upset your stomach and should be taken with food, or a full stomach, to help protect the lining of the stomach. Fortunately, Omeprazole helps to protect the lining of the stomach which means that it can be taken on either an empty or full stomach.
How long does Omeprazole take to work?
Omeprazole will begin to stop stomach acid production in just 1 hour, with the full effects being felt within 2 hours. It will continue to inhibit the production of stomach acid for a further 72 hours. 
What is the maximum dose of Omeprazole?
The maximum dose of omeprazole is 40mg, you will need a prescription in order to purchase this dose of omeprazole.
What is the minimum dose of Omeprazole?
The minimum dose of Omeprazole is 10mg. Omeprazole is also included in a number of over the counter acid reflux treatments in lower doses. 
Summary
The dose of omeprazole you are prescribed will depend on the severity of your condition. Typically, if you have never used Omeprazole before, you will be prescribed a lower dose of Omeprazole. Depending on how your body react to Omeprazole, this dose may be increased by your doctor or pharmacist.
All our Doctors and Pharmacists here at Medicine Direct, will prescribe Omeprazole based on NICE guidelines.
References
https://www.mayoclinic.org/diseases-conditions/h-pylori/symptoms-causes/syc-20356171
https://www.hopkinsmedicine.org/health/conditions-and-diseases/zollingerellison-syndrome
https://www.nhs.uk/medicines/omeprazole/
https://patient.info/digestive-health/indigestion-medication/proton-pump-inhibitors
What are the different doses of Omeprazole and what are they used to treat?
Doctor Notes
There are several different Omeprazole doses ranging from 10mg, 20mg and 40mg. During your online consultation it is important to give our doctors and pharmacists as much information as possible regarding your condition so we can ensure you are prescribed the correct dose.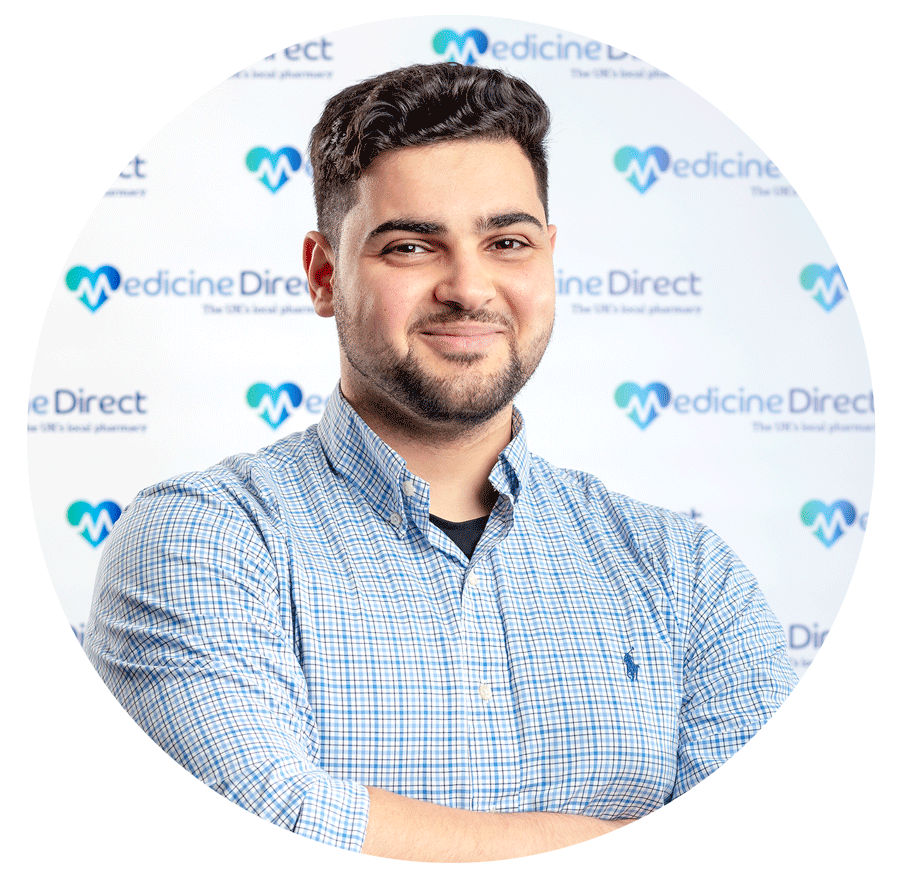 Hussain Abdeh
MPharm: 2211840
Superintendent Pharmacist
This content has been written by our Superintendent Pharmacist Hussain Abdeh and has been medically reviewed by our Pharmacist Sonia Khan
View Profile